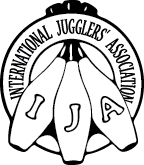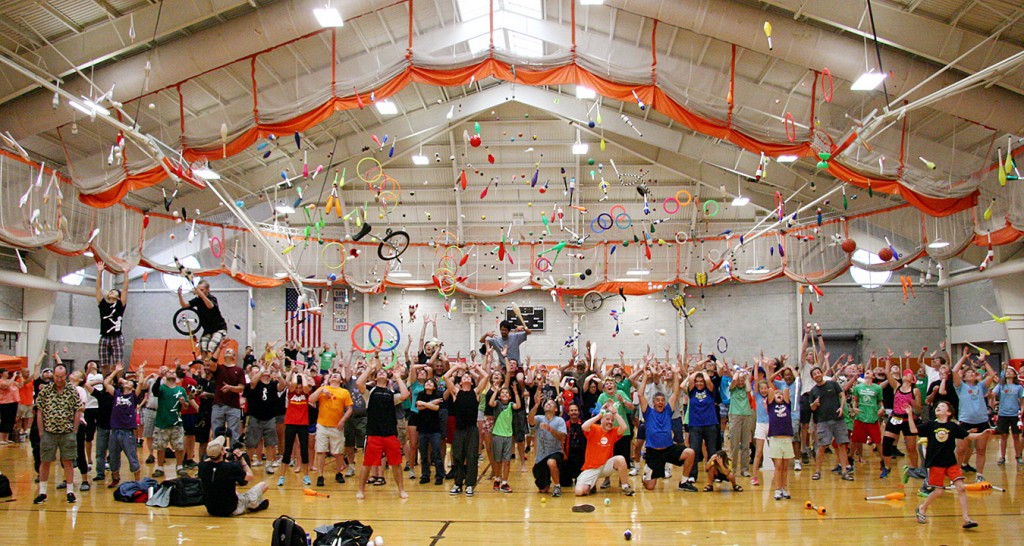 To render assistance
to fellow jugglers

This is an archival website
33nd annual IJA World Joggling Championships
Saturday, July 20, 2013
8:00am
Bowling Green State University Track
Bowling Green, OH
Entry fee - $15 online; $25 in person
covers all events entered for one joggler

Order of Events:
1600 meters - 3 balls
100 meters - 3 balls
100 meters - 5 balls
400 meters - 3 balls
100 meters - 7 balls*
400 meters - 5 balls**
800 meters - 3 balls
4 x 100 meters - 3 balls
* - competitors in 100 meters 7 balls event must be able to demonstrate a solid 7 ball pattern prior to entry
** - competitors in 400 meters 5 balls event must have completed the 100 meters 5 balls in less than 90 seconds

All registrants must pay the fee and complete and sign a liability waiver. Athletes under 18 years of age must have the liability waiver signed by a parent.
For more information contact:
Len Ferman
904.553.0075
What is Joggling?
Joggling combines running and juggling. Joggling requires the competitor to juggle at least 3 balls while running. The rules require that a juggling pattern must be maintained whilst running, and if an object is dropped, the joggler must return to the point where the object fell and continue from there.
Benefits of Joggling
Joggling is a full mind body workout encompassing all four limbs. It is one of the best exercises anyone can do as it provides a full body workout plus it helps to sharpen the mind.
Participation
The World Joggling Championships are open for anyone to compete. Competitors need to be able to juggle 3 balls proficiently.
Governing Body
The World Juggling Championships are operated under the auspices of the International Jugglers' Association (IJA). The championships are being held as part of the week long IJA Festival. The IJA Festival brings together many of the best jugglers from around the world for a week of competitions, workshops and shows.
For more information contact:
Len Ferman
904.553.0075
THREE WORLD RECORDS SET AT 2013 JOGGLING CHAMPIONSHIPS
The 2013 IJA World Joggling Championships witnessed three world records. Eric Walter blasted the 23 year old 400 meter 3 ball record set by Owen Morse in 1990 at 57.3 seconds. Walter ran an incredible 1.5 seconds faster in 55.8 as he destroyed the field finishing 13 seconds ahead of the second place finisher.
Newcomer Gabrielle Foran established herself as one of the greatest female jogglers in history winning three events and setting a world record in the 1600 meter 3 ball as the first women to break the 6 minute barrier.
Former IJA Stage Champion Thomas Dietz took up joggling for the first time this year and came away with gold medals in both the 100 meter 5 ball and 100 meter 7 ball. In the latter event, Dietz broke the world record set last year by Jack Denger by over 5 seconds in a time of 53.6.
| Event | Name | Time |
| --- | --- | --- |
| MEN | | |
| 100 meter 3 ball | Jared Janssen | 14.6 |
| 100 meter 5 ball | Thomas Dietz | 21.5 #6 all time age group performance |
| 100 meter 7 ball | Thomas Dietz | 0:53.6 New World Record |
| 400 meter 5 ball | Mark Fiore | 2:09.6 #1 all time age group performance |
| 400 meter 3 ball | Eric Walter | 0:55.8 New World Record |
| 800 meter 3 ball | Eric Walter | 2:20 #2 all time age group performance |
| 1600 meter 3 ball | Nathan Lane | 5:26 #1 all time age group performance |
| 4 x 100 relay | Peter Prokop, Scott Geyman, Jared Janssen, Nathan Lane | 1:04.7 |
| WOMEN | | |
| 100 meter 3 ball | Sydney Paugh | 17.8 #5 all time age group performance |
| 100 meter 3 ball | Anna Voelker | 17.8 #5 all time age group performance |
| 100 meter 5 ball | Delaney Bayles | 48.0 |
| 400 meter 3 ball | Gabrielle Foran | 1:23.8 #2 all time age group performance |
| 800 meter 3 ball | Gabrielle Foran | 2:51 #2 all time age group performance |
| 1600 meter 3 ball | Gabrielle Foran | 5:58 New World Record |
| 4 x 100 relay | Riga Moettus, Laura Schroeder, Elise Johnson, Erica Liddle | 1:30.4 |
IJA JOGGLING CHAMPIONSHIP RECORDS
| | | | |
| --- | --- | --- | --- |
| Men 100 meter 7 ball | Thomas Dietz | 53.6 | 2013 |
| Men 100 meter 5 ball | Albert Lucas | 15.5 | 2002 |
| Men 100 meter 3 ball | Owen Morse | 11.9 | 1988 |
| Men 200 meter 3 ball | Chris Essick | 26.5 | 2002 |
| Men 400 meter 3 ball | Eric Walter | 55.8 | 2013 |
| Men 800 meter 3 ball | Eric Walter | 2:13 | 2011 |
| Men 1600 meter 3 ball | Kirk Swenson | 4:44 | 1986 |
| Men 5k 3 ball | Mike Hebebrand | 17:37 | 1990 |
| Men 4 x 100 meter 3 ball | Chris Lovdal, Eric Walter, Tyler Wishau, Charles Schweitzer | 55.8 | 2011 |
| Men 4 x 400 meter 3 ball | Team Exerball (Albert Lucas, Owen Morse, Jon Wee, Tuey Wilson | 3:57 | 1990 |
| Women 100 meter 7 ball | Meagan Nouis | 3:06 | 2010 |
| Women 100 meter 5 ball | Heather Marriott | 42.8 | 2002 |
| Women 100 meter 3 ball | Lana Bolin | 14.9 | 2000 |
| Women 200 meter 3 ball | Trish Evans | 31.8 | 2011 |
| Women 400 meter 3 ball | Christa Rypins | 1:16 | 1990 |
| Women 800 meter 3 ball | Trish Evans | 2:45 | 2011 |
| Women 1600 meter 3 ball | Gabrielle Foran | 5:58 | 2013 |
| Women 5k 3 ball | Trish Evans | 21:46 | 1997 |
| Women 4 x 100 meter 3 ball | Flamingo Club (L. Kaseman, D. Finnigan, B. Kresser, B. Neeser) | 1:21 | 2004 |
| Women 4 x 400 meter 3 ball | Rice, Roy, Finnigan, Harr | 6:11 | 2006 |