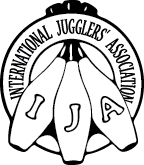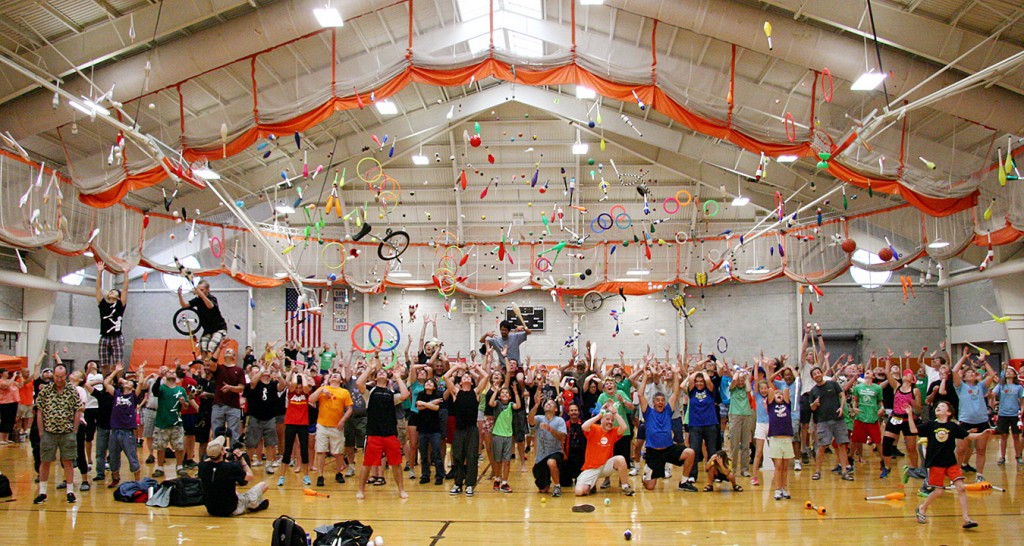 To render assistance
to fellow jugglers

This is an archival website
Previous minutes: July 30, 2010 |List of available minutes |Next minutes: September 15, 2010
Regular Board Meeting August 25, 2010
1. CALL TO ORDER: Chair Kim Laird called the meeting to order at 8:11 p.m. EST.
2. ROLL:
Present: Kim Laird (Chair), Kevin Axtell, Matt Hall, Richard Kennison, Kevin McBeth, Erin Stephens, and Thom Wall (board members), Brandi Slater (recording secretary)
Absent:
3. EXECUTIVE SESSION
4. APPROVAL OF AGENDA: Matt Hall moved to approve the agenda for August 25, 2010. Second by Thom Wall.
5. APPROVAL OF MINUTES: Kevin Axtell moved to approve the minutes from the Annual Business Meeting in Sparks, NV and the regular board meeting of July 30, 2010. Second by Kevin McBeth.
6. REPORTS:
2010 Fest (Kim Laird)... The 2010 IJA Festival in Sparks, NV, was a great success! There were bumps during the week with the workshop rooms being displaced for Tuesday morning and previously unknown handling fees for all items shipped to and from the Nugget for the IJA as well as our vendors just to spotlight two of the bumps. Hopefully, these bumps in the road were noticed by only a very small handful so that everyone else could enjoy the week. There were 104 volunteers who worked together to make festival week a success. I worked very closely with six individuals at the Nugget and three individuals at the Great Basin Brewery, home of the midnight shows. All those who worked with the IJA leading up to and during fest week expressed how happy they were with our group. Now here are the bottom line numbers. The festival budget was based on 311 attendees. It was budgeted that 50 of those 311 would be comps. The final numbers show 351 fest attendees with 57 of those comps. Of those 57 comps at least 5 of those were comps given as prizes for WJD and the Youtube contest as well as other prize giveaways and one for the IJA Youth Jugglership Program. The anticipated income in the 2010 festival budget was set at $71,819. Estimated expenses totaled $50,507. In late February/early March I noticed the registration numbers were very low even for our conservative estimates. Holly and I started looking for places to cut costs and we managed to chop about $11,000 out of our fest budget. Of course, anyone who has planned a festival or other large event knows last minute expenses come up during the actual event. That happened during our festival week but even those unexpected expenses were kept to a minimum thanks to a great fest team! The estimated profit for the 2010 IJA Festival in Sparks was $21,312. As fest planning continued through the spring it was iffy whether we would reach this goal. The final numbers for the fest are as follows: total income = $67,826.49 total expenses = $42,004.46 final profit = $25,822.03 Thank you all who provided support and volunteered time in the planning and running of the 2010 IJA Festival in Sparks, NV. YOU are the reason this fest was a success! It was a week of good feelings, friendship, and sharing. This fest was successful in all aspects. Thank you for all of your hard work!
2011 Fest (Mike Sullivan)...first draft of the festival budget is done. There won't be an increase in fest pricing. The promo flier will be digitized and sent out in the e-newsletter. Alexander Kulakov is a confirmed special guest. Mike will be making his first visit to Rochester to check things out. There are plans for the benefit show to be held Tuesday night in the theater that we are renting for the Rochester Boys and Girls Club. They would be able to sell tickets and use the show as a fundraiser.
Financial (Kevin McBeth & Holly Greeley)...Preliminary 2010 quarter 2 financial statement is done.
Store (Sandy Brown & Kevin McBeth)...More magazines are being added to the store.
Membership (Marilyn & Mike Sullivan)...
# of records 1302
# of members 1568
# of lifetime members 280
# families 185
# youths 69
Education (Kevin Axtell/Erin Stephens)...The Youth Education Program is gearing up to start the pilot program on September 1st. The 4 trial "pods" will start with 2 performances each in either schools, boys and girls clubs or other after school childrens programs. Taylor Glenn is creating a promotional video using footage from the benefit show and the planting the juggling seed show from this years festival. The IJA is getting a reduced rate on the FBI clearance from member David Manners
Marketing/Promotions (Thom Wall)...Another mailing is going out to invite more vendors into the discount programs. The international festival in Costa Rica is looking like it is falling through as far as an official pilot program is concerned. The organizer from Costa Rica has indicated that they were unable to find a theater, and budgeting and insurance are both problems for them. Refocusing efforts onto other countries, such as Peru (a producer in Lima is going to be organizing a juggling festival, and is extremely interested in working with the IJA) might be a better use of energy. There is a possibility of including a smaller scale competition akin to the individual prop competition in Costa Rica that would not require a stage and would have lower prize money.
Matt Hall has been contacted by the Mexican National Juggling Festival about coming in as a special guest. He will keep the board updated on that.
7. MOTIONS FOR CONSIDERATION:
A . Motion to approve IJA participation in creating a series of instructional videos through knowlera.com/monkeysee.com. (See Attachment A... tabled at June 16 &
July 30 meetings)
Motion: Thom Wall
Second:Erin Stephens
Discussion: Matt Hall is still trying to find out who has legal rights to Dave Finnigans instructional videos and has had verbal permission from a few people involved in that project to use the footage. The use of that footage would save the IJA over $2500, which is what the knowlera/monkeysee option would cost at minimum. The fine print in the knowlera/monkeysee contract was also a concern, as they would retain partial ownership and the IJA would need permission to use any footage. The IJA could only use it on the official website, YouTube, Facebook, and in official IJA retail outlets. With the potential use of Dave Finnigans footage the knowlera/monkeysee option does not seem like a good one. Matt Hall will draft a letter that the board will review and edit to request use of the existing footage.
Vote: Kim Laird - No
Kevin Axtell - No
Matt Hall - No
Richard Kennison - No
Kevin McBeth - No
Erin Stephens - No
Thom Wall - No
B. Motion to approve online workshops as outlined in attachment B. (Tabled at July 30 meeting)
Motion: Matt Hall
Second: Kevin Axtell
Discussion: The motion needs further review and clarification before coming to a vote.
Motion to table the Motion to approve online workshops as outlined in attachment B until the September meeting.
Motion : Thom Wall
Second: Matt Hall
Vote: tabled until the September meeting.
C. Motion to approve the following volunteers from July 2010 through July 2011
and to advertise for the three open positions:
Marilyn Sullivan -- Membership Director & Chief Teller
Kevin McBeth -- Treasurer & Store Manager & Distributor
Sandy Brown -- Distributor
David Landowne -- Webmaster
Don Lewis -- eNewsletter Editor
Greg Phillips --
Affiliates Director & Roster Wranger & Canadian Rep
Thom Wall -- Marketing Director
Steven Ragatz -- Mentor Program Liaison
Mike Sullivan -- Future Festivals
Site Coordinator (approved as membership director at last meeting in July)
Braidy Brown -- Assistant Archives Director
Martin Frost -- Communications Director
Bob Neuman -- Magazine Liaison
Alan Howard -- Archives Director
Volunteer Coordinator -- Open
European Representative -- Open
Awards Committee Chair -- Open
Motion: Kevin Axtell
Second: Erin Stephens
Discussion : The open positions will be advertised on the e-newsletter, the IJA forums, and rec.juggling with the clarification that the positions are open to current members only.
Vote: passed by unanimous consent
D. Motion to form a "Fun Fund" Committee with a board member serving as chair and the festival director of that year on the committee.
Motion: Erin Stephens
Second: Kevin Axtell
Discussion: see above in Varia. Mike Sullivan is on the committee as the 2011 Festival Director.
Vote: passed by unanimous consent
Motion to make Matt Hall the Chair of the 2011 Fun Fund festival committee
Motion: Kevin Axtell
Second: Thom Wall
Discussion: see varia
Vote: passed by unanimous consent
8. VARIA:
- Suggestion that a motion be made to have the IJA pay for a membership to the ASAE (American Society of Association Executives -- [www.asaecenter.org] ) and that we find money in the budget each year to send the Chair or other BoD member to the ASEA annual meeting. IJA needs to learn best practices and network with other orgs and non-profits like ours so we don't re-invent every wheel, and ASEA and the resources it can connect us to would be a huge help in this effort. They have a lot to offer, however the IJA is just starting to pull itself out of a financial downturn. The budget may not be ready for it this year, however it may be a good future option. Cost would be around $1,000 plus travel expenses. The board also generally feels that there are also other more pressing issues for the IJA to deal with. Investigating if there are other organizations similar to the IJA such as circus groups, artists, etc. to see if ASEA has helped those organizations would be beneficial.
- Suggestion that we ask our anonymous donor, in the interests of preserving their anonymity and thus the stability of the donation, which is predicated on their continued anonymity, that the donor communicate with IJA only through an attorney or other 3rd party who they retain, and who would be the only person in the future who would know the identity of the donor.
-2 committies need to be formed – one a "fun fund" committee to determine how the $20,000 fest donation will be used. Mike Sullivan, as the festival director, is on. Matt Hall, with his international festival experience, has been asked to chair the committee. Jim Maxwell has expressed interest as well. The positions will be open to the general membership, and will be filled by having interested members fill out a questionnaire on why they want to be a part of the committee. The membership will apply, the board will get statements from the applicants, and the board will confirm who is on the committee. The donor wants to be a part of the process as well.
-The donor has also added that he ("he" will be used as a general pronoun and does not necessarily reflect the gender of the donor) will fund a revamp of the IJA website in addition to the other donations. David Landowne as current webmaster and Martin Frost as former webmaster will be consulted on what is wanted on the website. Bids will start going out and the donor will look at the bids, choose one and directly pay whoever is chosen. Mike Sullivan suggests that the IJA needs an association management system, and should consider hiring a consultant to determine what type of system the IJA needs. The consultant could serve in lieu of a committee. Results would likely come in much faster than through a committee and would serve to insure that the IJA gets what it needs from the new web platform.
-There is some concern with the possibility that the bylaws could be changed in the future to allow for lifetime expulsion of members, and a board member has expressed a desire to amend the bylaws to state that no member could be expelled for life. Another board member has expressed a desire to amend the bylaws to say that any person who sues the organization or otherwise causes financial and public harm can be expelled for life. The board as a whole feels that this issue would best be addressed at another meeting after discussion on the board forums or through email. The bylaws in general need clarification and revamping as well, and any amendments made would need to be very carefully and clearly worded.
9. NEXT MEETING: Next regular BOD meeting will be held September 15,
2010 at 8pm eastern time.
10. ADJOURNMENT: Thom Wall moved to adjourn the meeting. Second by Matt Hall.
Meeting adjourned at 10:29 pm eastern time.
Previous minutes: July 30, 2010 |List of available minutes |Next minutes: September 15, 2010