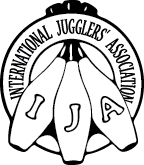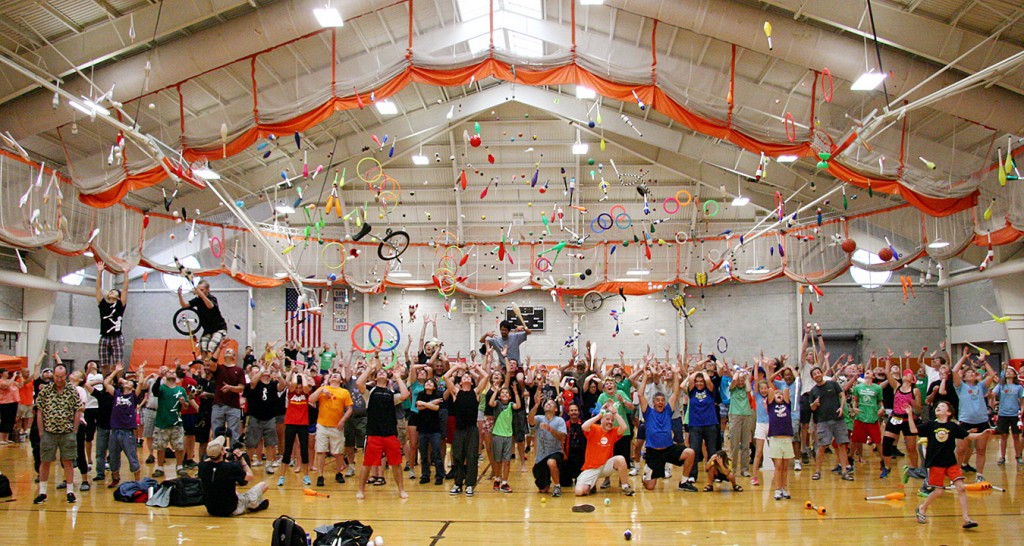 To render assistance
to fellow jugglers

This is an archival website
Buffalo Evaluation Summary
155 people completed the Buffalo Evaluation. There were two types of questions on the evaluation: questions requiring a rating (closed-ended questions) and narrative questions (open-ended questions). Due to the number and length of the narrative responses, and to insure confidentiality of the responders, the responses have been summarized.
Many people answered with short answers of 1-3 words. Some answered with lengthy paragraphs.
A number in parentheses following a response indicates the number of people who answered with the same, or like response. If there is no number following a response this means that only 1 person answered with that response.
Festival registration

How did you register?

On the web (100 people answered with this response, or 65%)

By mail (31) 20%

By fax (2) 1.3%

On-site at Buffalo (11) 7.1%

Other (11) 7.1%

Why did you choose this method?

On the web:
convenient, speedy, easy, or simplest method (93)
could use Paypal
could view seminars and workshops then and there
user-friendly
general geekiness
cheap, cost effective
the internet is cool stuff
can do it on the move with PDA or cell phone
I beta-tested the site
fast confirmation of the registration
it let me get Skymiles
no postage required
my parents choice
secure payment
friend recommended it
could use Discover Card
too close to the deadline to register by mail
to avoid possible onsite lines
wanted to pre-register early to get the lowest possible price
By mail:
convenient, easy or simplest method (10) 6%
the line is shorter for packet pick-up at fest
computer was down
doesnt have a computer at home with internet access
prefers monetary transactions off web
no credit card
with St. Ignatius
habit
wanted a copy of registration
prefers regular mail over email
same as I always do, I like the formality
easier to see and read than on-line registration form
responder does not have a credit card
I do not like PayPal
web site said unsecure
trouble navigating PayPal
could pay by credit card
costs more to use Paypal
used this method in the past successfully
senility
wanted to write a check instead of credit card
the extra cash required for PayPal matters to this person
filled out all the mail materials before realizing the registration was on the web
gave it to the registrar Jerry Martin
By fax:
On-site at Buffalo:
not sure if attending, so could not risk pre-registering (2)
risk of pre-registering and having a last minute change of plans
last minute choice to go (3)
other methods involved advanced planning
Im lazy or a slacker (3)
Did not see deadlines listed online
Other:
special arrangements made (2)
someone else registering for me
registered at Groundhogs in Atlanta because it was there
gave it to Jerry Martin
How could registration be improved next year?
Thought registration was fine or could not think of any improvements (56) 36% of responses
Room-sharing message board convenient
Make sure registrars address is prominently displayed on mailer (many were sent to the IJA PO box in Texas)
Registration table in Buffalo could have been better organized
Web page or form was too long (3)
Make the festival free (2)
The Comic Sans font was a little hard to read
People at the registration desk shouldnt ignore me so long
Make it a secured site
Volunteers at the registration table were too slow (2)
More volunteers needed at the registration table to speed things up (2)
I was in line less than a minute
Prefer a credit card over Paypal because there is usually an immediate acknowledgment of receiving the registration
Better confirmation that registration is successful (3)
Vendor details were not included in registration form until very late.
Pre-sell DVDs as part of the registration package
Provide an official confirmation number rather than just a vague email confirmation
More hotel rooms at festival price
Allow an area on the form for billing/payment addresses and member addresses that are separate (when one person is paying by credit card and multiple people are registered. This way Juggle Magazines and membership cards do not all go to the person who paid.
Wasnt aware that I didnt pay for, or need a Welcome Dinner meal ticket. It would have been nice if someone went through my packet and verified that that is what I wanted to buy, or not buy
Parts of our items were missing in our envelopes. Suggestion: a confirmation form for people to bring with them. (2)
Keep on-site registration in a quiet area rather than by video and DVD area.
Accept American Express
First had problems with Paypal, then after Paypal was no longer used, it worked fine.
Send an email link to web registration before sending snail mail materials.
Keep sending festival brochure
Clearer formsthink linear
I like the early discount
Cheaper
Kill the buttons (save $)
Registration volunteers should meet before the crowd arrives to discuss the flow.
Accept American Express.
Accept more than Paypal.
Encourage attendees to register by web.
Tie together member records to registration process for minimal entry information.
Be able to register earlier. More info earlier.
Paid by credit card in April, but the charge was not processed until a few days before the festival. If it had been processed sooner, IJA would have had the funds, and I would have been more comfortable that the registration had been received
Less back and forth page loading (2)
Be open longer on opening day
What overall rating would you give the registration process for the Buffalo Festival? (1 to 10, with 1 meaning terrible and 10 meaning wonderful)
8.8
The Buffalo Convention Center
What did you like about the Buffalo Convention Center?
Lots of space (70)
Great workshop spaces (19)
Lighting good (18)
Close proximity to workshops, hotel, theater, Renegade (47)
Free wireless internet access (13)
Stage shows adjacent to gym (12)
High ceilings (33)
Nice stage area (5)
Good seating for the shows (2)
Good facility (7)
Location of IJA booth
Nice layout of events
Everything within walking distance (2)
Plenty of reasonably priced parking
Easy parking (2)
Temperature was good (11)
Liked that there was food available (8)
The best macaroni and cheese Ive ever had
Liked the TV and videos
Escalator
Liked the chairs (2)
Entry person at door
Easy access/layout (8)
Clean
Convenient/clean bathrooms (3)
Not much
Friendly Convention Center staff (6)
I could drive there (5)
Liked being downtown (3)
Central location (4)
Doesnt like center city conventions
Great city
Restaurants in the area (3)
Liked the Monday night dinner (2)
Cement floors for bouncing, or liked floors in general (12)
Proximity to Niagara Falls
Free water in coolers (6)
Short Skyway walk to Hyatt (2)
Lack of hassle by security
The Convention Center was great, the city was a dump
Felt safe leaving props in gym overnight
What didnt you like about the Buffalo Convention Center?
Juggling space was too small (19)
Not enough restaurants (or food) close by or open long enough (16)
Concessions not open long enough (25)
A bigger range of food would have been nice (4)
Not close to a grocery store
Food and/or lodging expensive (3)
Didnt like the location (Buffalo) (6)
Not the best lighting (4)
Better signs to activities (2)
Poor seating in the juggling area.
Air currents in gym
Poor acoustics
Workshop space in the Hyatt far from gym (8)
Workshop rooms too small (3)
Workshop rooms too cold
Workshop rooms hard to find (2)
Workshop rooms had bad lighting for some things being learned
Workshops should be under one roof. (3)
Ceilings in the workshop rooms too low (4)
The concrete floor was hard/bad (22)
The floor was dirty (7)
Floor too cold (3)
All the stairs and the long distance around to get in.
Concessions people were surly and lazy
Noise levels were high
Would have been better to have both doors open
Needed an area for kids
St. Ignatius group was rude (poor manners: bumping into people, tossing clubs, etc)
Back entrance should have been open always to avoid lugging stuff so far
Sound system in the gym (2)
Not enough chairs or good seating/viewing for spectators (7)
Sometimes no drinking water (5)
Only one exit/entrance
Sometimes no parking
Expensive parking (7)
No clocks (2)
Parking too far away to haul gear
Too chilly inside (8)
A tad warm inside
I tried the wings.never again.
I saw the roof leaking.
Flash photos did not come out due to lighting
No bar (2)
The geometrically complex pattern of the ceiling a problem for tracking 7 balls.
Entry doors locked without rhyme or reason
Saturday exits bothersome due to wedding
The wedding
Hotel too expensive
Skywalk closed at night (2)
Long, twisty tunnels to the hotel
The hotel sold out too quickly (2)
Hotel not ideal for connecting to the internet
Did not like the location (Buffalo)
Buffalo was ugly and cold
I didnt feel safe in Buffalo (2)
Worry about possessions in my vehicle
No spot to look down from above the gym floor
The stage was poor/sucked. (5)
Poor seating in shows (7)
The lighting system was sub-par (2)
Couldnt bounce balls on the stage (2)
The AC was on so you couldnt juggle straight when onstage
Venue did not seem suitable for the Flying Karamozov Brothers
Have the competitions in Sheas
Food not allowed to be brought in to the Convention Center
No beer allowed in the shows
Dead downtown (7)
We couldnt use our secret passageway to the hotel
How would you rate the Buffalo Convention Center?
(1 to 10, with 1 meaning terrible and 10 meaning wonderful)
7.6
Workshops (including special Jay Gilligan workshop)
What were your favorite workshops?
Matt Halls diabolo (2)
Cindy Marvells choreography (2)
Cindy Marvells 3-club (2)
Flying Karamazov Brothers (11)
Andrews social history of juggling (2)
Jay Gilligan (7)
Comedy writing (12)
Sean McKinney memorial (7)
Whips (2)
Globe walking (3)
Ball spinning (5)
Balloon making (4)
Hat manipulation (3)
Kendama (2)
Devil Stick
Advanced 1 diabolo (3)
Diabolo (2)
Advanced club passing
5-balls (3)
Learn 5-balls with Dave Finnegan
5 ball tricks
5 balls with Matt Henry
ball bouncing
3 ball multiplex (2)
Jackie Es 3-ball tricks
3 ball workshops (2)
One-offs (2)
Magic
Club swinging
Club passing (16)
Club passing take-outs (2)
Beginners club passing (2)
Club passing substitutions
Club passing patterns with Lou
Club passing take-outs (2)
Left and right hand passing (2)
Frosts club passing (2)
Fire workshop
Prop balance (2)
Club balance
Greg Phillips movement (2)
Parasol
All were good (3)
My own
I taught two workshops and I thought they went well
The one I taught
Devil Sticks
Staff manipulation
Comedy routine
3 club creativity
Just Mills Mess
Dan Holzman (3)
Matt Hall
Luke Burrage's workshops (9)
Lukes extreme 2-ball (9)
Contact juggling (4)
Lukes Friday presentation was super
Professional Development for Jugglers
Pirouette workshop with Dave (2)
Did not care for Cindy Marvells 5 ball workshop
Women in Juggling
Ethics in Juggling (2)
Scott Meltzer (2)
Cindy Marvell (3)
Dave Finnigan (4)
Laird/Barowski
DePalo
Matt hall
Poi
Cigar boxes (3)
Nick Flairs cigar box workshop
2 diabolos (2)
Ball and can (5)
Dance for jugglers
3 Ball master (4)
Passing madness
3 ball tricks
Mad 5 passing
Multiplexing (3)
Eva Rittwegers 7 club 3-count passing,
Pick-ups in Everys passing
Rick Robinsons ball spinning
Starting a childrens juggling program
Advanced siteswap (2)
Volcano was so-so
Handstand and partner acrobatics (4)
Original partner ideas
Mark Douglas 4 and 5 ball synchronous siteswaps (3)
The Association of Christian Jugglers workshop
Juggle Magazine Starting a Club
Did not attend any workshops (17)
Who were your favorite instructors?
Matt Hall (15)
Flying Karamazov Brothers (10)
The club passing instructors
Joe Ricci for the globe walking
Andrew Conway
Martin Frost
Jason Kollum (3)
No favorites
N/A (11)
Cindy Marvell (9)
Jackie Erickson (3)
Todd Strong (2)
Mark Douglas
Dave Davis (3)
Steve Salberg
Keith Nelson
Luke Burrage (17)
Dan Holzman (7)
Nick Flair the cigar box guy (3)
The comedy writing instructor (2)
Tim Furst
Greg Maldonado
Dan Bennett
Dont remember their names
Louis Kruk and Lee
Jade (2)
Jay Gilligan (5)
David Cain
Dave Finnegan (2)
Dave Walbridge (4)
Bounce
Mad 5
Rick Robinson
Scotty Meltzer (7)
Stanford Juggling Research Institute
Young lady from Germany. She was hot (2)
I liked them all (4)
The people that I met
Drewbob (Andy Howard), a perennial favorite (3)
Greg Phillips (5)
Too many to mention
D. Lyons (2)
You mean apart from me?
I was fond of me
Rick (ball spinning) (2)
Dave at the pirouette workshop
Person who taught beginning diabolo
Person who taught Just Mills Mess
Alan Howard
What in particular did you like about the workshops this year?
Matt Hall was there (2)
Luke Burrages workshops were outstanding
Scheduling grid well-organized
Workshops well-organized/prepared (3)
Enjoyed the club passing workshops (3)
FKBs workshop was intimate/interactive
Excellent quality of instruction (9)
Enthusiastic instructors
Few time conflicts in schedule (3)
A fresh approach to some common props
Challenging
Creative
Everything
Good group sizes (2)
Lots at varied skill levels (6)
Variety (19)
Lots of workshops (6)
Some workshops should have been repeated
Fun (2)
The rooms were convenient for solo practice too.
So many people. (2)
Interaction with people
I learned a lot (3)
Dave Walbridge did a good job: professional and respectful (3)
No down-talkers
Would have preferred another special workshop instructor
Level of professionalism
Jays class improved my juggling
Close to the gym (6)
Great idea to have FKBs do a workshop
Did not start too early
Liked the printed schedule
Nice workshop spaces
Not intimidating
A bit overcrowded
Instructor used bad language for my 13 year old
They were finebusiness as usual
Likes the extra workshops to sign up for.
Price was nice
Good blend of new and seasoned instructors
How could the workshops be improved next year?
Make sure Matt Hall is there
Publish an updated daily schedule of information (5)
Detailed descriptions should be available (in print and online), including skill level needed (10)
More space needed (8)
Keep them in the room they were assigned to
New instructors teaching unusual props (coins, Flair)
Start and end on time (3)
Higher ceilings (8)
Workshop across the street was inconvenient
Keep workshops under one roof (6)
Slow down in teaching stuff
Workshop titles were misleading or not descriptive (2)
Needed more variety (3)
Wanted handouts at workshops
Wanted 5 ball workshops focused on body moves
4 ball Mills Mess
More dance and juggling
Better scheduling to avoid conflicts (2)
More diverse club passing workshops focusing on style
More structure in the workshops
Schedule posted outside of workshop rooms
Evaluation forms should be available (2)
Incoming instructors were impatient when workshops ran late
Special attention in scheduling some popular workshops, like Cindy Marvells
Move popular workshops to larger rooms (3)
Outdoor grassy area for some workshops, like whip-cracking
Some needed to go longer (3)
Repeat some workshops (6)
More! (5)
More workshops at varying levels (2)
More female visibility
Jays conflicted with other workshops
Keep whip-cracking isolatedits loud
Milk and cookies
List prerequisites for advanced workshops.
More time between workshops (15 minutes)
Some instructors had less skill than the people taking the workshop
Instructors should cover appropriate amounts of material.
No cursing by workshop instructors (2)
The schedule seemed sparse
Workshop instructors should be prepared
A workshop where performers could do 5 minutes of their show and get feedback
Avoid balloon sculpting
Instructors should teach, not just demonstrate.
Festival program with workshops
Workshop handouts on the web
More info online and available sooner
Origami workshop
Special 7 ball workshop
A hecklers workshop, like in Montreal
How would you rate the workshops overall?
8.0
Juniors Championships
What did you like about the Juniors Championships this year?
My favorite
Cookies (11)
Quality of the jugglers (20)
Fun/Entertaining/great show (5)
Great competitors/performers (7)
My friend won
Great variety of performers (3)
That the competitors were international
The band
Artistic part of the winners routine (2)
Inspiring
Very good and well run/smooth pace (4)
The Japanese kid (4)
The kids improvising on stage during judges deliberation (14)
Good stage for the audience and close to the gym
Fair judging
Limiting the number of competitors
The host, Jerry Martin (9)
I like the Youth Showcase coupled with the Juniors Championships (2)
Takes courage
No vests (3)
Book an act while the judges are deliberating, like that champion fly fisherman in St. Louis.
Juniors were awesome (2)
Koumei Aoki
Wes Peden (2)
The 3 ball Japanese kid did not know about the Individual Prop Competition. We need to be more internationally friendly.
The IJA championships stink in general. Not a true measure of the best jugglers in the world.
Nothing remarkable
How could they be improved next year?
Seating (2)
Earlier in the week
OK/Fine (6)
Separate from the Youth Showcase (7)
Keep with the Youth Showcase
Outlaw pirouettes
Long night with the Youth Showcase and then Juniors.
Publish scores
A more theatrical, better theater/venue (5)
No Jugheads
Contestants should know the judging criteria
N/A (5)
If my son participates
Make Lana 16 again
Better competitors
More diverse competitors
Hold them with the other competitions on Thursday (2)
Judging which rewards creativity and audience response (2)
Abolish them
Bleachers not comfortable
Dont have the Juniors on a stage built of Lincoln Logs
Prelims should restrict more acts
More women
Perhaps a juniors team competition (3)
Feedback from the judges (comment from a junior competitor in the prelims)
Penalization for copyrighted music
Too long
Use a real stage for ball bouncing
Shorter Youth Showcase, longer juniors
Bring back Wes Peden
Did not care for the emcee
Liked the mild and cookies
Music too loud
State the judging criteria (4)
Points for originality/creativity (2)
Japanese guy should have gotten a medal (2)
Points for well-constructed acts
Improve the criteria with compulsories
Get rid of the weaker acts by having some type of pre-contest to choose who performs.
Share the stage if competitors come back on stage after competing
Start earlier
Intros should come before the acts, not after
Perhaps interspersing them with the Youth Showcase
More prize money
Repeat the informal entertainment by competitors during judging deliberations
Judging could be improved
No vests
Entertainment when the judges are deliberating (4)
The names of who will present should be posted or something
Too much chatter in between acts
How would you rate the Juniors Championships?
8.2
Individuals and Teams Championships
What did you like about the Individuals and Teams Championships this year?
Both were great (9)
Good format: individualteamindividual (5)
Good competitors/talent (34)
Judging didnt take forever
Good judging (4)
Variety (10)
Stage and lighting better than anticipated
Ran well/they moved at a good pace (7)
Fun/creative/entertaining (5)
The MC (6)
Good lighting for the jugglers
Ice cream (9)
Liked that the audience cheered on the competitors
Give awards during the judges deliberation
Vova and Olga (3)
Emile Carey (4)
Emile got robbed
Emile should be invited to be Cascade of Stars in some future year.
Perpetual Motion (3)
Thomas Dietz
Liked the international representation (5)
The band
The worst act was still quite good
Olgas dress
I liked the close proximity to the gym. (2)
How could they be improved next year?
Seating (5)
Sorry the Japanese diabolo guy went home without some recognition
Higher standards for competitors
Post judges scores (5)
Judging took too long. (2)
Let audience applause count for something.
Make sure the judges are clear about the rules/judging criteria (3)
Competitors should be penalized for using copyrighted music.
More women involved
The emphasis on technical juggling has a negative impact on the overall artistry of the routines. (3)
A bit long this year (3)
Move it to Friday
Fair judging
Disagreed with judges
Judging system needs improvement/changing (2)
Explain judging system to audience/members (4)
Stage was not good for ball bouncing. Some competitors had to drop out.
Host needed help filling down time
N/A (9)
Confusing to watch solos, then teams alternating (3)
A better theater/stage/sound and lighting (11)
Awards too long (2)
MC was not that funny
More teams
Team one night, individuals on another night. Too long (2)
Rules were bent this year and it was not appreciated by the competitors. Arthurs rules were not followed. (2)
Honor the art more.
They should go onstage while the judges deliberate, like the juniors did.
Abolish them
More emphasis on creativity (4)
Peoples choice award voted on at time of competition
Description of what the IJA is looking for in a winner (2)
Did not like competitors wearing WJF t-shirts. Maybe, like the early Olympics, everyone should juggle in the buff.
Keep encouraging more international jugglers.
Competitors should be disqualified for mounting the judging table. It is a stage act competition.
Olgas dress
Music was too loud
Remind competitors of the 60/40 split in judging so we are entertained while watching juggling tricks. (3)
While judges are out, let us feel free to move about, go to the bathroom, get a drink. It is OK if there is nothing to do after such an intense night
Get some Las Vegas acts to compete
Dont ever make people do a standard set of tricks in their routine, that would ruin juggling.
Award based on the highest level of skill
Ban techno and swing music
Greater variety in the skills used
Stronger individuals
I want to be there when theyre better.
Too much volunteer recognition. Can we publish volunteers somewhere without announcing it over and over?
Dialogue in the middle worked well.
No oldies rock and roll medley.
How would you rate the Individuals and Teams Championships?
8.4
Youth Showcase
What did you like about the Youth Showcase this year?
The number of individuals who showcased
Enjoyed it/fun/entertaining (19
Good to integrate with Youth Championships
Did not attend (31)
Performance opportunity for kids (5
Love seeing kids get involved (8)
High caliber performances (4
They are getting better
The musical acts with juggling
The numbers bit went on too long
David Groth does an excellent job
Well put-together (3
Relaxed atmosphere
The Swing Sisters
Riley Wiklund
There were girls
Nels Cremean
Start time earlier
Rehearsing the finale first was smart.
The post-showcase meeting worked well
Liked the variety of the emcees (5
The kids give their all to a 3-ball cascade
The kid who blew bubbles
The kid with the trombone
Cookies
Wide variety of kids from all over the US (2)
How could it be improved next year?
Better seating
Shorter show overall (23)
Limit number of times certain kids are onstage (14)
Edit performances, many were too long like the numbers act. (7)
Fewer acts (2)
N/A or not sure
More international kids
Liked the intros
Better mic
Keep it the same
Should not be right before Juniors
Hold it during the afternoon
Hold it on a different night
Take out non-juggling acts (2)
Get rid of the $500 prize money (2)
A cash prize is shameful
Adults should not be performing on stage during the youth showcase
Adults should perform too.
More women involved
Too much repetition from juniors championships
Have a dress rehearsal, not enough preparation time (2)
Have an adult emcee to keep it moving along
I will be talking by kids into getting involved next year.
Start later in the evening
More stuff
Post youth showcase meeting was excellent
This should be a free show
Encourage all kids of all skill levels to perform (2)
Kids in the Juniors Championships should not be in the Youth Showcase
More kids who are working without the benefit of a club structure.
Who chooses the Most Inspirational anyway?
Improve the level of skill needed to get in the Youth Showcase
How would you rate the Youth Showcase?
7.1
Cascade of Stars
What did you like about the Cascade of Stars this year?
Great venue (38)
It was great/entertaining show (19)
Great acts/performers (14)
Acts were varied (18)
Fun atmosphere (2)
Location of theater (4)
Fair show
Band was awesome (4)
Vova and Olga (10)
Thomas Dietz (4)
Matt Hall (2)
FKB (8)
Matt Henry
Allowing balloons in the theater
Nicolas Flair (4)
Liked watching the winning acts again (2)
Good length (5)
Very international
Plenty of seats
Michael Rosman: great emcee (7)
Liked Jay Gilligans artistic bit (3)
Acts not as spectacular as last year (2)
Scotty Meltzer did great
Olgas dress
Liked seeing performers who did not compete
Jason Garfields vacation?
Guy on the rola-bolas
Why was the Junior Champion not asked to perform?
How could it be improved next year?
It cant be better/wow, how could it be better? (6)
More winners participating
Publicity to get locals there
Some technical glitches with sound, lights and the curtain
More good performers, like in Reno
Open the doors sooner or reward the people who show up early
Pre-show music needed more variety
Needs more variety (2)
Professional acts instead of amateurs (3)
Better host
The juniors champion did not perform
A few weak acts (2)
Avoid a union house (stage time for practice was limited)
Dont have (boring) clowns (2)
Winner should wear an outfit (2)
Did not like Jay Gilligans act
Needs better acts (6)
Too ordinary (2)
Winners should not repeat their championships routines (8)
Curious about feedback from the general public about the show
More women
Move it to Saturday
Sound engineers did not start music on cue (7)
Wanted comedy jugglers funny to jugglers, not to mainstream audience
The show did not have a logical flow. It was choppy.
A special guest/act strong enough to close the show (3)
Sell the show
Stop unmiked performers from speaking
Did not like the political statement made with performers costumes
WJF t-shirts should not be worn.
The closer was anticlimatic
Kind of poor (2)
Lower the price on Reeses for crying out loud.
Reno was better
Reduce the number of acts
Increase the number of acts
Acts that havent appeared during the week (4)
"Inside jokes" or IJA references may not work for the non-juggling public
The FKB should have stopped after they missed the club passing trick three times
Womens showcase
Charge less and make a huge marketing attempt
Show was geared towards a non-juggling audience, but mostly jugglers were present
Program was confusing (no bios, fake names)
Wanted a few non-juggling variety acts
Performers doing different types of manipulation
How would you rate the Cascade of Stars?
8.1
Guest artist
This year the Flying Karamazov Brothers were our guest artists. What other guest performers would be like to see attend future festivals?

Viktor Kee (5)
Anthony Gatto (9)
Michael Davis (3)
Footbag jugglers
More teams (2)
Penn and Teller (4)
FKB again (2)
Toby Walker (3)
Chin Brothers (2)
J-F
Denis Palmier (3)
Stefan Singh
Passing Zone (7)
Leo Bassi
Jango Edwards
Tony Duncan
Negative comments about the FKBs (3)
Maxim Komaro (2)
Malte Steinmetz
Gregor Kiock
Ville Walo (3)
Mario Barousek
Ben Jennings (2)
Jon Gilky
Mike Fahe
Gandini Juggling Project (3)
Lukaluka (2)
Ben Smalls
Circus Oz
Cirque Eloize
Lazer Vaudeville (3)
Peapot Live
Matias Salmenaho
Vincent de Lavenere
Tony Frebourg
Jochen Schell
Cie Festibal
Doubble Troubble (2)
Michael Moschen (6)
Michael Menes (2)
Chinese acrobats
Raspyni Brothers (2)
Lelavision
Thomas Kubineck
Francoise Rochais
Gena Shvartzman
Cirque du Soliel jugglers (2)
Edward Jackman
Matthew Lauziere
Boehmer family
Le Grand David
Rhys Thomas
Frank Olivier
Airjazz (2)
Avner
Jay Gilligan (3)
Circus Ruska
FKB should have gotten the Historical Achievement award, not the Award of Excellence
Michael Goudeau
Dew Drop Jugglers
Flaming Idiots (2)
Jonathan Brady
Sergei Ignatov (2)
Harlem Globetrotters
Albert Lucas (2)
Jason Garfield (2)
Dick Franco
Gizmo Guys
Perpetual Motion
Olga and Vova (2)
Jason and Matt Tardy
Mark Nizer
Bill Irwin
Bob Nickerson
Stephen Gruss
Jamie Adkins
Daredevil Opera Company
Michael Rosman
Wally Eastwood
Vladik
Sorin Montineau
Bilauer
Johnny Fox
Robert Nelson
Steve Martin
Alegria Hula hoop artist
Montego
Rudi Horn
Alexander Kiss
Lottie Brunn
Any comments or questions about:
Monday Night Dinner and Welcome Show?
Great show (33)
Great idea (28)
Should be held every year/do it again (14)
Great way to start the week (10)
All the acts were super/great line up (5)
Food was good (10)
The food was poor
Food was average
Portions should have been bigger
Nice to have the international people recognized
Excellent addition/loved it/great (8)
Great low price (7)
Female performer would have been nice
Liked having a local performer
Great job by Nels Cremean (5)
Loved Luke Burrage (2)
Jack Kalvin was highlight
Visibility was poor from the back
Fun (11)
Good variety
Optional
Acts should have been a little shorter
Performance sightlines were a bit strange
The gravy/sauce left a bit to be desired (2)
Should have had a higher ceiling (4)
Can we start paying acts?
I liked seeing comedy instead of just technical juggling
A few extra meatballs would have been nice
Didnt sign up. Heard from others not impressed
Should have been done on the Youth Showcase stage
Not a good time to do thank-yous
Not clear if this was part of the festival, or a pre-fest party
Performance space was a little sketchy, but it lent itself to humour
Save some dinners for late arrivals who already paid
Joggling?
Too early (3)
Didnt go (34)
Best in Meet award not well thought out
More thought should be put into scoring system
Medals should not be given based on how many events you competed it.
Would love to try it one year
Good athletes
Hot and humid
Make it shorter (2)
Speed things up (2)
Scheduling conflict with juniors competitors (2)
All medals are better than ribbons
More women
It wasnt easy to findin fact, I couldnt find it at all.
I hope to join next year
Worthwhile and fun
Great idea
A venue closer to the gym would be helpful (2)
I suggest a new entry, the 4 X 100 clydesdale relay so the big fellas can compete
Use different medals for awards
Joggling should be hyped
Needs to be more organized (2)
Slept in. Pooh.
I want to see next year!
More competitors
The Individual Prop Competition?
Good job/great event/enjoyed it/cool (18)
More judges with performance credentials
Annouce itattendance was poor/it should have gotten more attention (9)
Shows promise (2)
Great idea (10)
Enjoyed it (4)
Didnt see it /NA (17)
Performers dont have grasp of juggling with music as opposed to juggling while the music is playing
Should be included in its entirety on IJA video
More detailed info on judging criteria (4)
2-minute time limit is brutal
Rules say there should be as many self-invented tricks as possible, but the judging doesnt always reward that.
Maybe held in the gym to attract more interest, maybe not
I thought Cindys juggling was beautiful as always, I thought shed score better (2)
Need more women involved
I couldnt find where it was happening
Some people seemed to be goofing off, some had it totally rehearsed.
Add rings
Add devil sticks
No stopwatch was used
Still working on what this is/how it fits it
Diabolo High Toss was a joke
Not crazy about the MC
Maybe make it an evening thing
I dont think everyone who enters understands the rules.
I dont think people should be allowed to enter it more than once (teams and solo)
Using the stage was good (2)
Awesome head-to-head challenge
Prelims may be needed
WJF t-shirts should not be allowed on stage since they were not accessible to the entire juggling public
The IJA Auction?
Loved it/great/cool (12)
It runs into Numbers: have it on a separate day
Dont send the money to a dedicated fund
More collector items needed
No order to items being sold
Missed Bradys enthusiasm in getting the highest price for every item.
Auctioneer was good. (2)
I wanted the Francis Brunn booklet
Thanks to Viveca
Too much stuff (2)
Argh
Well run (2)
Distracting environment (2)
The Numbers Competition?
Missed it (21)
Always fun/amazing/cool (15)
Ben is well organized, fair, knows the rules and historical records.
Perhaps an informational page could be available to explain judging, etc.
Not interested, but I love the concentration of contestants
Shaker cups are a distractiontoo loud.
What about a plates category?
More women involved.
Ben puts in a tremendous amount of work into this.
Didnt get showcased enough.
Control the AC, as it effects rings (2)
Creativity means more to me
Could use a nicer venue
Needs a big timing clock
Yawn/boring (3)
Maybe earlier in the week
Fewer people are enteringwhy?
You cant gut instinct the highest diabolo competition
Ben needs to be compensated
Moved to another area of the gym to help the concentration of the competitors
Inadequate seating for spectators
A lot of objects in the air.
The Games?
Great/Fun (28)
What happened to club gathering? (3)
Why werent 5 club endurance and blind 3 ball included?
Liked the little prizes this year
I like to see new games incorporated year to year
Team combat was great! (The last two players should duke it out in the public show) (3)
The game times moved around. Going by the schedule, you might miss something
Missed them (15)
"Showtime"was weak
A quicker pace
Need more women involved. I was told by two men I should partner with another women. It got me angry.
More games (2)
Should this be spread out over two days?
More space was needed
It was a little too close to a high-traffic area (registration)
Luke was great at Simon Says
The limiting of endurance was kinda sad.
Too long and boring
Allow more time for this.
During "Showtime" people should be miked if doing a mainly spoken act.
More intermediate level jugglers
Did the Buffalo festival run smoothly for you?
Yes, because:
Yes, all the hard work of the Festival Director and IJA staff volunteers (12)
Well organized (28)
Great shows (2)
No lines (2)
Great value (6)
Everything fell into place (3)
Enjoyed every minute of it/great time (5)
The copy machine was a glorious success
Everyone was so helpful, friendly, prepared ()
Location/everything within walking distance (22)
Convention center staff was very nice
Sandy Brown did a great job (2)
Saw the IJA Welcome sign at the airport
The IJA is like family to me, and the family is not perfect. You have to find the good stuff in what is there. Thank you so much for all your hard work.
Positive energy this year/good atmosphere (6)
The best yet/grand/fun (6)
The free food tickets to the outdoor concert were nice
Everything on time (2)
Loved the ball bouncing cage
Reno was overcrowded by comparison
Made new friends (5)
Hung out with old friends (4)
Learned new skills (4)
Registration was easy/smooth (6)
Free shuttle from the Doubletree tot he convention center and back
Loved the cookies and ice cream (2)
Kudos to Sandy/her energy (1)
I parked on the street without paying the meters and never got a single ticket!
A grocery store close by would have been nice
The schedule was filled (2)
The local people were friendly
Did not like Buffalo
You need more people, better food, booze and a choice of eventsmake stuff clash on purpose so people dont automatically troop off to whatever event or show is happening at the moment. Force them to think, make choices.
Free wireless access was great
Stayed at the youth hostel which turned out to be one of the best parts of the fest.
Did not care for the FKBs.
Having the workshop schedule online beforehand was helpful
Air conditioning
Yes, because I am cool
Lotsa workshops
I didnt lose or forget anything
I didnt get injured
Felt OK about the kids (aged 14) run around unsupervised
No, because:
Finding a place to eat was difficult (7)
Rule about not bringing food into the gym was unfriendly
More detailed descriptions of workshops
Dinner tickets were not in my packet
On-site registration was slow.
Lack of printed materials
Buffalo was not the most friendly city
Dirty floors
Concrete floors
I should have stayed in the Hyatt for convenience
Locked doors were problematic
The IJA needs to take action against rainfall.
A workshop instructor got angry because all the workshops were running late and he wanted his to start on time but his room was occupied.
Last minute accommodations were tricky
Didnt feel safe walking around solo at night (2)
Weather could have been better (2)
Bad stage for ball bouncing
Lack of hotel rooms (3)
Volunteered too much
Too much good stuff to do and too little time
Ate too much Kit Summers salsa
Sandy Brown was rude and disrespectful towards me
Lafayette Hotel stunk
Hyatt was incompetent
Got off to a bad start with the Hyatt
The web site wasnt well organized
Merchants in Buffalo didnt seem prepared for the extra volume of people in town.
How would you rate the festival as a whole?
8.7
Any additional comments or suggestions?
Room sharing message board was convenient
One of the best festivals in the past decade/great festival (2)
Kids on scooters, bikes should be reined in so they dont get clobbered by a club
More interesting location.
Dude! php and w3c standards labels! I hope it works fine on Opera 7.11.
The Renegade venue was good
Great job by Sandy and all the volunteers/thanks (32)
Great price
Lack of place to get a beverage
Ice cream and cookies (8)
Keep the festivals on the east coast
Loved the vendors
Enjoyed Renegade (3)
Have it here in Buffalo again (2)
Wanted a program booklet (3)
Workshop information page was vague and difficult to read
Major competition judging overhauls
More effort put into making computers available and free internet access
Wanted an open stage show during the day (2)
Wanted more than one free night without a show
Wanted to be allowed to bring food and drinks into the gym
For future conventions it would be well worth putting in the planning to make mats available.
Get a monitor for judges to use for instant review when making final decisions
Wanted workshops for kids
Get a better t-shirt design
Let us save seats for the evening shows please
Amateur convention, "on the cheap", not worthy of the IJA
Very happy to get back to the annual convention
More fast food restaurants close by
Laminated badge with photo instead of annoying bracelet
EVERYONE I talked to is unhappy about next years location
The band was great.
Move competitions to Thur-Fri and show Sat. Cant afford a week vacation
Best week of my life (2)
I felt like my stuff was totally safe in the gym.
A festival on the west coast, Canada, or other country
Full value festival at a discount price (2)
We are on the right path
Id say the organization has really come through for all of us.
Needed milk with the cookies
Did not like the political jokes during the FKB show
Saw anti-Bush t-shirts and heard more swearingwhere is the family atmosphere?
Im impressed with what you all have achieved. The change in IJA direction is a move for the better.
Great that there wasnt any controversy this year
Do daily mini-booklets with the schedule etc.
First festivalit wont be my last
Maybe a family registration for families of four or more
Ask Bob Cates to do his plate spinning act while the judges deliberate
Did not like Buffalo, NY (2)
A bar onsite is essential
An event focused on teaching juggling to the local people, an "open gym day". This will leave a flood of new jugglers
Better security.
Volunteers should meet in advance to make sure they know answers to questions
Lodging: lots of options this year. I stayed in the hostel and it was excellent. 2)
The emcees did a great job, very professional
Would like to see a competition of "average" jugglers, someone who does not make a full time living from juggling
Thanks for making the time and space for the Sean McKinney memorial (2)
Thanks for asking for this questionnaire input
We were hurt by not having a theater on Friday night.
No need to bring the registration price down further
Pay performers
The Festival Director should eventually become a paid part-time job
How can we volunteer in advance for specific roles in next years festival?
Useful to have a designated quiet room to relax, stretch.
Need convenient camping.
Good press coverage for the festival itself, but the local advertising for the Cascade of Stars was lacking.