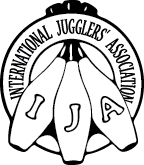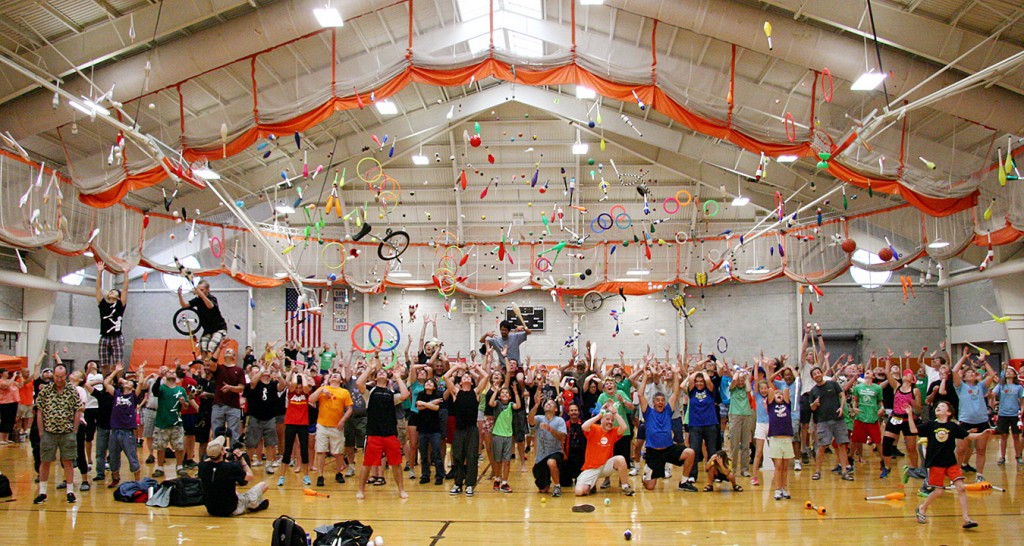 To render assistance
to fellow jugglers

This is an archival website
Income and Expense Summary
Sandy Brown, Festival Director
Aug. 26, 2004
Projected
Actual
Variance
$$
Qty
Ttl
$$
Qty
Ttl
INCOME:
Adult Event Package
160
400
64,000.00
470
$72,497.00
$8,497.00
Young Juggler Event Package
110
50
5,500.00
56
$5,759.00
$259.00
Daily Gym
85
75
6,375.00
208
$10,390.00
$4,015.00
Monday Welcome Dinner
8
300
2,400.00
8
382
$3,056.00
$656.00
Youth Showcase/Juniors
12
150
1,800.00
149
$1,686.00
$(114.00)
Individuals/Teams
20
200
4,000.00
241
$4,570.00
$570.00
Flying Karamazov Bros.
20
200
4,000.00
411
$7,760.00
$3,760.00
Cascade of Stars
25
350
8,750.00
374
$8,745.00
$(5.00)
Tshirts
15
150
2,250.00
15
180
$2,700.00
$450.00
Vendors
100
20
2,000.00
100
17
$1,700.00
$(300.00)
Spectators
5
100
500.00
5
319
$1,595.00
$1,095.00
Buttons
100.00
1
89
$89.00
$(11.00)
Championships entry fees 1
10
25
250.00
$455.00
$205.00
Joggling entry fees
10
20
200.00
10
34
$340.00
$140.00
Special Workshop
125
20
2,500.00
125
19
$2,375.00
$(125.00)
Free Food donation
2,000.00
$2,000.00
$0
IJA Auction
-
$3,152.00
$3,152.00
IJA Portfolios
15
30
450.00
-
-
$0
$(450.00)
Travel Donation/fest director 02/04
159.98
$159.98
$0
Total Income
107,234.98
$129,028.98
$21,794.00
EXPENSES:
Travel for Fest Director 09/03
300.00
$300.00
$0
Travel for Fest Director 02/04
159.98
$159.98
$0
Awards
$0
Flying Karamazov plaques
421.05
$421.05
$0
IJA Portfolios
937.00
$937.00
$0
Bank Charges 2
2000.00
$2,700.00
$700.00
Championships
$0
Indiv Prop Competition
1600.00
$1,600.00
$0
Champs cash awards
3950.00
$3,950.00
$0
Misc Champs expenses
0.00
$40.00
$40.00
ribbons
425.00
$462.20
$37.20
medals
275.00
$425.00
$150.00
Equipment Rental
$0
A/V
13000.00
$14,648.39
$1,648.39
Bleachers
2100.00
$2,408.71
$308.71
Exhibit Hall (Facility)
Rental
5500.00
$5,500.00
$0
Tablecloths
5
50
$250.00
$250.00
Jugs water
15.95
20
$319.00
$319.00
Vendor storage room
250.00
$250.00
$0
Free Food 3
2000.00
$1,600.00
$(400.00)
Total CC taxes
600.00
$554.11
$(45.89)
Gratuity 4 (dinner, all food)
900.00
$1,011.08
$111.08
Gym mats
0.00
$10.00
$10.00
Insurance
250.00
$250.00
$0
Theater
Rental
13000.00
$11,174.61
$(1,825.39)
Mdse for resale
T-Shirts
5000.00
$6,322.85
$1,322.85
Buttons
1
600
600.00
$426.00
$(174.00)
Wristbands
1000
170.00
$164.24
$(5.76)
CVB bags
0.20
1000
200.00
$0
$(200.00)
Postage/Shipping
500.00
$390.13
$(109.87)
shipping t-shirts
$100.00
$100.00
Printing
Mailer (includes postage)
2974.00
$2,974.00
$0
Copier in Buffalo
305.00
$435.06
$130.06
Tickets (Champs, FKBs)
184.83
$184.83
$0
Prof Services
FKBs & crew: travel, production costs
8000.00
$8,000.00
$0
FKB Show supplies
59.44
$65.16
$5.72
Special Workshop
62.5
20
1250.00
62.5
19
$1,187.50
$(62.50)
Publicity
Press kit
125.00
$0
$(125.00)
Telephone 5
1800.00
$1,800.00
$0
Track
0.00
$0
Travel
COS Director Flight
400.00
$350.00
$(50.00)
Champs Director Flight
400.00
$355.30
$(44.70)
Room 6
COS Director Hotel Room
500.00
$0
$(500.00)
Champs Director Hotel Room
500.00
$0
$(500.00)
Flying Ks
Comped room nights
$0
Meals
For green rooms
1000.00
$1,023.50
$23.50
Flying Karamazov Dinner
200.00
$0
$(200.00)
Welcome Dinner
10.00
300
3000.00
10
370
$3,700.00
$700.00
Misc
3000.00
$(3,000.00)
Office Supplies
300.00
$320.26
$20.26
Nametags
116.00
$116.78
$0.78
Contingency
10% of total expenses
7767.63
$(7,767.63)
Total Expenses
$86,019.93
$76,886.74
$(9,133.19)
Net Income
$21,215.05
$52,142.24
$30,927.19
The Championships Entry Fees income includes $95 in entry fees for Numbers. The rest is from Juniors, Individuals and Teams.

The Bank Charges expense is the estimated amount of fees charged to the IJA by the bank for handling our credit card charges. The estimated expense shown in this category is based on total income and an estimated 85% of payments done by credit card.

The Free Food expense includes the cost of cookies given out at Wednesday's show and ice cream given out at Thursday's show. This cost was covered by a directed cash donation recorded under Income.

The Gratuity expense under Exhibit Hall is for required gratuities for all food in the Buffalo Convention Center (includes Monday dinner, Wednesday cookies, Thursday ice cream and green room food for the shows in the BCC).

The Telephone expense includes $297 for the fest phone line for doing credit card verifications in Buffalo and an allocated $1503 for annual festival cell phone use out of the estimated annual charges of $2000 for the IJA's three cell phones.

Of the 12 total hotel room nights for the COS Director and the Championships Director, 4 were covered by free room nights the IJA earned through room sales and 8 were waived by the hotel because they had made mistakes in various reservations, etc. (The hotel also waived a $300 dinner charge for the FKB dinner for the same reason.) The other 18 free room nights earned from room sales were used to cover the FKB rooms (6 rooms for 3 nights).
Respectfully submitted by Sandy Brown and Martin Frost.