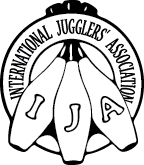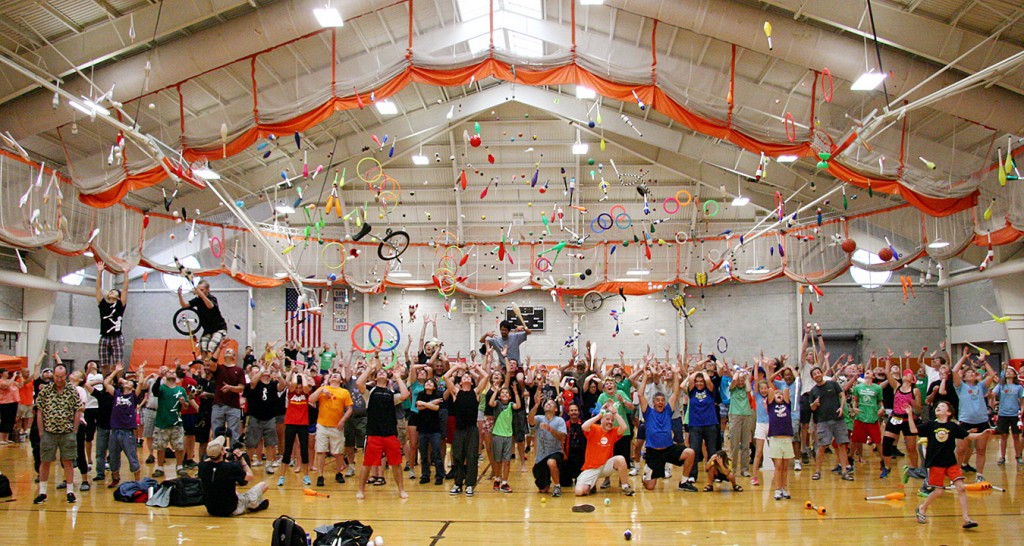 To render assistance
to fellow jugglers

This is an archival website
About the 2006 IJA Festival
If you've never been to an IJA Festival before, you have a wonderful surprise ahead of you.
Can you imagine hundreds of jugglers sharing tricks and challenges around the clock in the main gym? Jugglers are notoriously friendly and encouraging to others, no matter what skill level. Dozens of workshops a day will introduce you to new worlds of props, techniques, and ideas... not to mention impromptu one-on-one interactions in the gym.
Can you hear hundreds of children, laughing and gasping in wonder as world-class jugglers introduce them to the magic of juggling... and then gather them up for their very first juggling lesson?
Perhaps you will meet some jugglers who share your special interest in top spinning, or contact juggling, or right-left passing, or meteors. Perhaps after an especially long session of sharing your best tricks, you will spontaneously decide to go out late at night for a snack and storytelling.
Indulge in a few pints of Portland's best breweries while you enjoy the antics of some of the more daring among you on the Midnight Show stage. Maybe you'll even get up there and show us something we'll never forget!
Share the anticipation and astonishment during the IJA Stage Championships, where dozens of the best performers in juggling entertainment today will pit their skills and creativity in hopes of carrying home a coveted gold medal.
Watch the best juggling athletes in the world gather to juggle incredible numbers of objects... and perhaps break a world record in front of your eyes!
Put on your finest and gather with Portland's patrons of the circus arts to be enthralled during the Cascade of Stars, the IJA's public showcase of some of the best performance artists alive today.
Perhaps you are ready to compete in one of the IJA's contests? There are half a dozen different ways to show your stuff this year, and four feature cash prizes. If competition isn't your thing, there are many opportunities to get on a stage and share your best with your peers. Still not ready for a stage, but have an idea or trick to share? Offer to teach a workshop... even the most basic skill is welcomed!
Everyone who pre-registers for the full event package will receive an extremely nifty T-shirt, and the opportunity to purchase the Festival DVD set for only $10 (the cost of shipping and handling... later, this set will be available for $30 plus s/h!).
Every single participant will enjoy a different experience at an IJA festival... ask a dozen members, you'll get a dozen different stories about their adventures. That's the greatest part of an IJA gathering: you can choose the events and workshops that you will enjoy the most, you'll meet different people every year, you'll learn different new things every day. It's never the same twice. You've got to be there to catch it all!