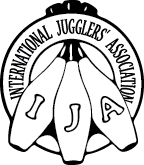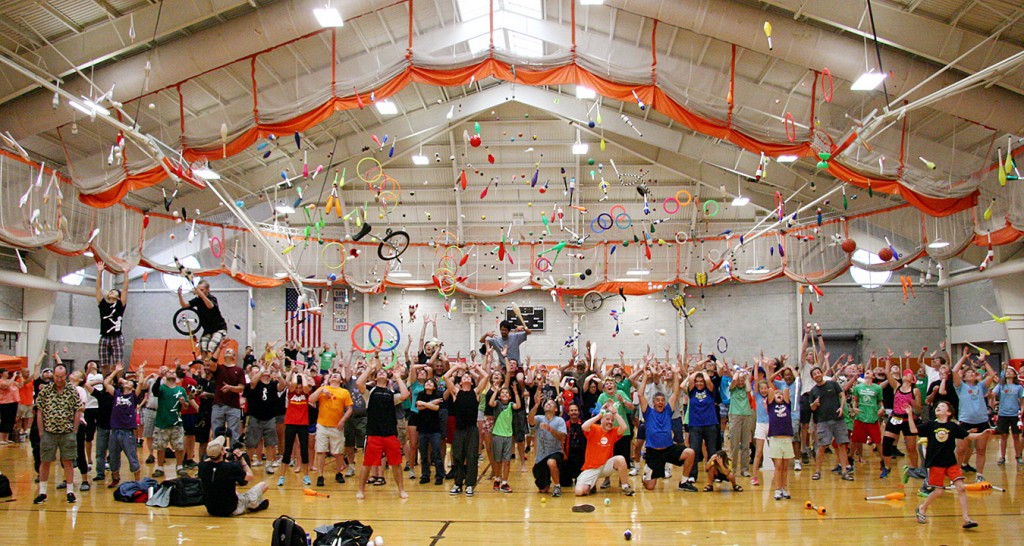 To render assistance
to fellow jugglers

This is an archival website
Shows
for the IJA festival in Portland, OR
July 17-23, 2006
See the best of the IJA on stage throughout the week. Here's a rundown of the performances offered this year:
Monday, July 17
6pm Welcome Party and Rose City Revue
Portlander Rhys Thomas and The Portland Jugglers have a wonderful evening planned for us. Pre-registrants will be admitted at 6pm to enjoy a complementary light supper buffet featuring some of the fresh gourmet treats produced locally. Then, Rhys and friends will take the stage and fill it with the incredible local talent that seems to flourish in the Pacific Northwest (all registrants will be admitted to the show). Folks who have attended the Portland and Seattle juggling festivals have an inkling of what awaits us... a fun-filled evening of laughter, music, daredevil stunts and, of course, stupendous juggling. What a great way to kick off our week in Portland!
Tuesday, July 18
9am Planting the Juggling Seed
The theater will fill with hundreds of local schoolchildren, and we will have an opportunity to introduce them to the magic of the manipulative arts. Produced by Kim Laird and Rob Barowski, with Matt Hall as MC. After the big show, the kids will have the chance to learn how to juggle, courtesy of Dave Finnigan, and a question-and-answer session with real live performing jugglers. Want to volunteer to perform, help with staging, pass out programs or just lend a hand? Contact Kim and Rob.
3pm Individual Props Competition
This year, the Props Competition will move to the Theater stage, giving us a better view of these intense routines. This year, look for the best in 3-ball, 3-club, 1-diabolo, 1-devilstick and 3-cigarboxes. Want to compete? Go here for more information.
8pm Tricks of Light
NEW THIS YEAR! The theater will be darkened and wild colors will fill the stage. Come be inspired by the newest glow prop artistry, and hang out after the glow show for music, showing off, and the chance to try out some of these high-tech toys yourself. Sponsored by Neon Husky. Interested in performing? Contact organizer Jim Dorman, or visit the Tricks of Light website. Sorry, no fire!
Wednesday, July 19
7pm Youth Showcase
This non-competitive event will feature young performers up to age 18. Beginners and experienced jugglers are welcome. This is a great chance to try the stage for the first time, and for festival participants to support our youngest members. For more information, contact producer
David Groth
.
9pm Juniors Championships
Months of practice, the pressure of the judges' gaze, and the aspirations of our youngest and brightest performers will merge into a fantastic show. Want to compete? Go here for more information.
Thursday, July 20
Noon-2pm Jazz & Juggle
What happens when juggling meets music? In this event, jugglers take the music of Louis Armstrong (or any musician born or based in Portland, OR, either as a composer or performer) and choreograph a routine to that music. Judging is based on musical interpretation. Want to compete? Visit the
Jazz & Juggle web page
. Hosted by
Michael Rosman
, and sponsored by the
Laughter Arts Foundation
.
8pm Individuals & Teams Championships
One of the highlights of the entire week, this event features the intersection of tremendous showmanship and excellent technical juggling. Interested in competing? Go here for more information.
Friday, July 21
4pm eXtreme Juggling
NEW THIS YEAR! What is eXtreme Juggling? It's not stage, circus or birthday party juggling. You don't even have to have your tricks mastered. All that matters is the biggest, baddest, most extreme juggling tricks you've ever seen. If you can rock a trick every time, it's probably TOO EASY! Watch the best jugglers in the world pull off huge tricks, gnarly moves, or just crash and burn. This is all about radical, cutting-edge tricks, pushing the limits of creativity and possibility... and all you gotta do is pull it off ONCE (within the time limit, of course). The eXtreme Juggling contest is the brainchild of Jack Kalvan and Ben Tolpin; visit the
eXtreme Juggling website
or contact
Jack
.
8pm Cascade of Stars
Our special guests, Jerome Thomas and The Mud Bay Jugglers, will take the stage and share their incredible talents with us. This performance will be promoted as our public show to the Portland area, and we're planning for a high-class presentation of the IJA to our host city (so dress in your best vest!).
Saturday, July 22
7pm Farewell Party and Show
Pre-registrants will be admitted at 7pm for complimentary drinks and dessert, then all registrants will be admitted for the Farewell Show. Produced by Comedy Industry's own
Scotty Meltzer
, expect to see the presentation of annual IJA awards, hear the fabulous IJA Band (want to play along? Email
Bruce Plott
), and witness awesome juggling to close the week and send you home with some incredible memories of the 59th Annual IJA Festival.
Midnight Shows
Several evenings (dates TBA, but most likely Wed., Thurs., and Fri.), the Midnight Show will be held at the Windows Lounge and Skyroom on the top floor of the Red Lion hotel (just a few short blocks from the OCC). Refreshing adult beverages and pub food will be available. Do not plan on a G-rated show (which means: think twice about bringing your kids. You have been warned). Performer signups will be at the festival. Showtime is left as an exercise for the reader.


Please note: All efforts will be made to make sure the information here is updated and correct; however, all events, performers and times are subject to change. A final program will be printed and distributed at the Festival.