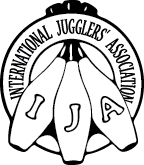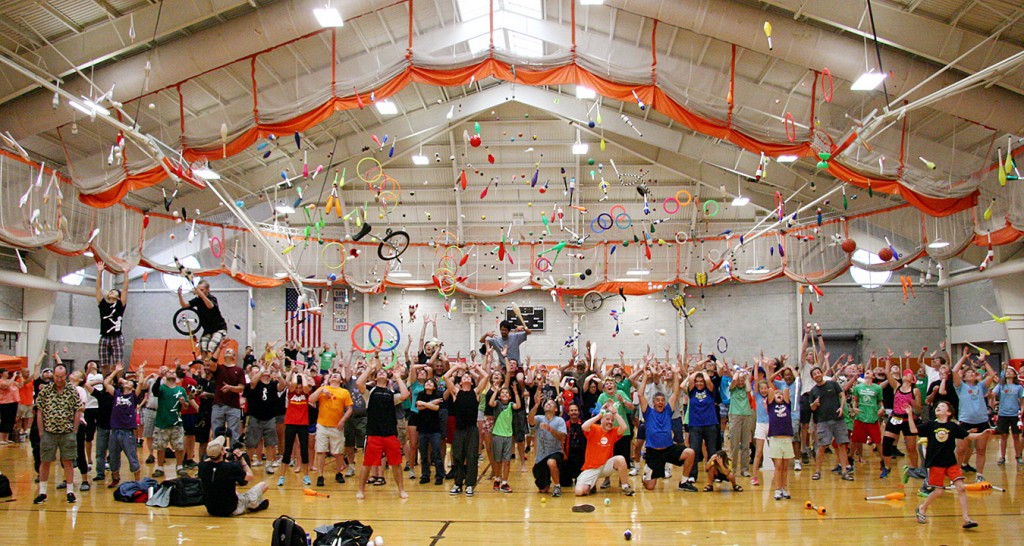 To render assistance
to fellow jugglers

This is an archival website
Vendor Information & Application
for the IJA festival in Portland, OR
July 17-23, 2006
The IJA invites you to participate as a vendor at the 59th Annual IJA Festival. The festival will be held at the Oregon Convention Center in the heart of beautiful Portland, Oregon, USA. The vendors will be located in the festival's main gym, where hundreds of jugglers and scores of visiting members of the Portland public will be enjoying open juggling.
Vending opportunities are available to anyone who has items that would be of interest to jugglers. This is not a juried show, nor do items need to be handcrafted.
Vendors are encouraged to set up early on Monday, July 17; many jugglers and members of the public will be on hand and will want to visit your booth if you are ready for them.
Space will be pre-assigned. If you have any requests, we will do our best to fulfill them, but cannot make any guarantees. There is a limit to the number of spaces available; first come, first served. If the space is full when you register, you will receive a full refund immediately. Sorry, we cannot guarantee available space to vendors who do not pre-register.
All vendors must be IJA members. You may join the IJA on your vendor registration form, or at the IJA Store.
While security will be provided, the IJA is not responsible for any theft, loss or damage during the festival. A limited amount of onsite storage will be provided, if needed, during the event.
Check In & Set up: Monday, July 17, 9am-5pm (open to jugglers and public)

Festival Dates: Tuesday, July 18 - Saturday, July 22, 9am-5pm
(While vendors may open their booths earlier or later than these hours, we recommend that a vendor representative be at their booth at least during these hours)

Tear down: Sunday, July 23, anytime before 3pm (no events, but open to jugglers and public)
If a vendor needs to arrive later than 5pm Monday, July 17, or must leave earlier than Sunday, July 23, please let us know so that we can situate your booth space to allow for the least amount of disruption to the festival. Thank you for your consideration.
Vendor Opportunities
Vendor Booth: $175 per space
(cost includes a 10'x10' space, a vendor pass for one person, two 8-foot tables, two chairs, a link from the IJA Festival web site, and a listing in the Festival program)
Please note that the Vendor gym pass does not include access to workshops, shows, competitions or other festival events. Add $100 to Booth fee to upgrade vendor pass to full festival package.

Employee pass: Add $50 per additional employee pass (good for the entire week). Add $100 to upgrade employee gym pass to full festival package.

Extra Booth Spaces (No Employee Pass): $125 per space.
An additional 10'x10' space with two 8-foot tables and two chairs.

Walkabout: $100
This is for people who carry their goods with them and don't need a table, but still wish to sell items at the festival (cost includes gym access for one person). Note that Walkabout pass does not include access to workshops, shows, competitions or other festival events. Add $100 to Walkabout fee to upgrade to full festival package.
Advertising: $50
An ad in the keepsake festival program, which will be preprinted and given to each festival participant upon registration. While every vendor will be listed in the program, this is an opportunity to give participants a more detailed look at your business. All ads will be the same size. We will contact you about building the ad.
Handouts: $100
Vendors may choose to send up to 1000 pieces of literature (flier, catalog, coupon or other advertisement) to be given to all Festival participants upon check-in, with their program, t-shirt and registration packet. Vendors will be contacted and given mailing instructions for their literature before the festival.
Due to limited storage space, vendors will not be permitted to ship stock to the festival site ahead of time. Stock can be delivered to the OCC anytime on Monday, July 17, 2006.
Deliver to (on 7/17 ONLY!):
Oregon Convention Center
777 NE Martin Luther King, Jr. Blvd.
Portland, OR 97232 USA
ATTN: IJA-(vendor name)

Vendor Application
You may download the application form (PDF).
Submit your form at the registration desk at the festival.
If you choose to upgrade the Vendor or Employee gym pass to an Event Package, please include t-shirt style (men's/women's) and size (S/M/L/XL/XXL). Also, Event Package holders have the option of ordering the Festival DVD Package for only $10.
Please feel free to contact us if you have any questions, would like a form mailed to you, or are interested in teaching a workshop. We look forward to working with you to create a fabulous festival and a profitable opportunity for your business.
Sincerely,
Lisa Hall, 2006 Vendor Coordinator
Email: vendors@juggle.org
Confirmed 2006 Vendors
Unconfirmed 2006 Vendors