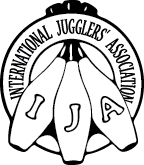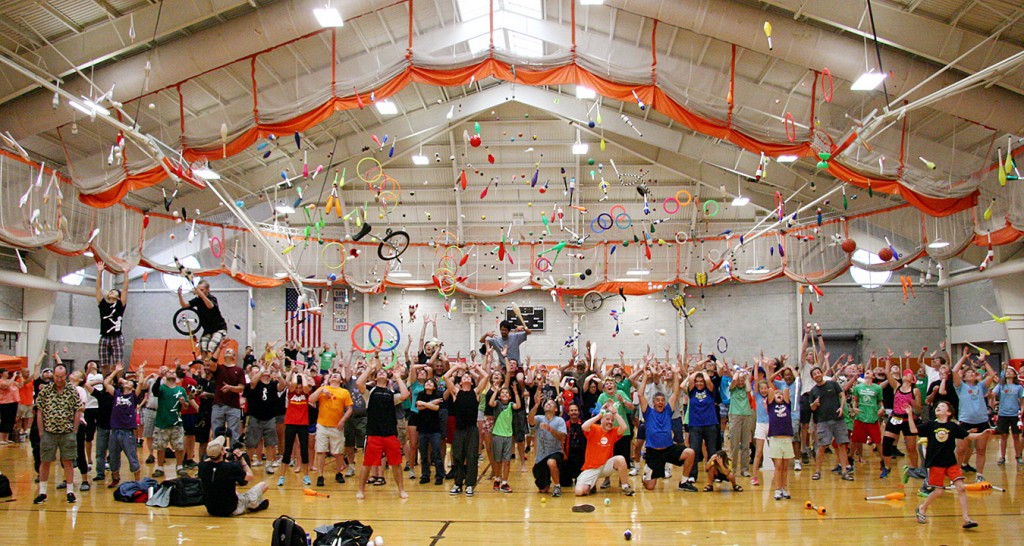 To render assistance
to fellow jugglers

This is an archival website
60th IJA Festival
July 16-22, 2007
Winston-Salem, North Carolina
The 60th Anniversary IJA Juggling Festival will be held July 16-22, 2007, in Winston-Salem, North Carolina, in 80,000 sq. ft. of well-lit, climate-controlled juggling space in the
Benton Convention Center.
Specially invited guests include;
Viktor Kee
Peapot Jugglers Maksim Komaro and Ville Walo
Peter Davison
Yuri Pozdniakov and two of his best Kiev circus school students
Françoise Rochais
Raspyni Brothers (emcees of the Anniversary Party and Awards Banquet)
Get the Shoe (very popular club passing team from Germany)
Aurelia Cats
The Friday
Cascade of Stars
will cap our week's entertainment when Viktor Kee, Maksim Komaro, Ville Walo, Peter Davison, Get the Shoe, and more invited guests create a world-class exhibition worthy of our 60th anniversary celebration.
Free juggling on Monday
Over 60 workshops Tuesday through Saturday
Joggling Championships on Tuesday morning
Ice Cream Social and Welcome show on Tuesday evening
Special Workshop by Yuri Pozdniakov on Tuesday, Wednesday and Thursday
Renegade Shows on Tuesday, Wednesday and Thursday nights
Planting the Juggling Seed kids' show Thursday morning
Individual Prop Competition on Thursday afternoon
Teams and Individuals Championships on Thursday evening
Auction Friday morning
Numbers Championships Friday afternoon
Extreme Juggling Friday afternoon
Special Anniversary Edition of the Cascade of Stars on Friday evening
IJA Games on Saturday afternoon
60th Anniversary Party & Awards Banquet on Saturday evening
Detailed festival information
is available on pages which use Flash. (Use the drop-down menus at the top of those pages to find out about all that's happening at the festival in Winston-Salem.) If you don't have Flash for your web browser or if you want a convenient printout of all IJA festival information, download the
6-page festival brochure and registration form
, which will also be included in the Spring 2007 JUGGLE magazine. (You can also
download Flash
free.) Pre-registration is now closed. Festival packages and individual ticket sales will be available at the Benton Convention Center beginning at Noon on Monday, July 16.
Hotel reservations
must be made separately. Be sure to mention the International Jugglers' Association to get the IJA hotel rates. (The airport is Piedmont Triad International Airport — airport code GSO.) Join us in Winston-Salem for our 60th Anniversary Juggling Party!
Important Competition Rules Changes
Special Note
: Routines must be submitted on DVD: To enter the
IJA Championships
, you must submit a DVD of your act (actual costume, music and routine) when you sign up for the competition at the festival on Monday. The video on DVD must be from a single continuous shot of your act, with no editing at all. The top acts will be selected for the stage finals in each category.
Special Note on Music
: If you are entering any IJA competition (including the IJA Championships and the Individual Prop Competition) with an act set to
music
, you must make sure that the IJA has a legal right to use that music both in the show and on videos. Be sure to read the
IJA Competitions Music FAQ
to find out what music you can use in the competitions.
2007 IJA Festival Schedule of Events
Monday
July 16
Tuesday
July 17
Wednesday
July 18
Thursday
July 19
Friday
July 20
Saturday
July 21
Sunday
July 22
10am: Facility Open
9am-5pm: Registration
9am-5pm: Registration
9am-5pm: Registration
9am-5pm: Registration
9am-5pm: Registration
9am-noon: Joggling
10am: Affiliate Meeting
11am: Planting the Juggling Seed
11am-6pm: Cascade of Stars Rehearsal
10:30am-Noon: Endurance Games
Noon-5pm: Registration
Noon: Business Meeting
11am-1pm: Cascade of Stars Rehearsal
Noon: Silent Auction closes
FREE JUGGLING
1-4pm:
Special
Workshop
1-4pm:
Special
Workshop
1-4pm:
Special
Workshop
Noon-3pm: Numbers Championships
1-4pm: IJA Games
FREE JUGGLING
1-5pm Welcome Show Rehearsal
Noon-2:30pm: Juniors Champs Rehearsal
1-5pm: Teams & Individuals Rehearsal
4pm: Big Toss-Up photo follows games
4-5pm: Teams, Individuals & Juniors Signups
7:30pm: Ice Cream Social
2:30-4:30pm: Youth Showcase Rehearsal
3-5pm: Individual Prop Competition
4-6pm: Extreme Juggling
3pm: Gym closes. See you next year!
9pm: Welcome Show
7pm: Youth Showcase
9pm:Juniors
7pm: Teams & Individuals Championships
8pm: Cascade of Stars
7pm: Anniversary Party & Awards Banquet
Midnight: Renegade Show
Midnight: Renegade Show
Midnight: Renegade Show
11pm: Club Renegade