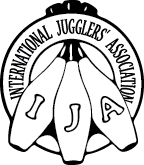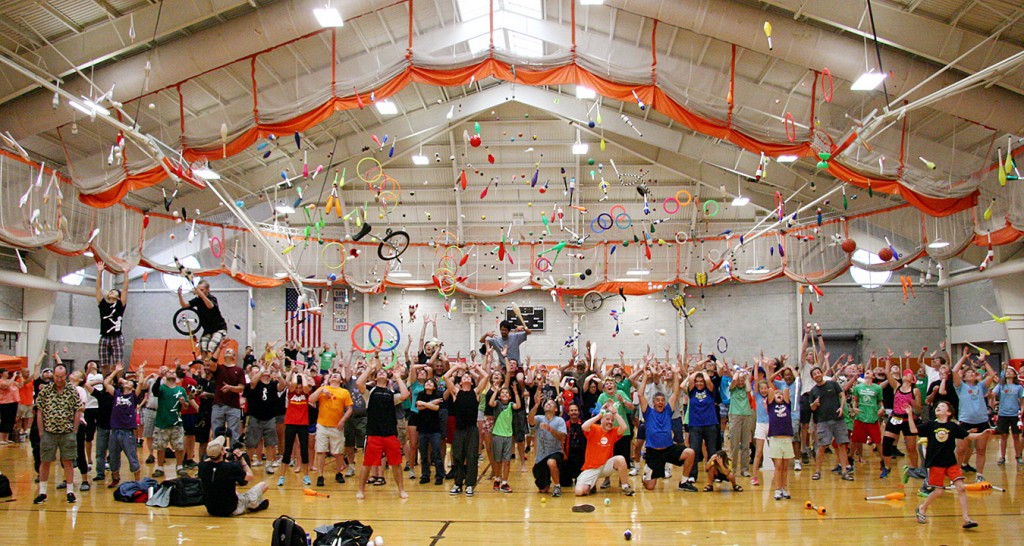 To render assistance
to fellow jugglers

This is an archival website
62nd IJA Festival
July 13-19, 2009
Winston-Salem, North Carolina
Summary
Summary Guest Artists Special Workshop Shows Competitions
Workshops Being There Hotels/Travel Room/Ride Sharing Forum Registration Info
Register Now Festival Forum Volunteer Festival Program
Live Feed! Newsletters Festival Promo
The 62nd Annual IJA Juggling Festival will be held July 13-19, 2009, in Winston-Salem, North Carolina, in the large, well-lit, climate-controlled juggling space of the Benton Convention Center. Specially invited guests include:
Michael Chirrick
Michael Menes
Florent LeStage
Greg Kennedy
Team RenegadesignLab (RdL):
Peter Irish
Sean Blue
Dan Bennett
Ivan Pecel
Festival highlights:
Free juggling on Monday
Dozens of workshops Tuesday through Saturday
Joggling Championships on Tuesday morning
Special Workshop by Team RdL on Tuesday, Wednesday and Thursday
Club Renegade on Wednesday, Thursday and Friday nights
Youth Showcase and Juniors Championships on Wednesday evening
Planting the Juggling Seed kids' show Thursday afternoon
Individual Prop Competition on Thursday afternoon
Teams and Individuals Championships on Thursday evening
Numbers Championships Friday afternoon
XJuggling Friday afternoon
Cascade of Stars on Friday evening
IJA Games on Saturday
Juggle Jam Party on Saturday evening
If you want a convenient printout of all IJA festival information, download the
6-page festival brochure and registration form (PDF)
, which is also to be included in the Spring 2009 JUGGLE magazine. Preregistration closed on
June 30
. Festival Event Packages and individual ticket sales will be available on-site at the festival in July. Prices for on-site festival registration appear on the last two pages of the
6-page festival brochure (PDF)
.
Hotel reservations
must be made separately. Be sure to mention the International Jugglers' Association to get the IJA's hotel rates. The airport for Winston-Salem is Greensboro/High Point, NC, with airport code GSO. Visit http://flyfrompti.com for complete airport information and links to airlines serving GSO. Join us in Winston-Salem for our 62nd Annual Fest!
Important Competition Rules
Championships entrants:
Be sure to read both of the following web pages for important details on entering:
Copyright Music Policy
and the
Stage Championships details
. In particular, there is an early June deadline for receipt of 6 copies of a DVD with video from a single continuous shot of the full act (actual costume, music and routine) with no editing at all.
2009 IJA Festival Schedule of Events
Monday
July 13
Tuesday
July 14
Wednesday
July 15
Thursday
July 16
Friday
July 17
Saturday
July 18
Sunday
July 19
10am: Facility Open
9am-4pm: Registration
9am-5pm: Registration
9am-5pm: Registration
9am-5pm: Registration
9am-3pm: Registration
9am-noon: Joggling
1pm: Planting the Juggling Seed
Noon-3pm: Numbers Championships
FREE JUGGLING
1-4pm:
Special
Workshop
1-4pm:
Special
Workshop
1-4pm:
Special
Workshop
TBA: IJA Games
FREE JUGGLING
4pm: Business Meeting
3-5pm: Individual Prop Competition
4-6pm: XJuggling
Big Toss-Up photo follows games
3pm: Gym closes.
8pm: Welcome Show
7pm: Youth Showcase
9pm:Juniors
8pm: Teams & Individuals Championships
8pm: Cascade of Stars
8pm: Juggle Jam Party
About 11pm: Club Renegade
About 11pm: Club Renegade
About 11pm: Club Renegade
All schedules and guests are subject to change without notice.