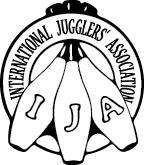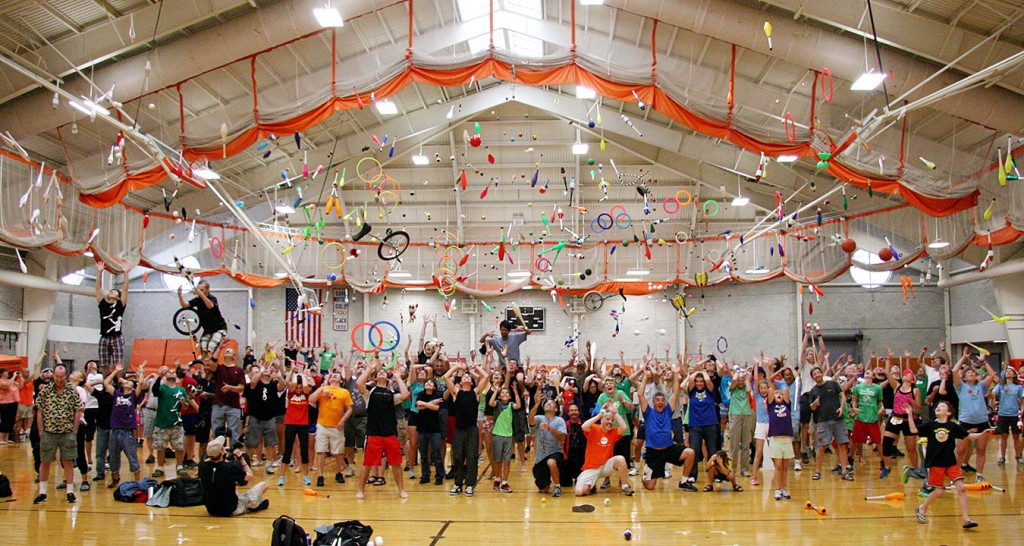 To render assistance
to fellow jugglers

This is an archival website
Championships Results
59th IJA Summer Festival
Portland, Oregon
July 17 - 23, 2006
2005 | Championships | 2007
Stage Competitions | Numbers | Individual Prop Competitions | eXtreme Juggling | Joggling | Games
2006 Championships Video - at our store


IJA Stage Competitions, July 19 - 20, 2006
Individuals
1st: Artem Khomanko, Ukraine
2nd: Yuki Kojima, Japan
3rd: Michael Karas, USA
Teams
1st: MHD (William Wei-Liang Lin, Ting-Chin Hsu), Taiwan
2nd: Swatch, USA
3rd: Vanillatown Vaudevillians (Mike Mesa, Curtis Carlyle), USA
Juniors
1st: William Wei-Liang Lin, age 17, Taiwan
2nd: Tony Pezzo, age 13, USA
3rd: Billy Watson, age 17, USA
---
Individual Prop Competitions, July 18, 2006
Diabolo
1st: Chen Tzy Yin
2nd: Tetsunori Saito
3rd: Chiang Shu Hui
3 Clubs
1st: Takashi Kikyo
2nd: Nate Johnson
3rd: Matt Henry
3 Balls
1st: Kevin Axtell
2nd: Will Penman
3rd: Komei Aoki
Devil Stick
1st: Yohei Ota
2nd: Aaron Young
3rd: Blak Spears
Cigar Boxes
1st: Nicholas Flair
2nd: Brian Gadomski
3rd: Jacob Weiss

Host/competition founder: Dan Holzman
Judges: Jackie "Mr. E" Erickson, Matt Hall, Mark Faje, Andrew Conway, Aaron Gregg
Timekeeper/score tallier: John Satriano
---
Numbers Competitions, July 21, 2006
Individual Balls
Gold Medalist Doug Sayers 8 Balls, 24 Catches
Silver Medalist Peter Blanchard 8 Balls, 23 Catches
Individual Rings
Gold Medalist Scott Sorensen 8 Rings, 21 Catches
Silver Medalist Sean Blue 8 Rings, 18 Catches
Bronze Medalist Jason Garfield 8 Rings, 16 Catches
4th Place Peter Blanchard (tied with Jason Garfield for 3rd place in prelims)
Individual Clubs
Gold Medalist Doug Sayers - 6 Clubs, 40 Catches
Silver Medalist - Scott Sorensen 6 Clubs, 32 Catches
Individual Ball Bouncing
Gold Medalist - Frida Brinkmann - 9 Balls, 25 Catches
Silver Medalist Jason Kollum 8 Balls, 28 Catches
Bronze Medalist John Jones 8 Balls, 19 Catches
Ball Passing
Gold Medalists - Nate Martin / Kelvin Ying 12 Balls, 83 Catches
Ring Passing
Gold Medalists Peter Blanchard / Scott Sorensen 10 Rings, 85 Catches
Silver Medalists Brian Gadomski / Billy Matsumoto 10 Rings, 55 Catches
Club Passing
Gold Medalists - Atsushi Kikyo / Takashi Kikyo 10 Clubs
(The Kikyo Brothers did not qualify 10 Clubs in the Finals, but qualified for the Finals with 10 Clubs, 132 Catches in Prelims, so they earned the Gold Medals as the only competing Finalists.)
Ball Bounce Passing
Gold Medalists Dave Critchfield / John Jones 14 Balls, 73 Catches
Noteworthy Results from Preliminaries:
Marco Paoletti qualified 8 balls (18 catches) during prelims, but was unable to attend the finals. Miyamoto Tomouki qualified 8 rings during warm-ups. NielsDuinker qualified 7 clubs during warm-ups, and P. Blanchard qualified 6 clubs during warm-ups. D. Sayers qualified 7 clubs (14 catches) and 9 balls (25 catches). S. Sorensen qualified 9 rings (19 catches). F. Brinkmann came close to the IJA record in Individual Ball Bouncing with 34 catches of 9 balls. N. Martin and K. Ying qualified 13-ball passing with 52 catches.
The 2006 IJA Numbers Championships saw a mix of familiar faces and newcomers with entrants from five countries. For the first time, this year's competition included prize money of $100 per event, thanks to a generous donation from Sandy Brown and a matching contribution from the IJA. Silver and bronze medals were awarded for the first time as well. The finals ran shorter than usual, thanks in part to increased minimum starting levels for several events.
Numbers staff: Merry Spahr and Scott Cain (Co-Coordinators); Fran Favorini, Jimmy Robertson, Peter Blanchard, and Scott Sorensen (Judges); and Larry Mock (Assistant)
---
eXtreme Juggling, July 21, 2006
Three Balls: Cate Flaherty
Four balls: Kazuhiro Shindo
Five balls: Tomohiro Morita
Seven balls: Marco Paoletti
Four rings: Brian Gadomski
Five rings: Ivan Pecel
Six rings: Brian Gadomski
Three clubs: Takashi Kikyo
Four clubs: Niels Duinker
Five clubs: Stefan Brencel
Directors: Jack Kalvan and Ben Tolpin
Judges: Will Murray, Erin Stevens, Peggy Reuss and Kevin Axtell
MC: BeeJay Joyer

---
Joggling, July 18, 2006
The joggling races were held at the Lincoln High School Field.

Coordinators: Heather Marriott and Sandy Brown
Volunteer Race Officials: Darin Marriott, Rick Wilson, Wendy Kolas, Jon Gittleman, Muffy Roy, Barry Goldmeier
Youth includes ages 13 and under
Juniors includes ages 14-18
Open includes ages 19-39
Masters includes ages 40 and over
Youth Female 100 Meter Dash 3-Ball
Aubree Kolas 26.2
Youth Male 100 Meter Dash 3-Ball
Kylen McClintock 17.65
tie: Colin Kulstad and Jonny Lengholz 20
Justin Kolas 23.3
Junior Female 100 Meters 3-Ball
Lauren Rice 20.7
Kelsey Harr 23.18
Amanda Richter 23.72
Junior Male 100 Meters 3-Ball
Trey Newsom 14.03
Riley Wiklund 14.9
Daniel Rose 17.1
Women's Open 100 Meters 3-Ball
Lana Bolin
Zoe Roy
Men's Open 100 Meters 3-Ball
Sam Nerenhaus 16.15
Marco Paoletti 16.9
Men's Masters 100 Meters 3-Ball
Anders Kierulf 15.06
Mike Monson 16.57
Tom McClintock 17.08
Youth Male 100 Meters 5-Ball
Kylen McClintock 48.33
Jonny Langholz 57.28
Junior Female 100 Meters 5-Ball
Amanda Ritcher 1:14.72
Lauren Rice 1:14.38
Men's Open 100 Meters 5-Ball
Marco Paoletti 36.84
Sam Nerenhaus 52.28
Men's Masters 100 Meters 5-Ball
Andrew Swan 1:29.47
Bill Coad 1:53.16
Tom McClintock 2:40
Youth Female 200 Meters 3-Ball
Aubree Kolas 1:01.4
Youth Male 200 Meters 3-Ball
Kylen McClintock 41.6
Justin Kolas 44.14
Colin Kulstad 46.94
Junior Female 200 Meters 3-Ball
Amanda Richter 47
Junior Male 200 Meters 3-Ball
Trey Newsom 29.55
Daniel Rose 36.82
Colin Revere 40.96
Women's Open 200 Meters 3-Ball
Zoe Roy 51.73
Men's Open 200 Meters 3-Ball
Marco Paoletti 32.25
Sam Nerenhaus 35.8
Men's Masters 200 Meters 3-Ball
Anders Kierulf 32.78
Tom McClintock 34.97
Mike Monson 35.85
Youth Female 400 Meters 3-Ball
Aubree Kolas 2:16
Youth Male 400 Meters 3-Ball
Justin Kolas 1:51
Colin Kulstad 1:59
Junior Female 400 Meters 3-Ball
Amanda Richler 1:52
Kelsey Harr 1:53
Junior Male 400 Meters 3-Ball
Trey Newsom 1:01
Riley Wiklund 1:20
Kyle Barrett 1:23
Women's Open 400 Meters 3-Ball
Lana Bolin 1:26
Lauren Rice 1:29
Zoe Roy 2:13
Men's Open 400 Meters 3-Ball
Marco Paolett 1:09
Sam Nerenhaus 1:17
Women's Masters 400 Meters 3-Ball
Sandy Brown 1:37
Muffy Roy 3:05
Men's Masters 400 Meters 3-Ball
Anders Kierulf 1:15.4
Tom McClintock 1:16
Mike Monson 1:18
Youth Female 800 Meters 3-Ball
Aubree Kolas 5:20.11
Youth Male 800 Meters 3-Ball
Kylen McClintock 3:21.33
Justin Kolas 3:51.98
Junior Female 800 Meters 3-Ball
Lauren Rice 3:08
Junior Male 800 Meters 3-Ball
Trey Newsom 2:25.3
Kyle Barrett 2:47.1
Riley Wiklund 3:19.18
Women's Open 800 Meters 3-Ball
Heather Marriott 3:10
Zoe Roy 3:28.55
Dorothy Finnigan 3:52
Men's Open 800 Meters 3-Ball
Marco Paoletti 2:51.7
Dean Bennett 3:51.6
Men's Masters 800 Meters 3-Ball
Tom McClintock 3:05.8
Mike Monson 3:13.1
Anders Kierulf 3:16.76
Junior Male 1600 Meters 3-Ball
Trey Newsom 5:36.62
Kyle Barrett 6:10.53
Men's Open 1600 Meters 3-Ball
Marco Paoletti 6:08
Sam Nerehaus 6:58
Men's Masters 1600 Meters 3-Ball
Tom McClintock 7:05
Anders Kierulf 7:29
Bill Coad 8:44.68
Junior Male 5K 3-Ball
Tosch Roy 20:01
Kyle Barrett 21:25
Women's Open 5K 3-Ball
Dorothy Finnigan 36:11
Men's Open 5K 3-Ball
Dean Bennett 28:30
Men's Masters 5K 3-Ball
Danny Tomaro 25:27
Tom McClintock 27:53
Youth 4x100 Meter Relay 3-Ball
K. McClintock, A. Kolas, J. Kolas 1:32
Juniors 4x100 Meter Relay 3-Ball
1. Wiklund, Richler, Harr, Rice 1:31
Langholz, Rose, Kulstad, Revere 1:37
Open 4x100 Meter Relay 3-Ball
Bolin, Kelsey, Deutsch, Nerenhaus, Paoletti 1:14
Harr, T. McClintock, Wiklund, Coad 1:24
Masters 4x100 Meter Relay 3-Ball
Kierulf, Tomaro, Swan, Monson 1:45
Goldmeier, Coad 3:06
Youth 4x400 Meter Relay 3-Ball
A. Kolas, McClintock, K. Kulstad, J. Kolas 7:45
Women 4x400 Meter Relay 3-Ball
Rice, Roy, Finnigan, Harr 6:11
Open 4x400 Meter Relay 3-Ball
Bolin, Deutsch, Nerenhaus, Paoletti 5:43.5
Coad, Bennett, Swan, Revere 8:34.98
Masters 4x400 Meter Relay 3-Ball
Tomaro, Monson, McClintock, Kierulf 5:45.9
---
IJA Games, July 22, 2006
Three-Club Backcross Endurance
Three-Up Pirouettes
Three Clubs with One Balanced
Three-Ring Pancakes
Four-Ring Pancakes
Five-Ball Siteswap
744 - Marco Paoletti
6x4 - Marco Paoletti
66661 - Marco Paoletti
64x - Marco Paoletti
97531 - Billy Matsumoto
777171 - Marco Paoletti
Six-Ball Endurance
Seven-Ball Endurance
Billy Matsumoto (27 seconds)
Four-Ball Mills Mess
Marco Paoletti (64 seconds)
Four Balls Over the Head
Four-Ball High/Low Shower
Three-Club Slapbacks
Three Clubs, Every Throw Through Legs
Five-Ball Shower Endurance
Five Balls Over the Head
Five-Club Endurance
Seven-Ring Endurance
Five Balls with Tricks Every 30 Seconds
Billy Matsumoto (2 min., 47 sec.)
Five-Ball Endurance
Tomohiro Morita (12 min., 49 sec.)
Diabolo High Toss
Speed Club-Passing
Anna Kutkiewicz, Selby Shlosberg, 108
Three-Ball Open, Beginners
Three-Ball Open, Advanced
Club Gathering
Three-Ball Sky Says
Club-Balance Sky Says
Dice-Dice Baby
Showtime
Three-Ball Blind
Combat
Stage Competitions | Numbers | Individual Prop Competitions | eXtreme Juggling | Joggling | Games
2005 | Championships | 2007