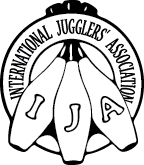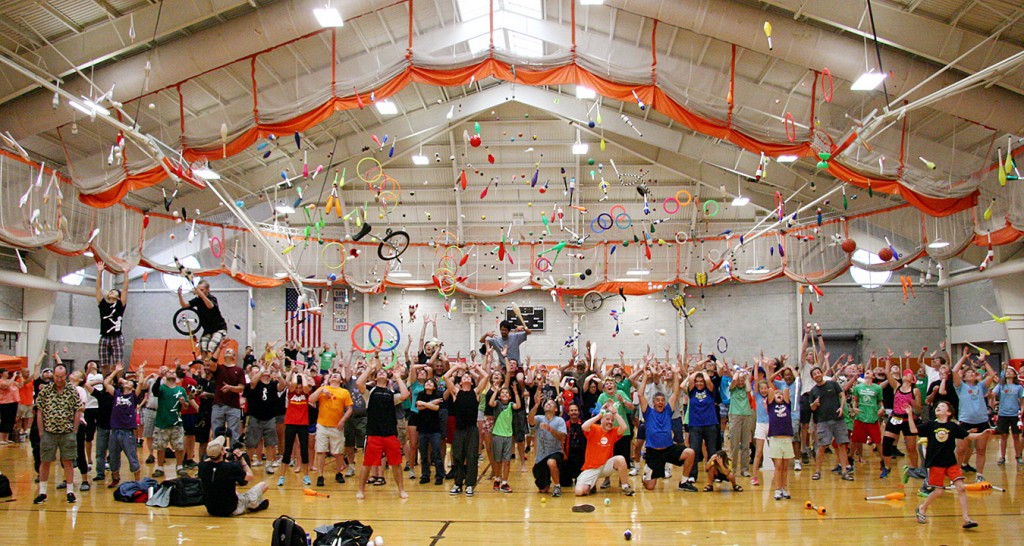 To render assistance
to fellow jugglers

This is an archived website
Previous minutes: February 17, 2004 | List of available minutes | Next minutes: May 4, 2004
IJA Board Meeting - March 2, 2004
Present: Dave Davis, Chairman; Jaye Butler, Andrew Conway, Greg Phillips, Ben Schoenberg, Scott Slesnick, Todd Strong, Directors.
Absent: Katje Sabin, Recording Secretary, excused for medical reasons. Katje arranged in advance for Greg to take minutes in her place.
Call to order: The meeting was called to order at 9:34pm EST.
Agenda: The agenda was accepted as posted by unanimous consent.
MINUTES
Meeting of February 17, 2003. A vote was taken on approval of the minutes as corrected.
Yes: Andrew, Ben, Scott, Todd
Abstain: Jaye, Greg, Dave
The minutes were approved as corrected.
REPORTS
Festival Dave reported that hotel rooms are selling out more quickly than expected and that Sandy is working on adding more rooms at the main festival hotel and/or adjoining hotels.
Bylaws Committee Scott reported that the Bylaws Committee is currently considering a motion to dissolve, as no progress is being made. The results will be discussed at the next Board meeting.
JUGGLE March/April Issue Dave reported that the letter regarding Benji Hill that was published in the March/April JUGGLE has already generated several comments and concerns.
Archives Andrew reported that the archival material that had been stored at his house has now been delivered to the Assistant Archives Director (Alan Howard).
CONTINUING BUSINESS
Membership refund policy. Andrew moved: The Board must be notified of any refund of membership fees. It is the policy of the IJA not to refund any portion of membership fees to any member who has in that year attended an IJA festival or voted in an IJA election, except as required by Delaware Law.
Yes: Andrew, Greg, Scott, Todd
No: Jaye, Ben
Abstain: Dave
The motion passes.
Jaye stated for the record: "Any member that requests a refund should be accommodated with a pro-rated refund to the date of the request."
Ben stated for the record: "I agree with the aim of this motion but felt time had not been taken to compare it with our credit card authorizor's policy on refunds regarding memberships."
Festival Vendor policy (including workshops).
Andrew moved that the following be adopted for the 2004 IJA Festival:
Vendor spaces will cost $200 for the week, which will include two tables and a space twelve feet long and ten feet deep. Vendor passes will not be provided. All vendors and vendor staff will be expected to purchase either a gym pass or package plan.
There will be a shared table for small vendors who may sell there at a cost of $10 per third of a table per day.
3. There will be an affiliates table where affiliates may sell festival T-shirts, etc. and distribute literature free of charge. All proceeds must benefit the affiliate and not any individual.
4. With permission of the Workshop Director, workshop leaders may sell props, books or videos at the beginning or end of their workshop provided that a purchase is not required to participate in that workshop and that the merchandise in question is not for sale at one of the vendors in the gym.
Greg moved that consideration of this motion be postponed to the next Board meeting. The motion to postpone was passed by unanimous consent.
Todd undertook to circulate this motion to past IJA vendors to gather comments and concerns.
Product endorsement requests.
Andrew moved that the IJA investigate a corporate sponsorship program which would allow corporate sponsors to use the IJA logo on their packaging. The motion passed by unanimous consent.
Andrew volunteered to undertake this investigation.
NEW BUSINESS
Releasing meeting recordings. Andrew moved that recordings of Board meetings from July 23, 2003 onwards be made available to members at a reasonable cost.
Yes: Andrew, Greg, Ben, Todd
No: Jaye
Abstain: Scott, Dave
Jaye stated for the record: "I would have supported release of the recordings of the Board meetings from July 23 onwards to members at a reasonable cost if an attorney would have been consulted to advise the Board regarding risk of liability related to that release. I am particularly concerned about comments made regarding Robert Puhalla and other individuals outside of executive session."
Juggling Skill Levels/Certificates.
A suggestion was made that the IJA should produce a "Juggler" certificate to be awarded to people who learn to Juggle. The certificate would include encouragement to join the IJA and information on how to do so. Consensus was that this certificate should be designed and presented to the Board for approval.
NEXT MEETING
The next Board meeting will be arranged by email.
ADJOURNMENT
The meeting was adjourned at 11:43pm EST.
Previous minutes: February 17, 2004 | List of available minutes | Next minutes: May 4, 2004