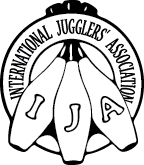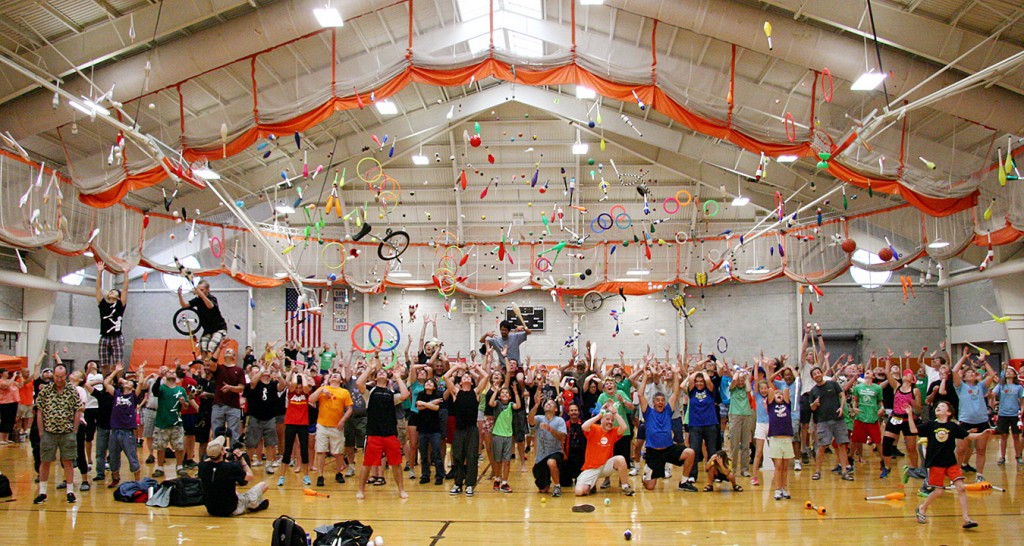 To render assistance
to fellow jugglers

This is an archived website
Previous minutes: Oct. 11, 2006 | List of available minutes | Next minutes: Jan. 10, 2007
IJA Board Meeting-November 15, 2006
1. CALL TO ORDER: Chair Kim Laird called the meeting to order at 8:03 p.m. EST.
2. ROLLPresent: Kim Laird, chair; Don Lewis, Jerry Martin, Jim Maxwell, Bob Neuman, board members; Martin Frost, John Satriano, Chuck Hawley.
Absent: Will Penman, Sandy Brown.
3. APPROVAL OF AGENDA: Agenda approved as corrected by unanimous consent.
4. PREVIOUS MINUTES: Minutes of the Oct. 11, 2006 meeting passed by unanimous consent.
5. REPORTS
Festivals (John Satriano) - John discussed including footbagging at the IJA fest 2007 to increase attendance. Thursday is possible day for competition. We should also inform the proper vendors. John would like to offer youth group discounts seeing it as an investment into the juggling community and increasing participation. Offer package of $89/youth for groups of 10 youths or more with at least one adult leader. John to provide specific information at a later date. Martin will contact Bill Gilliland for accurate financial.
Finances (Bob Neuman) - New purchase- Dell Laptop. (replace previous IJA computer equipment) Bob has received his new Bank of America debit card. Holly Greely and John Satriano are to receive their own debit cards for bookkeeping and festival expenses (respectively).
Jim has not yet received his card but will be for deposits only.
Insurance (Kim Laird) - Kim reports that we needed 150 participants for group discount but only have 12. Kim is looking into a possible rider with Puppeteers of America. Many agree that greater advertisement for the insurance is needed.
Membership (Jim Maxwell) - Martin's postcard was a success and Jim has received an estimated 90 updates through email members' contact information.
Magazine (Kim Laird) - Alan is investigating copyright expenses. Postage rate for magazines are to be worked out with Alan and reported to the board later.
6. CONTINUING BUSINESS
6a. Kim Laird moves for the board to approve the 3-year contract presented at this meeting between Alan Howard and the IJA for the production of the IJA publication. By approval of this contract, the board gives permission for Kim to sign said contract on behalf of the board. (sent as an attachment to all board members as the document is over 20 pages long) Seconded by: Jim Maxwell. Motion tabled until next BOD meeting.
6b. Don Lewis moves to officially adopt the attached video policy as presented by Andrew Conway. (see addendum A) Second by: Bob Neuman. Passes by unanimous consent.
6c. Don Lewis moves to approve the attached contract for the trial DVD magazine. (see addendum B) Second by: Jim Maxwell. Passes by unanimous consent.
7. NEW BUSINESS
7a. Kim Laird moves to appoint Chuck Hawley as recording secretary to the board of directors for the remainder of the 2006-2007 term. Second by: Don Lewis. Passes by unanimous consent.
7b. Bob Neuman moves to accept the following proposal from Andrew Conway for the IJA to produce a DVD honoring 20 years of The People's Choice Award. (see addendum C) Second by: Don Lewis. Passes by unanimous consent.
7c. Don Lewis moves that the eventual magazine contract be approved through IJA Forum. All seven board member are required to vote
Seconded by: Bob Neuman. Passes by unanimous consent. (All member to vote prior to end of month of November)
8. NEXT MEETING: Next regular BOD meeting will be held January 10, 2007 at 8pm EDT. Agenda items due to BOD chair on or before December 31, 2006.
9. ADJOURNMENT: Jim Maxwell moved to adjourn. Meeting was adjourned at 9:57 p.m. EST by unanimous consent.
Respectfully submitted,
Chuck Hawley
Addendum A (accompanies item 6b of the agenda)…

You MAY
* Videotape in the gym for personal use with the permission of the person(s) being videotaped.
* Videotape workshops for personal use with the permission of the workshop leader.
* Videotape joggling for personal use.
* Videotape midnight shows for personal use.
* Obtain a video of your own performance in any IJA show or competition for a small fee. This video is non-commercial use. You may use it in a promo video provided you credit the IJA. You may put it on the web provided you credit the IJA and link to the IJA web site.
* Make 'fair use' of IJA videos. Provided you credit the IJA for the
footage, you can include or link to the following in another video project or web site: no more than 30 seconds from any single act, no more than two minutes from any video, and no more than five minutes from all IJA videos.
* Submit a proposal to
for any other video projects involving IJA events or archives.
You MAY NOT
* Videotape any IJA shows or competitions (except joggling and the midnight shows) without written permission from the IJA.
* Make a commercial video using IJA footage or video recorded at an IJA festival without a license from the IJA. See below.
* Copy IJA videos.
* Publish IJA videos on the web, unless it is your act, or you follow the
fair use guidelines. It is you act if you are the sole performer, or you
have permission to publish from all the other performers.
Note on licensing
The IJA will not charge a license fee for an individual performer wishing to use footage of their own performance in a commercial video they are producing provided:
* The IJA is credited for the footage in the final product.
* IJA members receive a discount on the final product.
Addendum B (accompanies item 6c of the agenda)…
CONTRACT
2007 IJA Video Magazine
This is an agreement by and between Alan Plotkin (PLOTKIN) and THE
INTERNATIONAL JUGGLERS' ASSOCIATION (IJA), a Delaware non-stock corporation, of mailing address: PO Box 7307 Austin, TX 78713-7307, USA.
PLOTKIN RESPONSIBILITIES:
1. Create a video magazine on DVD (MAGAZINE) with contents as defined in the CONTENT schedule on a work for hire basis.
2. Complete post-production work on the MAGAZINE under the advice
and consent of the IJA as to content and outline.
3. Meet all deadlines as outlined in MAGAZINE DEADLINES schedule.
4. Accomplish this at his own expense, such that all expenses other
than those outlined in IJA RESPONSIBILITIES paragraph below, are to
be "out of pocket" expenses to PLOTKIN.
5. Shoot and edit in digital format, and produce a DVD master for
reproduction.
6. Use royalty free music exclusively with the exception of music
quoted under the "fair use" provisions of the Copyright Act.
7. Obtain video releases from all persons featured in the MAGAZINE.
8. Act as liaison with the replication house for the copying and
distribution of the MAGAZINE.
IJA RESPONSIBILITIES:
1. Pay $5,000 to PLOTKIN
2. Solicit sponsorship and/or advertising for the video.
3. Provide a mailing list to the replication house for the
distribution of the MAGAZINE.
4. Pay the replication house for the costs of replicating, packaging
and distributing the MAGAZINE.
5. Provide cover artwork for the MAGAZINE.
MISCELLANEOUS
1. All videotape shot by PLOTKIN, and all resulting raw footage and
masters are the property of the IJA. The IJA is, and will be, the
owner of the copyright and all other rights in and to this MAGAZINE subject to such rights, if any, as may have been retained by the
performers.
2. All tapes are to be returned to the IJA upon completion of the
project including all raw footage and masters. Tapes are to be sent
to Alan Howard for inclusion in the IJA Archives.
3. PLOTKIN may include portions of the footage in his demo or
self-promotion tapes.
4. All orders for the video magazine will be solicited through the
IJA offices and none will be made to or by PLOTKIN. PLOTKIN agrees
to forward all requests for magazine orders to the IJA..
5. PLOTKIN will provide artists who appear in video magazine footage
of their performances at $20 per request. Artists must agree to the
IJA's terms and conditions for the use of the video.
6. All income from advertising or sponsorship will go to the IJA.

PAYMENT SCHEDULE
1. The IJA will pay PLOTKIN $5000.00. Fifty percent will be paid
within two days upon completion and delivery of the master and fifty
percent within thirty days of completion and delivery of the master.
MAGAZINE DEADLINES
1. All dates in this section are subject to change only by (a)
events outside of the control of PLOTKIN, including strikes, failure
of suppliers to meet contracted schedules, and the like, and or (b)
by mutual written agreement of both parties, PLOTKIN and the IJA.
Any changes to the video requested the IJA beyond those laid out in
the following schedule will add one week per revision to the related
deadline without penalty to PLOTKIN.
2. The first draft of the MAGAZINE will be submitted for IJA
approval by delivery to the IJA Video Coordinator no later than
April 1st, 2007 and the IJA will approve or request any changes
within seven days of receipt.
3. The completed MAGAZINE will be delivered to the IJA no later than
April 14th, 2007.
4. If the above mentioned deadlines are not met, PLOTKIN will
forfeit ten percent of his fee. This penalty will compound weekly
(i.e. ten percent for week one over deadline, twenty percent for
week two, thirty percent for week three, etc.) until the final
MAGAZINE is delivered (in a final form that is satisfactory to the
IJA) to the IJA's assigned representative. However, PLOTKIN will not
be held liable for any deadlines which are not met due to any
actions by the IJA as noted above in "NOTE."

CONTENT
1. MAGAZINE Content may be modified with the mutual consent of both parties, PLOTKIN and the IJA.
2. Content of the MAGAZINE is currently planned to be:
Red Ryder - A Light Goes Out In Austin
America's Got Talent - 4 Juggling Acts Excel On Network TV Show
Fritz Grobe - Mentos and Diet Coke Man
Editorial by Ivan Pecel
Great Performances - From the IJA Archives
Spanning The Globe - Viewer Submissions
Workshop - Educational Section>Coverage of at least two regional festivals
3. MAGAZINE will be between 90 minutes and 120 minutes in length.

_____________________________ date ___________
International Jugglers' Association
_____________________________ date ___________
Alan Plotkin

Addendum C (accompanies item 7b of the agenda)…
This year was the 20th time the IJA membership has awarded the People's Choice award. I would like the IJA to publish a compilation DVD featuring all 20 winning acts. I would expect this to pay for itself within the first two years, and continue to make money for a number of years thereafter. Please could you put this on the agenda for the next board meeting. Here is the financial breakdown, and the list of acts who won the award.
Expenses
Video Editing and Mastering (Alan Plotkin) $ 500
Complimentary DVDs to Artists (postage) $ 60
Cover artwork $ 50
DVD Replication $2,000
Contingency $60
TOTAL $2,670
Income
First year
Retail sales (110 copies @ $15) $1,650
Wholesale sales (50 copies @ $10) $ 500
First year total $2,150
Second and subsequent years
Retail sales (25 copies @ $15) $ 375
Wholesale sales (20 copies @ $10) $ 200
Second year total $ 575
Addendum C (accompanies item 7b of the agenda)…

1987 Bounce & Ooo La La
1988 Philippine Pride Jugglers
1989 Sergei / Jeffrey Daymont
1990 Arsene
1991 Laura Green
1992 Elliot Cutler
1993 Masahiro Mizuno
1994 Ngaio Bealum
1995 John Gilkey
1996 Gil Pontius
1997 Jorg Muller
1998 Les Tourisks
1999 The Gandini Juggling Project
2000 Jason Garfield
2001 The Boehmer Family
2002 Perpetual Motion: Chuck Hawley & Anthony Shave
2003 Team Rootberry: Jonathan Root & Bill Berry
2004 Luke Burrage
2005 Matt Hall
2006 Tony Pezzo

Previous minutes: Oct. 11, 2006 | List of available minutes | Next minutes: Jan. 10, 2007