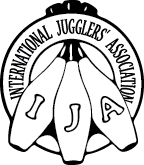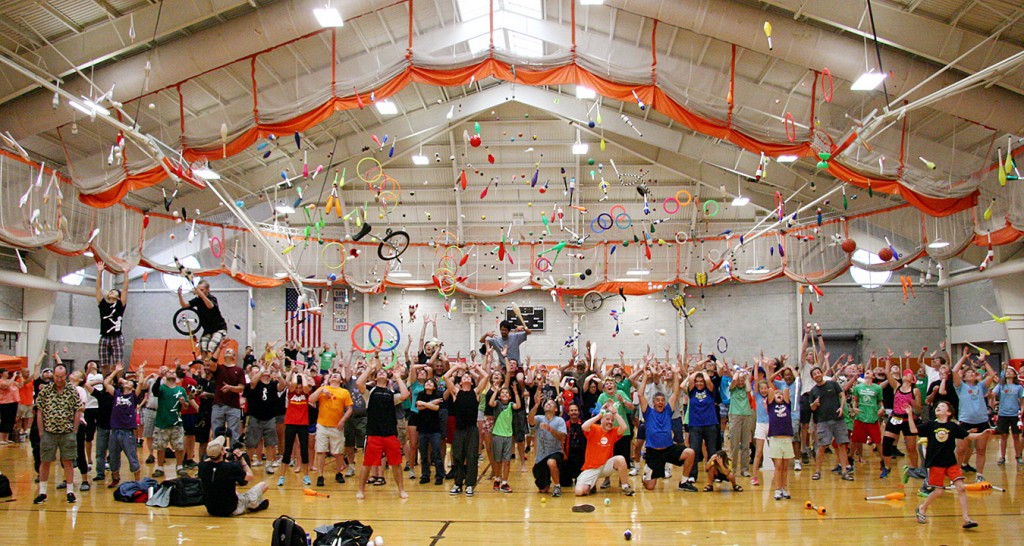 To render assistance
to fellow jugglers

This is an archival website
Previous minutes: May 23, 2007 | List of available minutes | Next minutes: July 18, 2007
IJA Board Meeting-June 13, 2007
(preliminary agenda not approved)
1. CALL TO ORDER: Chair Kim Laird called the meeting to order at 8:05 p.m. EST.
2. ROLL
Present: Kim Laird, chair; Sandy Brown, Don Lewis, Jerry Martin, Jim Maxwell, Bob Neuman, Will Penman [joined at 8:43 p.m.] (board members); Chuck Hawley (Recording Secretary). John Satriano (Festival Director), Martin Frost (Communications Director), Holly Greeley (Treasurer)
Absent: none
3. APPROVAL OF AGENDA: Agenda approved by unanimous consent.
4. PREVIOUS MINUTES:
Motion of reconsideration for 7B took place. Kim changes her vote to a no. Everybody else remains the same. Also a few minor spelling changes have been made to Video Services Contract (Attachment A).
Don seconds the motion.
Minutes of the May 23, 2007 meeting passed by unanimous consent.
5. REPORTS
Festival (John Satriano) - Francoise Rochais is coming. A benefit show will be happening. The mayor will be attending. The budget has not come in exactly where would we like but there are a number of places where the budget can be cut. Holly and John will be working on this. John says we are still on track to make a profit, it may not be as much as originally thought. John will be sending a revised budget to the board when it is complete. Sandy say both the Fox and the CBS affiliates want to do pieces as well as 2 or 3 meteorologists may be doing there weather reports from the festival.
Finances (Holly Greeley) - Comparisons to this time last year is not a good comparison since finances at this time last year were not as in good. Right now we are ahead on budget, world juggling day t-shirts and membership sales compared to last year. We are behind on festival income as compared to what was predicted. Holly feels that we are in a good place
Membership (Jim Maxwell) - current number is 1711. There has been a lot of fluctuation lately. Jim has looked into a second quote for the decals. He has found, similarly to Martin, will cost about $700 for 5000. Jim, along with a friend, is looking into a program to integrate the store and other databases.
Store (Sandy Brown) - nothing to report from Sandy. Martin is trying to contact to those who have left incomplete purchases in the store.
e-Newsletter (Don Lewis) - Don is getting ready to start for the June edition. He is looking for content.
Member Survey (Kim Laird) - The member survey is ready to go. Kim will be working with Martin to notify the membership via email. A reminder will also be sent out in the June e-Newsletter.
WJD (Sandy Brown reporting for Don Higgins) - Sandy report that all the shirts all out accompanied by some stickers. Don did a great job.
6. CONTINUING BUSINESS
6a. Bob Neuman makes the following motion to amend the IJA Bylaws:
Whereas, the current expulsion procedures listed under Article II, Section 4 of the bylaws do not guarantee due process of members.
Whereas, it is essential to protect the parliamentary rights of members of an organization.
Whereas, changes must be made in order to update such procedures.
Let it be resolved, the current Article II, Section 4 shall be stricken and replaced with the following:
Article II. Members
Section 4. Expulsion of Members
A. A member of the IJA may be expelled for any of the following reasons:
1. Violated any applicable requirements of these
bylaws; or
2. used the Corporation to further his or her personal
financial interest;
3. willfully violated a policy of the IJA adopted by its
Board of Directors and disseminated to its members; or
4. acted in such a way to bring damage, disrepute,
civil, or criminal liability, financial, or other harm
to the IJA, its members, directors, employees, staff, or contractors.
B. Preliminary procedures are as follows:
1. A written motion shall be submitted to the
Chairman of the Board. It shall include:
i. Name of offender,
ii. alleged offenses,
iii. references to applicable bylaws,
iv. statement of necessary facts,
v. name of presenter on behalf of the charges.
2. In the event that multiple members are accused, there shall be individual motions per accused offenders.
3. The Board of Directors shall vote whether probable cause has been established to continue to a hearing.
i. The motion requires a majority vote to continue to hearing.
ii. If no majority is reached, the minutes will reflect that the accused has been exonerated of all charges contained in the motion.
iii. If a majority is reached, a hearing will be set for the next scheduled Board of Directors meeting. A minimum of one month will be allowed for preparation of the hearing.
iv. The accused will be notified immediately of the hearing, they may petition the Board of Directors to postpone the hearing for up to three months.
C. Hearing procedures are as follows:
1. The presenter of charges will be allotted a ten
minute presentation.
2. The accused, or their designee, will be allotted a
ten minute presentation.
3. Following the presentations, there will be a five
minute extendable question and answer session.
4. Following the question and answer session, the presenter and accused will no longer be allowed in the meeting, the board will discuss and vote.
D. Expulsion requires a hearing.
E. Expulsion requires a two-thirds vote of the Board of
Directors.
F. Following the vote, the board will announce the results
of the hearing.
G. If the Board of Directors does not expel the member in question, it shall be reflected in the minutes and records of IJA, that the member has been exonerated of the charges.
H. Terms of expulsion:
1. The member will no longer be recognized as a member of the IJA for a minimum of one calendar year after the expulsion hearing.
2. Following one year of expulsion, the member may submit a motion to the Board of Directors for reinstatement of membership.
3. Reinstatement requires a majority vote of the Board of Directors.
I. All meetings, sessions, and hearings regarding the
expulsion of a member are executive sessions. The
minutes and votes of the meeting are confidential. This
includes preliminary and reinstatement procedures.
Seconded by: None
The motion dies without a second.
7. NEW BUSINESS
Kim discusses the new insurance policy that can be made available to IJA members for performing. We are going to get feedback from members though the forum.
8. NEXT MEETING: Next regular BOD meeting will be held at the Winston-Salem Festival, July 2007.
9. ADJOURNMENT:Don moved to adjourn. Meeting was adjourned at 8:57 p.m. EST by unanimous consent. Respectfully submitted, Chuck Hawley.
previous minutes: may 23, 2007 | list of available minutes | next minutes: July 18, 2007