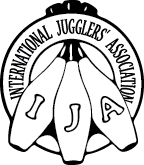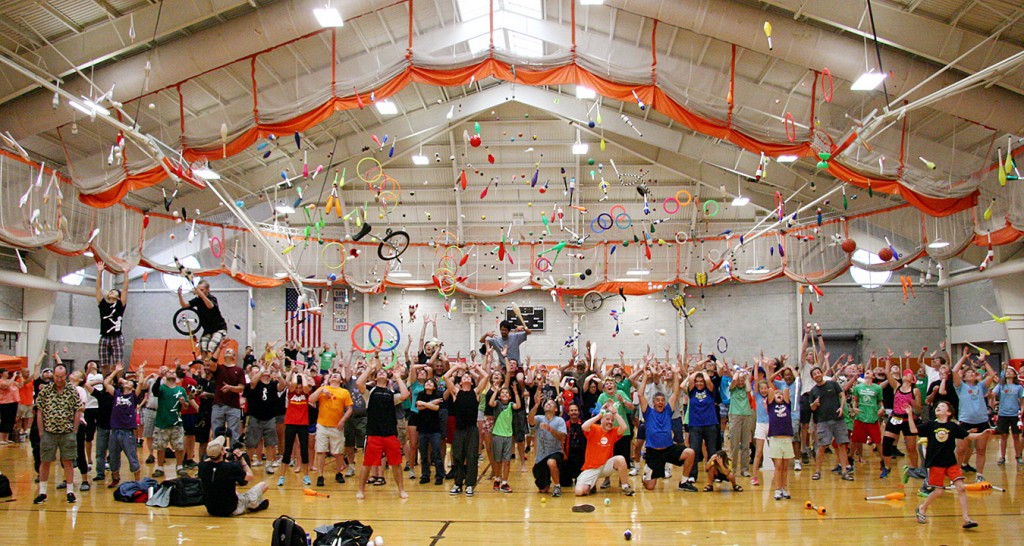 To render assistance
to fellow jugglers

This is an archived website
Previous minutes:
September 24, 2008
|
List of available minutes
| Next minutes:
November 3, 2008
IJA Board Meeting- October 29th, 2008
1. CALL TO ORDER: Chair Chuck Hawley called the meeting to order at 8:05 p.m. EDT.
2. ROLL:
Present: Chuck Hawley, Chair; Kim Laird, Ken Farris, Kevin Axtell, Anthony Shave (Board members), Martin Frost (Communications Director), Janelle Hawley (Recording Secretary), Mike Sullivan (2009 Festival Director)
Absent: Richard Kennison, John Satriano (Board Members)

3. APPROVAL OF AGENDA: Kim Laird moved to the approve the agenda - agenda was approved by unanimous consent

4. APPROVAL OF MINUTES: Ken Farris moved to approve the September 24th, 2008 meeting minutes - minutes were approved
5. REPORTS: See Below

6. VARIA
6a. The board discussed the possibility of Holly Greeley taking over a paid role as treasurer/controller of the IJA finances, further information is available below in the treasury report. There will be discussion available on the open discussion forum. A decision will be made by Monday, November 3rd, 2008 by the board.

7. NEXT MEETING: Next regular BoD meeting will be held on December 10, 2008 at 8:00 p.m. EST.

8. ADJOURNMENT: Chuck Hawley moved to adjourn the meeting at 9:20 p.m. EDT.

Respectfully submitted by Janelle Hawley.
REPORTS:
Membership Report (submitted by Jim Maxwell) - The current membership number is 1528.

Festival Report (Mike Sullivan submitted by Janelle Hawley) - Mike will be visiting Winston-Salem, NC the first week of December to talk to the convention center - a 2nd site visit will happen in April or May to confirm final festival plans. Mike is talking to Dan Holzman about shows and Bob Neuman about awards.

Treasury Report (submitted by Kim Laird) - On October 14, I received an email from Tim Sullivan resigning from the IJA treasury team. He had just received the computer and did not even open it; instead it was immediately returned to Holly. I shared this email with Chuck and Holly after receiving it and responding to Tim thanking him for his time.

This predicament has led to a situation where we no longer have a bookkeeper. I do not have the time or (more importantly) the knowledge to keep the IJA books in order. Holly has made an offer to return as IJA treasurer if it is made a paid position. I have spoken with Holly by phone to talk about specifics of the position and, most importantly, her salary expectations. I feel it is extremely important to have a knowledgeable person in the position of treasurer. Holly has been a faithful volunteer in this position but it is now time to examine the idea of paying someone in this position so we can maintain consistency and quality.

Below is the plan I proposed earlier through email to the board for us to be able to afford the services of a paid treasurer. It is my hope that we can discuss and come to an agreement quickly about hiring a paid treasurer for the IJA. It is too important of a position to leave in the hands of a volunteer without adequate knowledge of the position. It is also my recommendation that Holly Greeley be hired as the IJA treasurer.
IJA Treasurer Position...

Primary Duties: - Pay IJA bills
- Maintain IJA financial records
- Maintain IJA books
- Manage IJA bank accounts
- Provide quarterly financial reports to the board within 30 days of the close of that quarter
- Prepare and file the yearly 990 for the IRS
- Assist in preparing annual festival budget
- Assist the board in preparing a yearly operating budget
- Provide advice for project undertakings based on IJA finances

Additional Duties:
- Apply for grants to assist with festival expenses in bringing in performers
- Attend monthly board meetings to provide monthly report and answer questions
- Attend the annual IJA fest to coordinate and oversee register duties...should the treasurer not be able to attend the fest, then the treasurer is responsible for making alternate arrangements coordinating volunteers and/or paid temp(s)

Compensation:
- $10,000 per year ($833.33 per month) for primary duties (federal, state or social security taxes will not be withheld and are the sole responsibility of the employee)
- 10% of any successfully obtained grant
- A festival package and comped hotel room will be provided to the treasurer, if attending the annual IJA fest



Proposal for affording a paid treasurer...

Membership = 1524 as of Sept. 2008 (again, I'll use the 75/25 split of adult to youth fees... $35/$25)
Conservative Festival Number = 500

Adding $5/$3 to membership fees would net the IJA an additional $6,858.

Adding $10 to fest registration would net an additional $5,000.

Combined that gives the IJA $11,858 for a paid treasurer. The fest is very labor intensive for the treasurer and for this reason I am suggesting a $10 increase in the fest registration to cover the extra time required by the fest.

Video Contest Report (Kevin Axtell submitted by Janelle Hawley) - The video contest will take place between February 15th and April 30th, 2009. The contest will be open to all ages. Currently, the prizes are not set, but so far for 1st place it will be a festival package, 2nd place will be a DVD combo pack, and 3rd place will be a t-shirt. Hopefully, there will be additional prizes donated like memberships and props. Kevin is talking to Dan Holzman about when the video would be viewed at the festival. In order to place in the contest you would need to be a member of the IJA. There will be 3 judges making the final selections. Kevin will be moderating the videos and would pull any video with unacceptable content.

Previous minutes: September 24, 2008 | List of available minutes | Next minutes: November 3, 2008