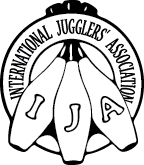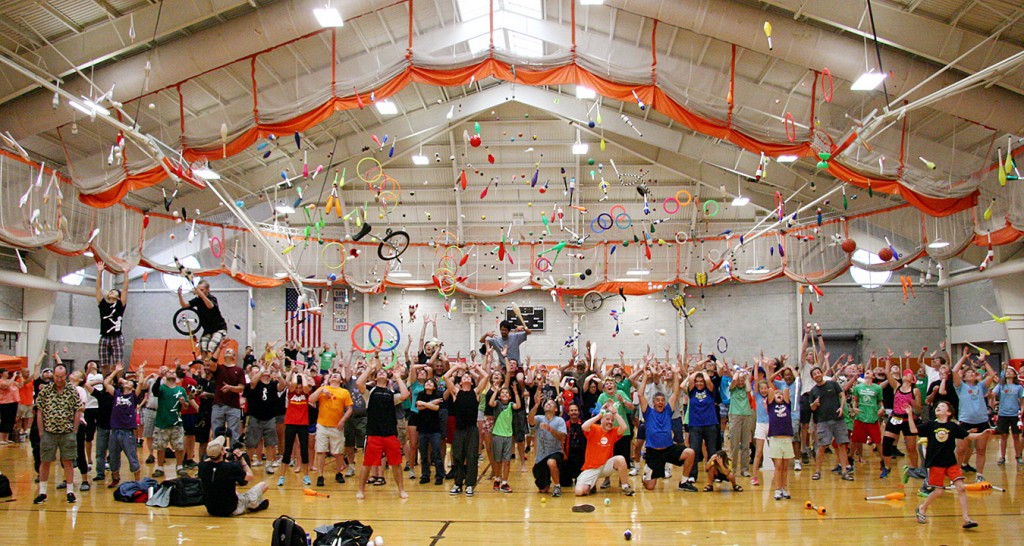 To render assistance
to fellow jugglers

This is an archived website
Previous minutes: November 18, 2009 | List of available minutes | Next minutes:January 20, 2010
Regular Board Meeting December 16, 2009
1. CALL TO ORDER: Chair Kim Laird called the meeting to order at 8:04 p.m. EST.
2. ROLL:
Present: Kim Laird (Chair), Anthony Shave, Kevin Axtell, Ken Farris, Richard Kennison, Kevin McBeth, and Thom Wall (Board Members), Holly Greeley (bookkeeper), Mike Sullivan (future fest site coordinator), Marilyn Sullivan (memberships director), Brandi Slater (recording secretary) Philip DePalo (2010 Festival Director)
Absent: Ken Farris (board member)
3. APPROVAL OF AGENDA: Kevin Axtellmoved to approve the agenda for December 16, 2009. Seconded by Thom Wall.
4. APPROVAL OF MINUTES: Kevin Axtell moved to approve the minutes from the regular board meeting of November 18, 2009. Seconded by Kevin McBeth.
5. REPORTS:
2010 Fest (Philip DePalo)... Issues to discuss:
Festival Director's Report
Site Visit - Philip will be spending 5 days in Sparks, Nevada inspecting festival sites. One concern raised was making sure the IJA has use of a theatre. There are 2 theaters inside the hotel itself which will be inspected. There were also questions as to how noisy the hotel rooms may be.
Brochure - The festival budget depends on filling the room block that is contracted with the hotel. The contract requires that the IJA fill a certain number of rooms in order to get the free use of hotel facilities such as the theaters and workshop rooms. As such, to fill the rooms it was recommended that the IJA not use traditional brochures and move towards more digital advertising with a postcard in the mail prompting members to go to the website. Concern was raised about members who do not use computers. The postcard should cover those people who would still be able to register onsite or via mail. As the vast majority of members do have access to email, the best way to serve members and preserve the budget will be through digital/postcard marketing. Marketing & Promotional Ideas - Members want to know who is going to be there, so securing and promoting big name performers for the festival will be a draw for people to attend. Possibility of a contest with a week long gig on a cruise ship for a prize. More professional development opportunities for up and coming performers would also be an attraction. YouTube tutorial contest should be pushed back. Last year there was no prize for the YouTube promotional, which affected the number of entries. With a prize there is motivation to enter. The cutoff date for the contest should be no later than May. A second contest will follow that has a cutoff date after the festival, when people are motivated and inspired, to start promoting the 2011 festival. Putting a lot of effort into a great welcome show would also draw people in for the full festival rather than just the end of the week. There are talks with performers such as Anthony Gatto and Mark Maguire about performing.
Website - IJA needs more of a presence on facebook and twitter. Idea was raised of having a secondary website for social marketing with a url such as IJAfestival.com or .net and use it as a hub. It would be centered on the festival with features like an RSS feed, and frequently updated festival information such as workshops and performers.
Themed Event - model an EJC idea and have a "village crier" run through the gym with a microphone - something catchy for people to look forward to each day.
Registration will be open January 1st
Timeline Registration will be open in January and members will be notified via email. End of early registration will be in March
Pricing Make a bigger price difference between early registration and later registration in order to get more people registered early. We are saving approximately $30,000 on facilities assuming the rooms get filled, which means that the leftover money needs to be used for promotion and marketing to fill the rooms.
Control Issues - Philip (2010 Festival Director) wants to be sure that he has control over the festival and that the board will not step in. Kim Laird reassured him that he will be the contact for all festival organization issues. The issue was raised that people should not have to be a member to attend the festival, and instead anyone can attend but members get a discount on the festival package in addition to the magazine. This would allow potential members to get a feel for the organization by attending the festival and then become members. The board will put the issue up in their forum to discuss and into a future meeting agenda as a motion.
Future Fests (Mike Sullivan)...All contracts have been signed with Winston-Salem and Rochester through 2014. The IJA has until the end of August 2011 to back out of those if we decide that we do not like the fest site in Rochester. The only festivals we are locked into right now are Sparks, Nevada in 2010 and Rochester, Mn in 2011. Both cities are extremely excited to have the IJA back for 2 years.
Financial (Kevin McBeth & Holly Greeley)... The fundraiser total is just shy of $10,000 after a $500 donation a few days ago.
Store (Sandy Brown & Kevin McBeth)... The IJA festival DVD for 2009 is ready to be posted, and they will be ready to ship out starting next week. The retail price for non-members will be $40, member price will be $30. Back issues of the magazine should be available soon as well.
Membership (Marilyn Sullivan & Jim Maxwell)...1758 members, of which there are 288 lifetime members, 80 youth members, and 229 families.
Video (Ken Farris)... Kim Laird reports that the DVDs will be in the mail December 18.
Education (Kevin Axtell)...no updates on education
Marketing/Promotions (Thom Wall)...Sportco got 1 sale on the black friday vendor discount, but there was no promotion of the discount on the Sportco website. Flying Clipper had 2 sales.
Other...
6. MOTIONS FOR CONSIDERATION:
A. Motion to raise annual member dues to $40 adult membership (new or renewal), $31 youth membership (new or renewal), $8 for additional family member.
Motion:Kevin Axtell
Second:Kevin McBeth
Discussion:Raising dues was discussed in the magazine contract discussions and is something that needs to be done in the near future. The motion does not have a date on which the dues would be raised. The increase is not extreme and does not put the total at an unreasonable amount. It would be better for the membership drive to increase the dues after the end of the drive, though it also would mean that this year's budget would not benefit from the increase. January 1st is too soon as the members would have just been notified. February 1st would give enough time for members to know what was happening through the newsletters. Concern was raised for the increase in the family price, since family numbers have been dropping and families don't get much value from the current pricing structure.
Motion to Amend - Motion to raise annual member dues to $40 adult membership (new or renewal), $31 youth membership (new or renewal), $5 for each additional family member. Begins February 1st, 2010
Motion : Kevin Axtell
Second : Kevin McBeth
Vote: passed by unanimous consent
B. Motion to approve 2010 festival budget.
Motion: No Motion made, the issue is stalled
Second:
Discussion:
Vote:
C. Motion to approve operating budget for 2010. (tabled at the November meeting to include new magazine contract numbers)
Motion:Kevin McBeth
Second:Kevin Axtell
Discussion:A new copy of the budget that takes into account new member prices is available to the board online.
Vote: passed by unanimous consent
D. Motion to approve 2010 membership drive as outlined in attachment A.
Motion:Kevin Axtell
Second:Richard Kennison
Discussion:
Vote: passed by unanimous consent
E. Motion to approve Youtube Contest as outlined in attachment B.
Motion:Thom Wall
Second:Kevin McBeth
Discussion:will be tabled and approved at the January meeting
Motion to table the Youtube contest
Motion : Thom Wall
Second : Kevin McBeth
Vote: Motion is tabled
F. Motion to approve the Awards Committee recommendations for the 2010 IJA Awards:
Historical Achievement: Nino Frediani
Award of Excellence: Tuan Lee
Bobby May Award: Paul Bachman
Extraordinary Service Award: Kim Laird
Honorary Lifetime Membership: ______ (name given but due to delicacy of information Awards Committee Chair asked that the name be discussed privately)
Motion:Richard Kennison
Second:Kevin Axtell
Discussion:life membership would cost the IJA money, and is supposed to be given to someone who has demonstrated extraordinary service to the IJA. This person is not presently an IJA member and hasn't been for a few years. Some of the board is hesitant to vote on the motion without more information on the Honorary Lifetime membership.
Motion to table the motion until January
Motion: Richard Kennison
Second: Kevin Axtell
Vote: tabled until January
Vote:
5. VARIA:Juggle magazine contract was signed by Alan Howard and Kim Laird and is available to view on the website. 2011 Festival Director needs to be planned for now. The board could create a General Manager position that would take on the festival plus other responsibilities.
6. NEXT MEETING: Next regular BOD meeting will be held on January 20, 2010 at 8:00 p.m. EST.
7. ADJOURNMENT: Kevin Axtell moved to adjourn the meeting. Seconded by Kevin McBeth. Meeting adjourned at 10:26 pm.
ATTACHMENT A... Membership Drive Proposal... Kim Laird
Membership Goal...gain 250 members Will advertise goal to members
Duration of Drive February 14, 2010 through June 15, 2010 This will give all involved a chance to have all entries in order prior World Juggling Day, June 19, 2010.
Paper Trail
A slot would need to be created on the store page and the paper membership application to request the name of the IJA member who got the applicant to seek membership. The names of those "recruiters" would be placed into a lottery drawing. Names would be drawn during live webcast on the 15th of each month including final drawing for grand prize on June 19, 2010.
Spreading The Word
> IJA eNewsletter (beginning January 2010)
>Front page the month before Membership Drive
>Kim and team will write short article
>IJA website (Forum, Home page link, direct link to IJA Store)... will coordinate with David Landowne and Martin Frost
>Email (send out 3X)...written by Kim Laird and team and sent by Martin Frost...anticipated dates: February 12th, April 19th, and June 10th
>Questions will go to
(to Kim Laird)
>JUGGLE magazine: Coordinate with Alan Howard and the board to utilize a full page ad in the Spring 2010 issue which is scheduled to be mailed February 26th and another full page ad in the Summer 2010 issue which is scheduled to be mailed May 11th.
Motivation
> Monthly drawings for small prizes. Draw 3 names each month to receive a prize (pending board approval). Small drawings would take place March 15th, April 15th, and May 15th. Three prizes given at each drawing... past World Juggling Day T- Shirt, IJA DVD, and a set of 6 "classic" issues of JUGGLE. Sandy Brown has been consulted and has agreed these prizes will work for the store.
>Big drawing for an IJA fest package (if approved by the board) would take place on World Juggling Day. Live drawing to take place through a webcast previously announced.
Attachment B...
International Jugglers' Association Video Tutorial Contest Rules
The International Jugglers' Association Video Tutorial Contest is just that - a contest designed to get quality instructional juggling videos out on the internet. The contest is open to videos of any form of manipulation, and is open to those of all skill levels, and open to everyone - IJA member or not. Videos submitted to the competition will be linked to on the IJA homepage, Facebook, Twitter, and posted on rec.juggling as they are received. Tutorial videos may be submitted from February 1 to March 31, 2010. Voting will take place via a third party voting service, linked to on the IJA homepage. Voting will take place over the four days after the contest ends - from the 1st to the 4th of April, 2010. There will be prizes awarded to the top eight videos.
Contest begins at 12:01 AM Pacific Standard Time on February 1, 2010 and ends at 11:59 PM Pacific Standard Time on March 31, 2010. Prizes will be awarded and winners posted on the IJA website and relevant internet forums on April 5, 2010.
Any props may be used.
All entries must be made specifically for this contest, and **contestants must introduce themselves and make a reference to the International Jugglers' Association's Video Tutorial Contest at the beginning of their video.** For example - "My name is Bobby May and this is my entry to the International Jugglers' Association Video Tutorial Contest. I hope you enjoy it and learn something!" While reposting an old tutorial with the required introduction is not explicitly forbidden, it's against the spirit of the competition and is strongly discouraged.
Contestants may submit up to 3 entries. Entries can come from individuals, groups, or clubs. In the case of groups and clubs, they will have to share the prize if they win - only one prize will be awarded per winning entry. Anyone may enter, no matter where they live.
To enter, post your video on youtube.com and then email a link to your youtube video to: . Be sure to say in your email that you're entering the IJA Video Tutorial Contest. The IJA reserves the right to reject contest entries that the IJA deems inappropriate for any reason.
Contest winners will be selected by votes cast by the public on a third party voting service, linked to on the IJA website - www.juggle.org . We will begin accepting votes at 12:01 AM Pacific Standard Time on April 1, 2010, and we'll continue accepting votes until 11:59 PM Pacific Standard Time on April 4, 2010. Anyone with an internet connection may vote.

We hope voters judge the tutorial videos on the following criteria: educational value, entertainment value, technical ability, creative video presentation, and humor.
There will be grand prizes for the top three tutorials, as well as prizes the top five runners-up. These prizes can be found listed on the IJA website.
Previous minutes: November 18, 2009 | List of available minutes | Next minutes:January 20, 2010