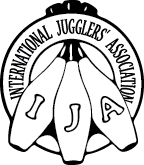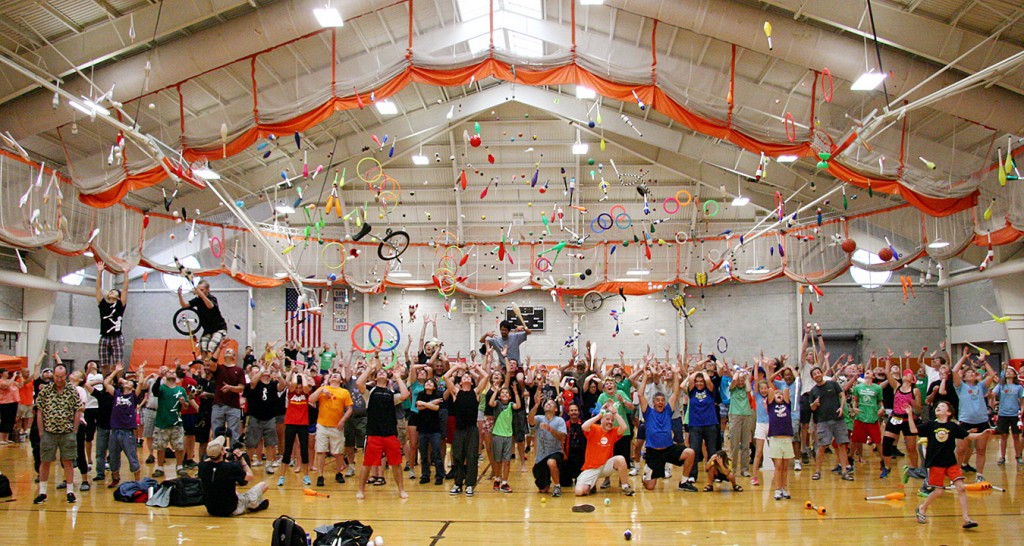 To render assistance
to fellow jugglers

This is an archived website
Previous minutes: December 16, 2009 |List of available minutes |Next minutes: February 17, 2010
Regular Board Meeting January 20, 2010...
1. CALL TO ORDER: Chair Kim Laird called the meeting to order at 8:07 p.m. EST.
2. ROLL: Present: Kim Laird (Chair), Anthony Shave, Kevin Axtell, Kevin McBeth, and Thom Wall (Board Members), Mike Sullivan (future fest site coordinator), Marilyn Sullivan (memberships director), Martin Frost (communications director), Brandi Slater (recording secretary)
Absent:Ken Farris, Richard Kennison, Holly Greeley(bookkeeper)
3. APPROVAL OF AGENDA: Kevin Axtell moved to approve the agenda for January 20, 2010. Seconded by Thom Wall.
4. APPROVAL OF MINUTES: Kevin McBeth moved to approve the minutes from the regular board meeting of December 16, 2009. Seconded by Thom Wall.
5. REPORTS:
2010 Fest (Kim Laird)...
2010 Fest Report for January...
I need to inform the entire board that Philip DePalo was to turn over any and all materials/ information and agreements related to fest planning to me by January 6, 2010. I received a call from Philip on January 5 saying he would like to be a member of the fest planning team. This was something I did play around with in mind so I welcomed hearing this from him. The next morning I still had nothing in my email from him concerning fest planning and/or contacts. I called him later in the day and asked about the materials which he agreed to send and he responded by saying he did not feel obligated to hand anything over and he "didn't feel like" turning over his work. I explained that even just knowing what performers he had contacted and what he had promised them would help as the IJA didn't want to make a bad situation worse by not honoring contacts that had been made. He still refused. At that point, I thanked him for his time and ended the call. It was evident that we were starting from scratch.
Room Nights at Nugget - With Mike Sullivan's assistance the IJA's required room nights were dropped another 10% in January. We need to fill 80% of 920 room nights (or 736 room nights) to meet our contract. Sandy Brown and I held a phone conference with our contact at the Nugget on January 7. Many details of the fest were worked out such as required setup in the gym; use of Showroom for championships, CoS and Farewell Show; specifying which rooms would be used for storage and workshop rooms; and makeshift stage area for various daytime competitions and Planting the Juggling Seed Show. Since we asked for a total of 20% reduction in our room nights, the Nugget asked that the IJA reduce our festival site event rooms by a similar amount. Sandy and I managed to successfully achieve this reduction without any effect on our fest needs. Our contact proceeded to tell us that if the extra rooms are not rented prior to our fest week that we could still have access to them.
Registration - The goal is to open fest registration online beginning February 1. It was decided that all registration would be online. For those without internet access in their homes, there will be a pdf of the registration form which one can fill out and mail to the fest registrar. They can obtain this pdf printout from a friend or through a visit to a public library. Mike Sullivan will obtain the fest badges for the registration packets. Mike and Marilyn Sullivan have agreed to serve as pre-fest registrars. Jerry Martin is back on board in his position at the registration table during the fest.
Select Open Registration - There are several groups who are very similar to the IJA and have shown interest in collaborating on some things. The Unicyclists of America (USA) and Youth Circus Organization (YCO) are just two such groups. My thought is to open IJA fest registration to members of these two groups and possibly one or two others. Also being considered are a magicians group and Burning Man participants. They would be permitted to attend our fest without having to be an IJA member. The hope is that some of these people would decide to join our group and would eventually purchase a membership. USA and YCO have a membership roster/database that could be shared with us to verify they are a member in good standing of the ancillary group.
Key Fest Volunteers Confirmed -
Pre-Fest Registrar - Mike and Marilyn Sullivan
Workshops Director - Matt Hall
CoS/Farewell Show Director - Keith Nelson
Performer/Talent Acquisition - Richard Kennison
Head of Security -
Fest Volunteer Coordinator -Dina Scharnhorst
Midnight Show Director -
On-Site Registrar - Jerry Martin
Vendor Coordinator - Thom Wall
Championships Director -
Preliminary Championships Director - Anthony Shave
Youth Showcase Director - Pam Hamilton
Joggling Director -
Graphic Artist for Ads, etc. - Angela Powell
Vendor Information - GES Exposition Services has given us great prices on tables with skirting and electrical drops for our vendors. Vendor packages will be $150 for their space and two 8 foot tables with skirting and 4 chairs and two vendor credentials. Vendors needing electricity will be charge $200 for all of the above items plus electricity. Each additional table will be $50. The vendor credential gives the vendor(s) the ability to juggle in the gym and attend workshops. If they choose to attend the shows they must purchase their tickets ala carte. Additional gym passes or fest packages may be purchased if needed for additional vendor staff. Vendor Discount Program participants will receive $50 off their vendor package price along with a free additional six foot table. The address and dates for vendor shipping acceptance will be posted as part of the fest webpages.
Joggling - I have secured the Sparks High School track for the joggling events. Sparks HS is 4 blocks north of the Nugget. The Nugget usually uses their parking areas for overflow parking for larger events. The joggling events will be held July 27, 2010. We have the facility beginning 8 am until sometime around 12 noon or whenever the event is completed. The athletic director was very helpful and only asked for a $100 donation to their athletic program for use of the track. The school will make sure the bathrooms at the track are open and clean and they will provide any tables and chairs we might need. They welcome media to be on site for the event. They will be including IJA Joggling Competition on their school calendars in case some of their faculty or students are interested.
Website - Sandy Brown and Martin Frost began work on the fest pages Tuesday evening. Audrey, from the Nugget, will be sending their link information and the IJA code for our room block to be included on our web pages. She sent in the request on Tuesday and said it takes a few days for their company to process everything and send us the information.
Midnight Show - The RSCVA suggested we check into Great Basin Brewing Company for the midnight show venue. I am currently talking with the owner about using their facility. They already have an outdoor stage with sound and lighting just outside of their bar area. They serve food and it looks like a great microbrewery! Rosemary at the RSCVA said they have hosted events like I described to her in the past and they would be our best bet for our venue. Great Basin Brewing Company is one block from the Nugget. You can check them out online at ww.greatbasinbrewingco.com
New Event - I have jumped through several hurdles so far for an event some of our members have requested for years. I have one more hurdle to clear and it will be on the schedule. That event is a fire night. I spoke with the city manager and he is on board with the idea. The City of Sparks ampitheater was suggested but the fire chief said it would not be a big enough area to meet fire code. It seems, at this point, like we are clear with our insurance and the city is ok with the idea. The last hurdle is the fire chief. His name is Chris McCubbin and we finally spoke Tuesday by phone. He is researching the required licensing to see if each individual needs to pay the $25 license fee or if we can do a group license. There is also a $70 permit fee. I already have a sponsor ready to donate up to $250 to make this event happen. Kevin Axtell has volunteered to organize this event after all permissions and site have been obtained.
Performers - Keith Nelson and Richard Kennison are hard at work getting performers for Cascade of Stars. Some performers have backed out since fest leadership has changed but others are still committed to the IJA. We hope to have a headliner and special workshop leader(s) before we open registration on February 1. If we don't have names by then we will move ahead with opening registration and post names as soon as we have them. Keith has reported that he envisions a variety show format featuring 10 to 14 artists in the Cascade of Stars and 6 to 8 artists in the Farewell Show. The Flash is confirmed for CoS. As of my last email and phone conversation with Keith the following performers are interested and available: Brad Weston, Manne Hanke, Frida Odden, Eric Bates, Angelo Iodice, and Robert Strong. Get The Shoe had expressed interest. They have been re-contacted but I have received no response from them yet.
Site Visit - I am planning on going to Sparks for a quick site visit over President's Holiday/Valentine's Weekend. Our contact at the Nugget, Joe, invited either Sandy or me to come out and it is important that this happen. If I cannot make it in February I will go out in late April/early May. This should not cost the IJA anything financially.
Thanks! - I need to thank some very important people who are either making up the fest team or have given a lot of guidance over these last two very hectic weeks! It's hard to believe how much has been accomplished!! Thanks to Mike Sullivan, Holly Greeley, Martin Frost, Thom Wall, Richard Kennison, and Keith Nelson. Thank you also to everyone on the board who have helped in any way or agreed to fill fest positions. A HUGE thank you to Sandy Brown who has been by my side every step of these two weeks.
Future Fests (Mike Sullivan)...The IJA has been contacted by a few college campuses that have expressed interest in hosting future festivals. The two campuses that expressed interest were asked to submit proposals for the 2015 festival. Bowling Green State University in Kentucky and Washington University in St. Luis where the IJA festival happened in 1991.
Financial (Kevin McBeth & Holly Greeley)...finished and submitted the Delaware corporation registration (which is due in march) Holly is nearly done with the 2009 financial statements, after they are done the 2009 taxes will be submitted and a 2009 financial overview will be prepared for the e-newsletter.
Store (Sandy Brown & Kevin McBeth)... Co-distributor will handle the 2009 DVD and all future magazines. The 2009 festival DVD is for sale. Festival registration forms will be reviewed before registration is opened on the website.
Membership (Marilyn Sullivan & Jim Maxwell)...
# member records 1441
# members 1767
# lifetime 288
# youths 80
# families 226
The membership application form has been modified for the 2/1/2010 dues increase. Dave has it staged on the web site. Kevin is prepared to make the switch in the store. The renewal cards and emails sent in January warned of the impending increase. There has been an increase in the number of renewals coming into the store.
Membership Drive (Kim Laird)...Starts February 14, 2010. A full page ad will go in the next Juggle magazine, and an article will go into the e-newsletter. A webcast could be arranged and would make live drawings possible.
Video (Ken Farris)... Planting the juggling seed DVDs from 2009 will be available at the 2010 festival.
Education (Kevin Axtell)...Bank of America is interested in sponsoring a pilot program. A letter of intent will be the next step.
Marketing/Promotions (Thom Wall)... Vendor discount program - kendama.net, located just outside of Las Vegas, is signing on with one date confirmed. Shalome Blue has said they will be offering 45% off of all products on the dates that they participate, Thom will be meeting with that vendor in person to discuss the program. A hula hooping company from Ojai, CA has expressed interest in the program but wants to be the exclusive hoop vendor at the IJA. Vendors who participate in the program will be given $50.00 off of festival vending packages.
Other...
6. MOTIONS FOR CONSIDERATION:
A. Motion to approve 2010 festival budget.
Motion: Kevin McBeth
Second:Kevin Axtell
Discussion: Budget is outlined in a separate attachment. $21,312.00 is the projected festival income.
Vote: Anthony Shave abstains
Motion passes
B. Motion to approve Youtube Contest as outlined in attachment A.
Motion: Thom Wall
Second: Kevin Axtell
Discussion: looking for ideas on putting together the contest with other promotional efforts.
Vote: passed by unanimous consent
C. Motion to approve the Awards Committee recommendations for the 2010 IJA Awards:
Historical Achievement: Nino Frediani
Award of Excellence: Tuan Le
Bobby May Award: Paul Bachman
Extraordinary Service Award: Kim Laird
Motion: Kevin Axtell
Second: Kevin McBeth
Discussion:
Vote:
Kim Laird abstains
Motion passed
D. Motion to approve Honorary Lifetime Membership: ______ (name given but due to delicacy of information Awards Committee Chair asked that the name be discussed privately)
Motion:Kevin McBeth
Second:Kevin Axtell
Discussion:All of the board members know the name that is being discussed, however the awards committee has asked that the name be kept private unless the motion passes.
Vote:
Anthony Shave - opposed
Kevin Axtell - opposed
Ken Farris - absent
Richard Kennison - absent
Kevin McBeth - opposed
Thom Wall - opposed
Motion does not pass
5. VARIA:
6. NEXT MEETING: Next regular BOD meeting will be held on February 17, 2010 at 8:00 p.m. EST.
7. ADJOURNMENT: Kevin McBeth moved to adjourn the meeting. Seconded by Thom Wall. Meeting adjourned at 9:13 pm.
Attachment A...
International Jugglers' Association Video Tutorial Contest Rules
The International Jugglers' Association Video Tutorial Contest is just that - a contest designed to get quality instructional juggling videos out on the internet. The contest is open to videos of any form of manipulation, and is open to those of all skill levels, and open to everyone - IJA member or not. Videos submitted to the competition will be linked to on the IJA homepage, Facebook, Twitter, and posted on rec.juggling as they are received. Tutorial videos may be submitted from February 1 to March 31, 2010. Voting will take place via a third party voting service, linked to on the IJA homepage. Voting will take place over the four days after the contest ends - from the 1st to the 4th of April, 2010. There will be prizes awarded to the top eight videos.
Contest begins at 12:01 AM Pacific Standard Time on February 1, 2010 and ends at 11:59 PM Pacific Standard Time on March 31, 2010. Prizes will be awarded and winners posted on the IJA website and relevant internet forums on April 5, 2010.
Any props may be used.
All entries must be made specifically for this contest, and **contestants must introduce themselves and make a reference to the International Jugglers' Association's Video Tutorial Contest at the beginning of their video.** For example - "My name is Bobby May and this is my entry to the International Jugglers' Association Video Tutorial Contest. I hope you enjoy it and learn something!" While reposting an old tutorial with the required introduction is not explicitly forbidden, it's against the spirit of the competition and is strongly discouraged.
Contestants may submit up to 3 entries. Entries can come from individuals, groups, or clubs. In the case of groups and clubs, they will have to share the prize if they win - only one prize will be awarded per winning entry. Anyone may enter, no matter where they live.
To enter, post your video on youtube.com and then email a link to your youtube video to: tutorials@juggle.org. Be sure to say in your email that you're entering the IJA Video Tutorial Contest. The IJA reserves the right to reject contest entries that the IJA deems inappropriate for any reason.
Contest winners will be selected by votes cast by the public on a third party voting service, linked to on the IJA website - www.juggle.org . We will begin accepting votes at 12:01 AM Pacific Standard Time on April 1, 2010, and we'll continue accepting votes until 11:59 PM Pacific Standard Time on April 4, 2010. Anyone with an internet connection may vote.
We hope voters judge the tutorial videos on the following criteria: educational value, entertainment value, technical ability, creative video presentation, and humor.
There will be grand prizes for the top three tutorials, as well as prizes the top five runners-up. These prizes can be found listed on the IJA website.
Previous minutes: December 16, 2009 |List of available minutes |Next minutes: February 17, 2010