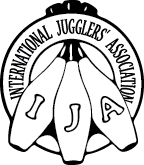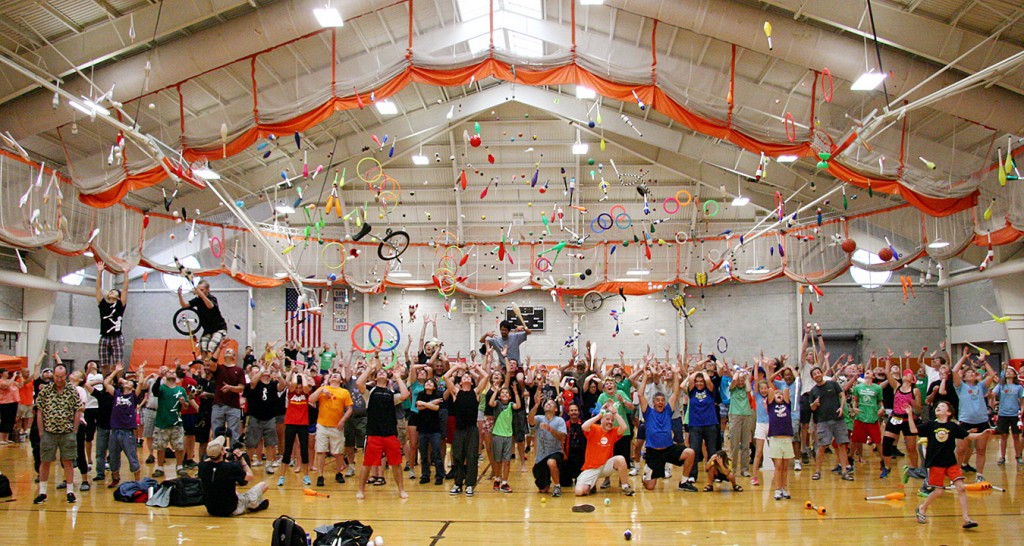 To render assistance
to fellow jugglers

This is an archival website
Previous minutes: March 17, 2010 |List of available minutes |Next minutes: May 19, 2010
Regular Board Meeting April 21, 2010...
1. CALL TO ORDER: Chair Kim Laird called the meeting to order at 8:04 p.m. EST.
2. ROLL:
Present: Kim Laird (Chair), Kevin Axtell, Richard Kennison, Kevin McBeth, and Thom Wall (Board Members), Mike Sullivan (future fest site coordinator), Marilyn Sullivan (memberships director), Martin Frost (communications director), Brandi Slater (recording secretary) Absent: Ken Farris, Holly Greeley (bookkeeper),
3. APPROVAL OF AGENDA: Kevin A. moved to approve the agenda for April, 2010. Second by Thom W.
4. APPROVAL OF MINUTES: Kevin A moved to approve the minutes from the regular board meeting of March 17, 2010. Second by Richard K.
Corrections - proposal from Todd Strong was removed at his request. Typo - Don Lewis spelled incorrectly
5. REPORTS: 2010 Fest (Kim Laird)...
Things are starting to move a little quicker with fest planning over the last few weeks!
Budget - About 3 weeks ago, when I saw numbers were low for registration, I sat down to see where we could pare down expenses. After lowering the numbers I called Holly and we made changes in the budget realizing it is a working document. I was able to trim $6,980 from the festival budget without significant impact on the fest. One item considered in these budget cuts was not to hold the Farewell Show in the Showroom which would save $2,500. Keith and I spoke about other options available to us and we agreed that the best place to hold the show would be in the Showroom; however, Keith feels he can pare down tech time for that final show thus allowing the IJA to get an hourly rate on the facility rather than a full day rate... still saving money without lessening quality. I have spoken with Joe at the Nugget about this and it seems possible but I am just waiting for the final confirmation. The other big price tag item is internet for the registration table which I was able to trim from $1,200 for the week to less than $70.
Fest Registration Numbers - Fest registration numbers are very much below where numbers were at this time last year. There are currently 59 registered for the fest with 5 registered for the special workshop with Kris Kremo. Hotel reservations have risen slightly since last month. We need to meet 80% of 900 room nights to not incur extra fees or 720 room nights. We are currently at 60% of that number. Discussion took place as to why the change in registration numbers. It was determined that in the past the mailer was sent to not only members but former members as well. So a plan was initiated to reach out to former IJA members through three different fest promotions.
Fest Promotions - The first push to reach out to former members focused on the west coast. just over 2000 black/white postcards were sent to former west coast members on April 13. Thom Wall created a full color postcard with fest information on the back which was printed through Vista Prints. I donated the printing of 1000 of these postcards for distribution at various regional fests. They were well received at Mondo and RIT this past weekend. Some were sent to Martin for distribution at several west coast fests over the next several weeks. Hopefully, these mailings and postcard distributions will reach out to former IJA members and draw them to the fest.
Internet - The budget allowed for $1,200 for internet service at the registration desk only. This is the price the provider charges. this would not allow for more than one computer to access the internet. This fee is ridiculously high and I have discussed this fact with the RSCVA (Convention and Visitor Assoc.). Since Mike and I spoke with the owner of the ISP I have researched other alternatives that could save us money. The solution is Day Pass Wireless. This company rents cell phone based (through Verizon) wifi equipment for events such as ours. The IJA has reserved a MiFi 2200 for the entire fest week. This will allow up to 5 computers to access the internet for the registration table and workshops. The cost for rental, software, and postage both ways is $62.64 for 6 days. I am currently working with Day Pass to negotiate a special IJA rate for any fest attendees wishing to rent this service as well since attendees would then be able to access internet in the room as well as in the gym for one low price! This find allowed me to decrease the budget by approximately $1,130.
Performer Arrangements - Now that there is some money in the festival coffers I feel comfortable purchasing things like the airline tickets and award plaques. I am planning on purchasing all airline tickets for confirmed performers and guests by the end of April. Room arrangements have already been made for those confirmed.
Awards/Medals - I was able to pare down the wording on award plaques and change their size from 9X12 to 8X10 to save almost $120 on four plaques alone. Sandy and I worked together to not over order on medals this year. All together we have trimmed $1,150 at this point out of the awards part of the budget. Final numbers are not in on this yet.
Volunteer Gifts - Volunteer gifts have been selected and will also be ordered by the end of April. The IJA had a donation by Scott Anthony of 135 of his books. These will be used as a volunteer thank you as well as the ordered gift. The volunteer gift budget was originally $1,200. I found a really nice, classy gift for a total of $300 for 100. The $300 is being donated by an anonymous IJA member bringing this portion of the budget from $1,200 to $0.
T-Shirts and Fest Booklet Printing - The t- shirt design is just about finalized. I have asked Sam Washburn (design artist) to add some finishing touches before I send the shirt out on bid. Bonnie from RSCVA supplied me with area shirt printers to help us possibly save on postage. I currently have 5 printers interested in submitting a bid for the shirt order. Fest booklets will be printed at Sandell's Printing right in Sparks. They were the lowest price and will give us free shipping since they are right there at the end of town.
Grants/Sponsorships - The next phase of festival planning for me is going after any possible grants and sponsorships. I have spoken by phone with Bonnie from the RSCVA and she has sent me a starter list to get moving on this. I will be working closely with Bonnie and the Nevada Council of the Arts as well as Sparks City Council and Chamber of Commerce to get whatever funding may be available to us.
A fire show is still a possibility being discussed with the Fire Marshall, though it will likely be a show with featured performers rather than an open fire jam. It would be on Friday night.
Financial (Kevin McBeth & Holly Greeley)...First quarter reports sent via email to all board members. 990 is prepared but awaiting two pieces of information before it can be filed.
Store (Sandy Brown & Kevin McBeth)...Will be posting classic issues of JUGGLE magazine soon.
Membership (Marilyn Sullivan & Jim Maxwell)...
| | |
| --- | --- |
| # of records | 1394 |
| # of members | 1701 |
| # lifetime members | 280 |
| # youth members | 79 |
| # families | 213 |
# registered for festival 55 (5 for special workshop)
22 of the registered are comps.
# of recruiters for 4/15 membership drive drawing 18
Membership Drive (Kim Laird)... Two months have passed in our 2010 Membership Drive! On April 15th, names were drawn from those who recruited new members. The prize winners for April are:
set of 6 "classic" issues of JUGGLE... Darik Corzine
IJA DVD... Jordan Campbell
past World Juggling Day T-Shirt... John Dillon
Congratulations to our drawing winners! A total of 34 people joined the IJA since the start of the membership drive.
Education (Kevin Axtell)... See attachment A below.
Marketing/Promotions (Thom Wall)... See Youtube Survey Summary attachment B below. Color postcards distributed at west coast festivals have been very well received. Approximately 800 voters responded to the YouTube survey. An increased presence on social networking sites would be free, take little time, and would make the IJA much more visible.
Other...
2010 Youth Jugglerships...
The following young people are the recipients of the 2010 Youth Jugglerships to attend the IJA festival in Sparks, NV. Thank you to those who donated to this program to not only keep it going but to help it expand!
There are four recipients for the 2010 IJA Youth Jugglerships. They are...
Aubree Kolas, age 14 of Sonora, California
Justin Kolas, age 16 of Sonora, California
Spencer Kelly, age 12 of Petaluma, California
Mitchell Kelly, age 15 of Petaluma, California
6. MOTIONS FOR CONSIDERATION:
A. Motion to approve Mike Sullivan as 2011 festival director for Rochester, MN according to compensation agreement reached between board and Mike Sullivan (compensation agreement was sent to board prior to meeting).
Motion: Kevin A
Second: Richard K
Discussion: Mike has shown absolute dedication and capability as festival director. Financially speaking, it is a fair stipend but there is some concern about moving from the volunteer model to a stipend. The board feels that Mike's ability will more than pay for itself in increased festival attendance and organization, and that it will give a more professional feel to the IJA.
Vote: passed by unanimous consent
B. Motion to approve festival package as World Juggling Day prize.
Motion: Thom W
Second: Kevin A
Discussion:
Vote: passed by unanimous consent
C. Motion to approve IJA Youth Education Program (YEP)/IJA instructor certification as outlined in attachment A.
Motion: Kevin A
Second: Thom W
Discussion: This would be to get the program started so that the initial grant letter can be sent to Bank of America to get the funds.
Vote: passed by unanimous consent
D. Motion to approve the offering of graduate credit from Morningside College through attendance at specified IJA workshops during the 2010 IJA fest in Sparks, NV. (tabled at the March 17 meeting)
Proposal: The IJA agrees to work with Morningside College to offer graduate credit to qualifying IJA-festival attendees at its annual festival. This graduate-credit program will involve no additional expense on the part of the IJA. Registration for graduate credit will be separate from festival registration and will not be the responsibility of the IJA. Todd Strong will act as coordinator between the IJA and Morningside College.
Motion: Richard K
Second: Thom W
Discussion: Good program to get started, may not see much attendance at first but hopefully will gain in popularity each year and will serve the IJA by bringing in more people to the festival
Vote: passed by unanimous consent
7. VARIA:
There is interest from Fire Mecca and Cindy Hamilton of Twirl Planet in the Vendor Discount program.
8. NEXT MEETING: Next regular BOD meeting will be held on May 19, 2010 at 8:00 p.m. EST.
9. ADJOURNMENT: Kevin A moved to adjourn the meeting. Second by Thom W. Meeting adjourned at 9:04 pm eastern time.
Attachment A:
IJA Youth Education Program (YEP) Proposal
Presented April 2009 (v2)
Many teachers use a hands-on approach that utilizes props to help children understand abstract concepts, solve problems, and develop critical thinking skills. For example, they may teach the concepts of numbers or of addition and subtraction by playing board games. As the children get older, teachers use more sophisticated approaches, such as demonstrating science experiments or working with computers. They also encourage collaboration in solving problems by having students work in groups to discuss and solve the problems together. To be prepared for success later in life, students must be able to interact with others, adapt to new technology, and think through problems logically.
Due to this connection between hands on activities and learning of concepts as well as logical thinking, juggling is a strong device to use in a classroom or school program.
The following is a proposal to create the IJA Youth Education Program (YEP) which, if done properly, will be made up of several different components. One of these components is already in place. That is the Teachers' Manual column in JUGGLE. Teachers are sharing ideas through lesson plans and juggling is being implemented into classrooms in addition to physical education classes. Now it is time to take this vision to the next step and get IJA members certified as school program presenters and connect schools who want programming connected with IJA certified program instructors to present those programs. This gives IJA members work and provides a need in schools and other recreation programs.
The following components make up the IJA Youth Education Program (YEP) being proposed:
Presenter Certification...

In any industry or profession certification is a tangible way to show that someone has expertise in an area and that expertise has been reviewed and approved by a certifying agency. For the IJA, certification would happen at the summer fest. A series of five workshops will be offered each focusing on a different aspect of school programming. The five focus areas would be:

Basic Techniques of Teaching Juggling
How to Develop a School Program
What do schools want?
Promoting Your School Program
tba

Instructors for these workshops would be IJA members who already are presenting well-established school programming. Participants would need to attend all five workshops to become IJA certified school program presenters.

Most states in the US require that anyone working with students possess Child Clearances. These consist of FBI clearance among other child abuse checks. If implemented in 2010 the paperwork for the FBI clearances would be available on site at the fest. For 2011 the plan is to obtain grant money that would pay for the FBI clearance. The cost of this clearance is $ 36 per person.

Participants successfully completing the series of five workshops would also receive a professional quality certificate suitable for framing, which could be copied and sent to schools as part of their school programming packet. This program/certificate helps to provide credibility to the presenter.

IJA as School/Recreation Center Liaison...

The IJA assistance to these presenters would not end at the IJA fest. The help would continue throughout the year. The IJA would create a short e-brochure to be sent to various schools and recreation programs throughout the US and beyond. This could be done through email to be more of a green effort as well as a cost-saving device. Schools interested in an IJA certified presenter/program would contact the IJA asking for a program for their school or recreation center. The IJA would act as liaison to connect that school or recreation center with an IJA certified presenter. Again, grant money would be necessary for this part of the program and may not be utilized at first. The ultimate goal is for the program presenters to be paid through a grant so that schools can get quality programming they desire without that programming depleting their limited budgets.

Educator Outreach...

The final component of this initiative is the Teachers' Manual Column currently in JUGGLE. This column has sparked interest in the educational community and has received great response. Educators are starting to consistently contribute to the column. It is serving as a place to share ideas on how to incorporate juggling in classrooms other than physical education classes. This component of the IJA School Initiative Program is meant to attract more educators as IJA members giving them an added IJA benefit and giving them tools they can utilize in their classrooms.

Continuing Education Credit for Educators...

Research is currently taking place to determine how the IJA can provide current teachers with Act 48 continuing education credits through this series of 5 workshops. Teachers in most states are now required a minimum number of continuing education credits each year or over a period of years. In Pennsylvania, teachers must complete 180 continuing education hours in order to remain licensed. Once research is completed on how to make this happen, the IJA would be able to offer any licensed educator continuing education credits. Those successfully completing the series of 5 workshops would receive a continuing education credits certificate and those hours would be reported to the state certifying agency for that individual.

Funding Sources...

A pilot program must be run prior to applying for any substantial grants to fund this program. Bank of America has expressed possible interest in funding the pilot program. A letter to Bank of America requesting funding for the pilot program is attached. Pilot program funding being requested is $5,000. This would supply IJA certified program presenters with props to take into the schools (i.e. – scarves and balls) as well as pay for the performer's fee. FBI clearances would also come from this grant money if the full $5,000 were obtained.

Once a pilot program is in place and has experienced success, an application for a grant through the National Endowment of the Arts will be completed and submitted. The amount of the grant would be dependant on the interest in the program. The NEA grant would be one that could be reapplied for on a yearly basis.

Benefits of this program would be increase in work for IJA members wishing to present school programs as well as the IJA name gaining more public exposure. The IJA name would be a prominent part of all materials including brochures and handouts for any given program offered through this initiative; thus, hopefully, helping to increase IJA membership numbers.

The IJA Youth Education Program (YEP) would need to utilize one IJA volunteer to act as program liaison. This person would be responsible for making sure paperwork for the program is available at the annual IJA festival, create e-brochures of initiative offerings, email e-brochures to potential schools and recreation programs of programs being offered through this initiative, and connect schools/recreation centers with IJA certified program presenters. A second volunteer or board member would be responsible for applying for necessary grant money each year to fund the program. Pilot program instructors would be Kevin Axtell, Erin Stephens, and Kim Laird.

At no time during this program's existence should any IJA money be required. This program is designed to be sustained strictly through grant money. Donations to the program will also be accepted, but the primary funding source will be grants.

The IJA Youth Education Program is already becoming more thn a one-day program. Through discussion between Kevin Axtell, Erin Stephens and Kim Laird it is already morphing into a two option system whereby a school or youth facility could request a one day program or a longer-term residency program. This will not be a stagnant program, by any means. It is designed to grow and to spread the belief that '' YEP... I CAN JUGGLE!''
Attachment B
2010 Youtube Contest Survey Results
Originally published 04/12/10
A note about the survey.
The following summaries are pulled through reading the responses to the (required) survey that was part of the YouTube Contest ballot. A large number (a majority, even) of voters are not jugglers. In the following summaries, attention was given to detailed responses. I assume that those who leave detailed commentary in their responses are jugglers, though not all (or perhaps even most) are IJA members (evidenced in their answers.) These comments were all completely anonymous and placed at random in each question's tally - as such, it is impossible to look at each individual's responses side by side. Instead, this summary of responses looks to identify general trends and perceptions of people (IJA or not) in the juggling community and their relationship with the IJA. There were approximately 800 unique voters who took part in the Youtube Contest. Raw data is available in a separate document.
#1. Are you currently an IJA member? Why / why not?
The overwhelming majority of responders had never heard of the IJA before. The majority of those who said that they weren't members stated that money was a key issue - that the benefits of being an IJA member do not offset the price of membership. Many responders also stated that the IJA festival is the *only* benefit of membership, so they only register/renew when the IJA festival is in their area. Many also stated the lack of international focus as a reason for not joining. Some voters also stated that they're 'not good enough' to be a member, though this is by no means a majority.
Conclusion - in order to maintain a happy membership base, we need to increase membership benefits. Some jugglers will only join/renew under present conditions if and when the festival is held in their area, which, under the current plan, will not happen for the next several years for over half of the country. We need to appeal to these jugglers through enhanced membership benefits.
Non-members also seem unaware that there are any benefits of joining the IJA. We need to have a full list of membership benefits available somewhere on the site (on the homepage, it currently has a short summary, including the phrase "lots of other cool stuff".) This could be accomplished in many ways - a detailed FAQ that outlines events that the IJA holds every year, benefits for members (JUGGLE, discounted insurance, discounts from major prop vendors, joining the ranks of 60+ years of juggling camaraderie), events & programs in the works, etc. We could also take the FAQ as an opportunity to refute some of the false / spun claims about the IJA that have been made on rec.juggling. All of these edits, of course, would need to be found easily on the (newly restructured?) website.
Edit: 04/20/10 - The FAQ could also easily include cited references to specific lines in Robert's Rules that have been points of contention regarding voting and personnel matters. This doesn't have to be long, something concise and comprehendible that explains the way the IJA bylaws are set up to handle these matters would be fine.
#2. What could the IJA do to better serve the community?
A large number of voters cited the IJA's lack of public presence as an area that needs improvement. Going along with this, jugglers indicate that more events (both physical and virtual) that engage jugglers either in contest or in spectacle would greatly benefit the juggling community. The YouTube Tutorial Contest itself was indicated as a step in the right direction, so far as voters were concerned. Many jugglers insist that the IJA needs a stronger international bent, as well as for events to be cheaper (or free.) Many stated that the IJA needs a stronger and more modern web presence - a web overhaul and open forums. A large number also said that the IJA and the juggling community at large would benefit from sponsorship of regional festivals. Issues pertaining to fiscal transparency, non-member subscriptions to the magazine, and membership cards were also brought up.
Conclusion - the IJA needs to continue the current momentum brought on by the YouTube Contest. Ideas? The IJA needs a web 2.0 overhaul - a newer, easier to access website along with a re-opening of the public forums would inherently bring us closer to the goal of community engagement. Somewhere in the forum, we should also include all motions set forth for voting each meeting… members really do need to have a chance to read them over, especially if these are the people we're representing.
Some design college senior class projects involve doing work for companies for cheap - to get the students' feet wet. This could be a promising venue to get our site redone.
The idea of more events and regional sponsorship is addressed in a program proposal attached to the end of this document.
Kevin McB and I are also working on a graphical representation of the 2009 Financial Report, in an effort to make it more accessible to Joe Public. I'll admit that even I was a little lost when reading the raw numbers, so I can't imagine why people are having a hard time with transparency issues. The problem with transparency isn't that the information can't be found out there in some form or another - the problem is that the information can be intimidating and largely incomprehensible to the general public. This is one of the reasons, I believe, that there is some misunderstanding within the community about our financial situation.
On the note of transparency, we need to start making more details explanations of some of the decisions we make. Personnel matters would perhaps be exempt from this, but legal issues should be referenced with lines in Robert's Rules explaining our actions at the very least. The only result would be a more informed and open discussion about IJA decisions with its members (instead of the current hearsay that goes on.)
Edit: 04/20/10 - Having heard the discussion regarding re-opening the forums, I understand better the decision to close them in the first place, as well as arguments both for and against re-opening parts of them now. Perhaps it would be a good idea to keep one part (or many) open as read-only, and have a brief explanation regarding the decision to close them in the first place.
#3. Festival
The fest needs to be cheaper. Camping / cheaper housing options need to be available. COS and Renegade are consistently awesome. There was a lot of year-specific stuff, due to the questions asked. If you're interested, check out the raw data.
#4. ENewsletter.
An overwhelming majority of voters didn't know anything about the IJA ENewsletter. About as many responded saying that they read it and liked it as those who said that they didn't read it or didn't get it. The main complaints regarding the newsletter focus on the lack of multimedia content, lack of general interest articles (too much business), and the PDF file format.
Conclusion - the IJA ENewsletter provides little benefit to the juggling community. We should make the newsletter a service to be subscribed to openly and freely, publicized generously on the front page of our (revisited?) website, contain more articles from outside sources (syndicate something from street juggling, for example, or add good/old articles from Juggler's World archives), and feature more photos and/or 'videos of the month'. (Street Juggling's "Best Catches" column would be an awesome addition.) Circopedia may also let us reprint their articles - it's all under a creative commons license. At the moment, the ENewsletter is pretty thin and doesn't really do much to help us reach our goal of "rendering service to fellow jugglers." If we get more outside help, it could fill in a bit and draw interest from non-IJA members. The ENewsletter should also include a plain-text version of the issue in the body of the email.
Edit: 04/20/10 - For discussion regarding why the eNewsletter isn't a membership benefit (it's already available to jugglers for free online, just hidden deep within the bowels of our site's navigation), refer to the BoardPlus thread on this some months back.
Ways to better serve the regional festival community::
Regional Festival Subsidy

Summary: The IJA subsidizes aspects of regional festivals in exchange for repayment in either money or new memberships.

The IJA's perspective: Regional festivals essentially take out a loan in order to bring in a performer for a show, pay for venue space, etc. The IJA gets free publicity in the show, positive word of mouth, good vibes, etc. as a result of this service. The hosting festival/group would have to either repay the loan in cash, in new memberships (signed at the festival), or in some combination of both. New memberships signed at the festival would worth a $25 credit towards the initial loan. (So, if a fest borrowed $200 to cover an expense, they could either pay back the full $200 within a certain timeframe, sign up eight new members at the festival, or some combination (four new members and $100 cash, for example.)) Yes, the IJA would lose about $16 on a $200 loan with the $25 credit setup… (I picked this number because it's nice and round) the publicity and service opportunity that this program offers the IJA is worth far more than a handful of dollars.

The Festival's Perspective: This is an opportunity to get free money from the IJA. If the festival borrows $200, they need to sign up eight new members in order to not have to pay the loan back. This should be an easy sell because the IJA is helping put on the festival, and signing up for the IJA would be an easy way to help support the regional fest. It's mutually beneficial. Especially for new and growing festivals, this program offers a great way to get startup loans/capital and ultimately become a solvent enterprise on its own.

The details: Festivals need to submit a detailed budget, outlining where the money will go. A contract will need to be signed by one individual from the hosting group. S/he will be held accountable for the money and the repayment. Repayment must be made within the 30 days after the juggling festival. In the first 30 days, there will be no interest. After this, there needs to be some percentage added. Should the group not pay back, there needs to be some legal repercussion and blacklisting (for some period of time) from the program.

Issues: Loan laws. I don't know a lot (any) about this. It's possible that we could frame this as a grant of some kind? Promotion of this program internationally & being able to hold foreign individuals accountable for the money. If a group or person defaults on the loan, it may be extremely cost-prohibitive to go after them legally. If a group defaults on a loan and is pursued in court (etc), this could lead to some serious ill-will towards the IJA. If the IJA doesn't go after such a group, we'd get the reputation of just handing money out and not caring about the results.

Solutions?:

Talk to some nonprofit/arts lawyers and hammer something out.

Find some way to turn this into a grant system. While this would literally be handing out money without asking for repayment, we could include a number of stipulations - possibly a new member quota, IJA thanks/promotion, etc. This money would have to come from somewhere, though, which would necessitate either our finding an arts grant to subsidize other items in the IJA budget, or cost cutting somewhere else.

IJA Sponsored stage competitions at festivals

Summary: Regional festivals hold stage events wherein performers compete to win a prize (something big, like a fest package, dvd sets, etc.) Tickets may or may not be sold (depends on the venue) and competitors would register on site. Both the IJA and the hosting festival would run publicity for the event. This is *not* a replacement or substitute for the IJA stage championships - I envision it as more like a Groundhog Fest / St Louis Jugglefest Talent Show style competition where there's a big/fun prize that makes for a fun show. The hosting club would have to deal with the logistics, though there will be a manual to help hosts deal with the logistics of running a show (should the coordinators be inexperienced), as well as help with graphics, etc from the IJA Marketing Director. This program would spread goodwill towards the IJA and better the juggling community (by making fests more of a draw through competition). It might be possible to figure out a cash prize that's tied to the door profits, should there be an entry fee/ticket cost to see the show.

"How to Run a Juggling Festival" manual

This is already in the works. I documented *everything* in my three years running the St Louis Juggling Festival and Kevin McB and I are adapting it for the general public. (Whether this is something to be released under the IJA's name, or if it's something to be released under the contributor's names (and then possibly hosted on IJA serverspace) is up for discussion. My main concern is that this largely based off of personal experience, and is by no means an infallible document. It would be interesting to see if this hosted on the IJA server as a wiki, as well, so that other event coordinators could edit it with their own experiences.)

Wikis, continued.

Having an open IJA wiki project could lead to some interesting developments, too. I've wanted to have a comprehensive listing of ways to grip clubs, for example. An open wiki would be an interesting (and low cost, low maintenance) way of getting jugglers in the community to collaborate. This project could also be an easy way of storing the archived versions of Juggler's World, etc. on the site in an easier to navigate form, turning it into as much a community point as an archival hub and IJA compendium. A wiki could be used during the festival in order to combine reviews & experiences of the fest. This is something that we could use to better collaborate on documents internally, too.

Roadmap

Immediate goals:
Add FAQ on the website
Re-open the IJA Forums to the entire juggling community.
Provide plaintext version of the ENewsletter in the body of the email
Increase our transparency efforts
Post minutes & agendas to the forum promptly.
Create graphical representations of the 2009 fiscal report.

Short term goals:
Open the eNewsletter for external subscription
Discuss syndication with Street Juggling, Circopedia, etc.
Find good past JUGGLE & Juggler's World articles for eNewsletter material.
Research NonProfit web design companies & design schools for site overhaul.
Look into grant & loan laws to make better informed decisions regarding financial support of regional festivals.
Look into arts grants. Maybe it's time we found some interns?
Research wiki software for community projects on juggle.org.

Long term goals:
Establish small-scale stage competition at regional festivals.
Figure out ways to make the festival cheaper, including camping options.
Offer new membership cards

Previous minutes: March 17, 2010 |List of available minutes |Next minutes: May 19, 2010