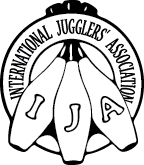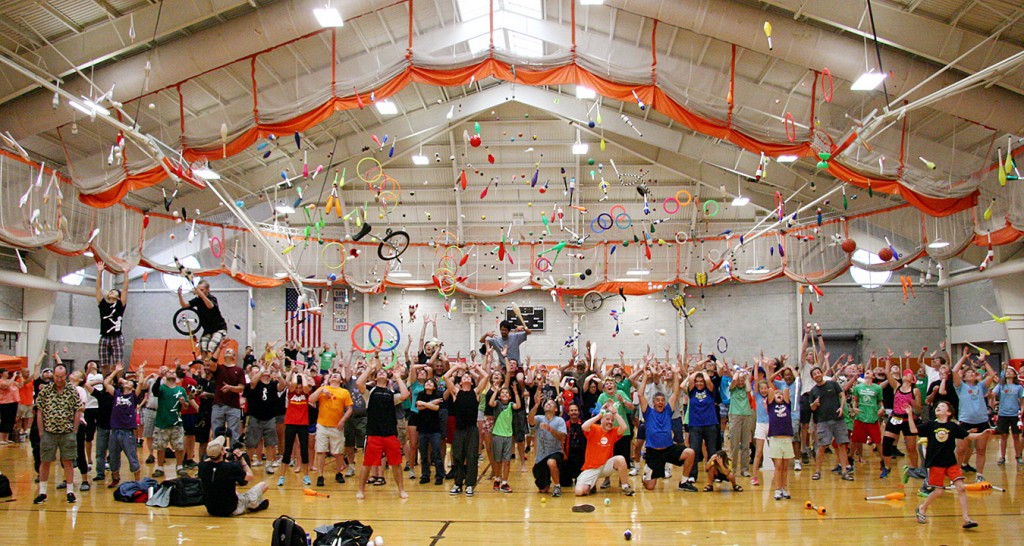 To render assistance
to fellow jugglers

This is an archival website

Previous minutes: October 13, 2010 |List of available minutes |Next minutes: December 15, 2010
Nov. 11, 2010 Board Meeting Minutes
1. CALL TO ORDER: Chair Kim Laird called the meeting to order at 8:01 p.m. EST.
2. ROLL: Present: Kim Laird (Chair), Kevin Axtell, Matt Hall, Richard Kennison, Thom Wall, Brandi Axtell (recording secretary), Mike Sullivan (2011 Fest Director) and Marylin Sullivan (Memberships)
Absent: Kevin McBeth, Erin Stephens
3. APPROVAL OF AGENDA: Kevin Axtell moved to approve the agenda for November 11, 2010. Second by Thom Wall.
4. APPROVAL OF MINUTES: Kevin Axtell moved to approve the minutes from October 13, 2010. Second by Matt Hall.
5. REPORTS:
2010 Fest DVDs (Kim Laird)... Ivan has sent the master copies and they will be shipped to the replicator tomorrow rather than uploading the footage. The cover and prints on the DVDs will be uploaded to the company website. Kunaki would charge about $9 for a DVD set, while discmakers can do it for $5, so discmakers will be replicating the video. The DVDs will be ready to ship before the end of next week. Preorders are currently being taken.
2011 Fest (Mike Sullivan)...Working on drafts for the festival brochures and the website. There is a third hotel option being followed up on since it seems that the two hotels with IJA blocks will likely sell out. Richard Kennison will be returning as the championships director, but Kevin Axtell will not be returning as co-director as he has plans to compete. There are still several openings for volunteer positions, which are listed on the website. Joggling will be held on Wednesday morning.
Future Festivals (Mike Sullivan)... Reopened discussions with several cities that have expressed interest in hosting the festival. By March of next year the IJA should have several attractive alternatives to choose from for the 2013 festival. Rochester has already submitted a proposal for 2013, but the IJA is not locked in to anything beyond 2012. Indianapolis, Tulsa, Grand Rapids, Lexington, and a few other cities have all expressed interest in hosting the festival. Bowling Green State University is also planning to submit a proposal. Washington University in St. Louis had expressed interest, but does not have the capacity to host the festival.
Financial (Kevin McBeth & Holly Greeley)...
Store (Sandy Brown & Kevin McBeth)...
Website Team (David Landowne, Martin Frost, Mike Sullivan)... Before moving forward the team would like to see proposals from 2 or 3 consultants. Membership (Marilyn Sullivan)...
records 1294
members 1560
families 184
youth 71
life members 280
magazines sent (Fall) 1297
This is a report from Jim Maxwell: The rental on the Austin PO Box has expired and a forwarding request is in for 1 year. He returned the key on Tuesday and there was only one piece of junk mail. He is going to send me his leftover postage. He has one last batch of checks to deposit, but since there's a foreign money order, he'll need to take it to a teller.
I am receiving dues renewals, undeliverable notices and address changes at the Kissimmee PO Box.
He has agreed to fill in when needed for the next year. The question is: do we continue having Forest host the IJA FileMaker database at a cost of about $80/month so he can do that or should we cancel it?? There are other ways that we could provide him access to the database if we go on any extended trips (which we don't have any scheduled at this time).
As long as it is backed up, Marilyn is willing to host the database on her computer which would save the $80/month. With the backup even if Marylin's computer was somehow destroyed the information would be saved and accessible online.
Education (Kevin Axtell/Erin Stephens)... At present there are three active Y.E.P (Youth Education Program) pods and one about to start. Originally the trial was going to end in January, but has been extended to March. There will be feedback forms to improve the program and photos and video will be taken in order to create a promo video. Joyce Axtell-Drush, Kevin Axtell's mother, is a grant writer and is willing to write grants for the program. The board has agreed that they do not have a problem with her writing the grants, she will be receiving a small percentage of each grant received for her time. There will be a contract drawn up between the IJA and Joyce. She is hoping to start with smaller grants to fill in funding for the program for this summer, and work up to larger grants as the program develops.
In a meeting with Tammy Graham, a nonprofit business consultant, Kim, Kevin and Erin wrote a mission statement and business plan. There have also been two more donations to the Y.E.P program. International interest has been expressed and hopefully the program will spread quickly.
Marketing/Promotions (Thom Wall)... Fielding ideas on how to make the YouTube promotion bigger and better – bigger prizes have been suggested and possibly a stronger marketing campaign on rec.juggling, jugglingtv, YouTube, etc. to spark interest. Kim has the capacity to machine embroider the IJA logo onto shirts, totes, etc. and would be able to create those for prizes.
Fun Fund (Matt Hall)...has five names of people interested in being on the fun fund – Jim Maxwell, Warren Hammond, Dave Pawson, Jek Kelly, and Andy Peterson. A motion will be made to approve those jugglers for the committee.
7. MOTIONS FOR CONSIDERATION:
A. Motion to approve Holly Greeley as IJA bookkeeper for 2010-2011 retroactive to November 1 as per contract emailed to board members.
Motion: Kevin A
Second: Matt H
Discussion: the contract is the same except that Holly will be at board meetings only when needed and not at every meeting.
Vote: passed by unanimous consent
B. Motion to allow Holly Greeley to secure the services of CPA, Joe Wolkowitz, to consult on the 990 for 2010 due to the large donation given during 2010.
Motion: Matt H
Second: Kevin A
Discussion: The cost would be a consulting fee, which Holly did not get back to the board with before this meeting but most likely will not be more than $200. Holly does feel firmly that she needs the support in order to make sure everything goes smoothly in case the IRS decides to audit the IJA due to such a large donation.
Vote: passed by unanimous consent.
C. Motion to approve the following members of the 2010/2011 IJA Awards Committee chaired by Dan Holzman:
David Cain
Vivica Gardner
Steve Langley
Steven Regatz
Motion: Kevin A
Second: Matt H
Discussion: The board unanimously feels that this is an excellent list of jugglers to be on the committee.
Vote:passed by unanimous consent
D. Motion to approve the following five jugglers to the fun fund committee in addition to Matt Hall and Mike Sullivan : Jim Maxwell, Warren Hammond, Dave Pawson, Jek Kelly, and Andy Peterson.
Motion: Matt Hall
Second: Kevin Axtell
Discussion: Once the people on the list are approved, Matt will send an email notifying them and setting up meetings to start vetting ideas.
Vote: passed by unanimous consent
8. VARIA: Reminder that the deadline for nominations for the board of directors is coming up quickly. Thom Wall, Kevin McBeth and Kim Laird's seats will all be up this year. Kim will probably not run again, and Thom may or may not run again. Members may nominate themselves or any other member of the IJA for the board of directors.
9. NEXT MEETING: Next regular BOD meeting will be held December 15, 2010 at 8pm eastern time.
10. ADJOURNMENT: Thom Wall moved to adjourn the meeting. Second by Matt Hall. Meeting adjourned at 8:50 pm eastern time.
Previous minutes: October 13, 2010 |List of available minutes |Next minutes: December 15, 2010