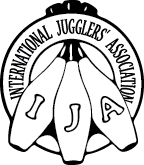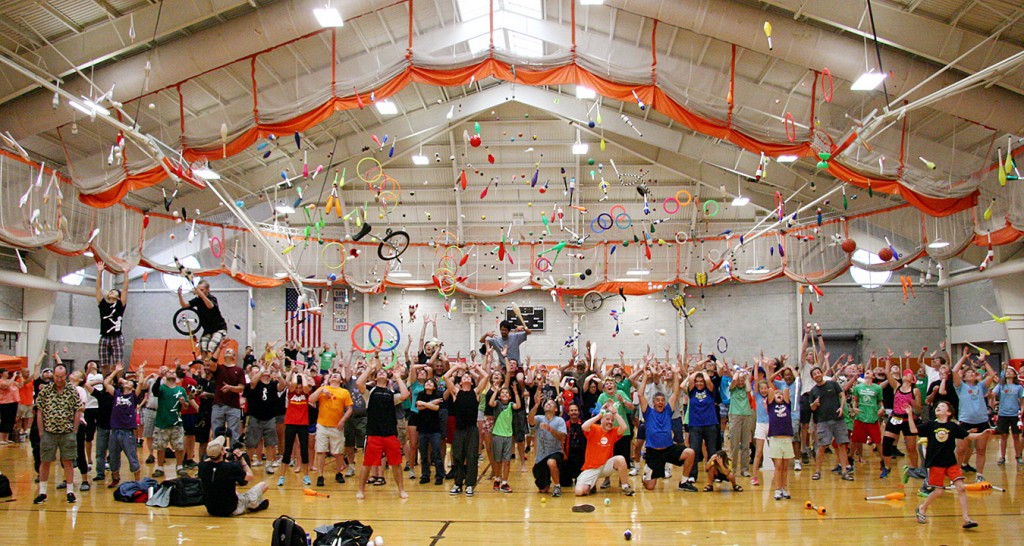 To render assistance
to fellow jugglers

This is an archival website
Previous minutes: November 11, 2010 |List of available minutes |Next minutes: January 19, 2011
Regular Board Meeting December 15, 2010
1. CALL TO ORDER:
Chair Kim Laird called the meeting to order at 8:03 p.m. EST.
2. ROLL:
Present: Kim Laird (Chair), Kevin Axtell, Matt Hall, Richard Kennison, Kevin McBeth, Erin Stephens, Thom Wall, Brandi Axtell (recording secretary), Martin Frost (communications director)
Absent:
3. APPROVAL OF AGENDA:
Thom W moved to approve the agenda for December 15, 2010. Second by Erin S.
4. APPROVAL OF MINUTES: Matt H moved to approve the minutes from November 11, 2010. Second by Kevin A.
5. REPORTS:
2010 Fest DVDs (Kim Laird)... Shipment went out to all pre-order and the store on Friday, December 10, 2010.

2011 Fest (Mike Sullivan)...
Only 214 days until the start of the 2011 IJA Festival in Rochester, MN!

Stefan Sing has been confirmed as a special guest for the festival, performing in the Cascade of Stars, and will teach a special workshop during the week. We're waiting for Board approval of the award recipients for 2011 to confirm the performance of one of the award nominees, which would be another Cascade of Stars headliner.

Pricing for 2011 has been finalized and the budget is locked. Package plan pricing is the same as 2010 and 2009, and will result in a very profitable festival if we get anywhere close to the kind of attendance I'm expecting. If we exceed my attendance estimates, we'll over-achieve on profit by a wide margin.

Bob Neuman has signed on to be one of the championship prelims judges -- we need four or five more. Anyone who knows anyone who wants to help out by reviewing championship applicants in March-April, please speak up!

We need to get any "Fun Fund" proposals that affect revenue, costs or attendance penciled in as quickly as possible in order to make any budget adjustments.

We're completing work on the Web site copy as info is finalized, and we're targeting mid-January to get all the info to David and Martin for posting on the IJA Web site. We'd like to have the online registrations system go live March 1, with early registration closing April 30 and regular registration closing June 30. Four months is plenty of time for people to register in advance.

Fest Fun Fund Committee (Matt Hall)... Conference call is being planned for Christmas break. iiWii asked that the donation be kept track of clearly, and so the fun fund now has a separate account with a debit card attached.

Future Festivals (Mike Sullivan)...
In the past month, I have had new discussions or re-started discussions with about a dozen cities interested in us for 2013 or beyond.

As a reminder, the IJA has a signed agreement with Winston-Salem for 2014 which we can walk away from without penalty anytime before July of 2012. We currently have no offers for any city for 2013, but we expect to be given a very strong offer by Rochester, MN to return there for 2013 as soon as our 2011 festival wraps next July.

Bowling Green State University - Bowling Green, OH
I had a 90-minute phone conference with the BGSU Coordinator of Conference Programs & Guest Services, Troy Spikes, who is coordinating the BGSU proposal with the local CVB. They are very very interested in having us come, and have extended an offer for a site visit in mid-January. They are working on firming up a few final details with the CVB regarding shuttle bus service and a lodging subsidy offer, and expect to have a proposal in my hands by the end of next week.

BGSU is part of the University System of Ohio, with 21,000 full-time students at two campuses, including over 6,000 on-campus resident students in Bowling Green. They have 6,400 dormitory beds on-campus, including 2,400 in two brand-new dorms, plus 600 hotel and motel rooms adjacent or near campus. They have all the space we need for juggling and joggling, at a new state-of-the-art facility that will be finished in early 2011. They have two brand-new dining halls coming on-line in 2012, one of them adjacent to the new residence hall. They have free Wi-Fi campus-wide. They have an indoor and an outdoor track for our joggling event, and two performance theaters on campus suitable for our evening shows and competitions. They know our sensitivity to pricing for lodging and food service, and Troy has said they plan to give us a very aggressive price for both in their offer. And, they have the dates we prefer open for both 2013 and 2014.

With all of that in their favor, there are some potential show-stoppers for IJA considering BGSU for a future festival. The biggest concern is BGSU's relative isolation from any air hub. Bowling Green is in northwest Ohio, 26 miles south of Toledo. It's located along I-75 and about 30 miles south of I-80/I-90. The largest air hub cities are Cleveland Hopkins, 116 miles east, and Detroit Metro, 71 miles north.

Flying to Toledo is expensive, and most people traveling to BGSU by air arrive at Detroit and then take an airport shuttle bus for the two hour bus ride to campus. BGSU and the CVB are aware of this concern and will include a bus subsidy in their proposal, but I still think it could be a deal-breaker for our festival compared to other offers we will be given for 2013.

Hartford, Connecticut - Hartford Convention Center
Hartford is a city in the northeast corridor, about an hour south of Boston and two hours from New York City. Air service is frequent and reasonably priced, due to the city's status as an insurance industry headquarters city. Bradley International Airport, located about 20 miles north of downtown, serves the city with over 50 flights a day to all northeast hub airports as well as many hubs in the Midwest.

Hartford has a new, state-of-the-art convention center smack in the middle of downtown. The convention center is attached to a four-star Marriott Hotel.

Initial discussions with Hartford were positive and they have most of what we need, the big exception being a suitable theater close to the convention center. Two potential theater sites are in the downtown area, but are a six-block or more walk from the gym, so that is less than ideal.

The other issue with Hartford is the pricing we would be offered at the attached Marriott Hotel. In keeping with their corporate business clientele, the best they could give us for an IJA rate was $165/night, with the typical concessions standard with hotel offers we see from most cities. I informed them that this is total non-starter for our group, and would disqualify Hartford unless better pricing or other nearby hotels with more reasonable rates could come into the picture.

The Hartford CVB is still working on a proposal for us, and they are aware of our need for more reasonable hotel rates. I expect to have their package in early January and will report back about it then.

Other Cities
These cities are also preparing or have submitted proposals for IJA for 2013 or beyond:

Richmond, VA - Two phone conferences, they want to be competitive and are working on a proposal, expected by March.

Lexington, KY - They have just submitted a bid for 2013; terms are the same as for the 2008 festival: $21k for the convention center and four nights of Opera House theater rental for shows & competitions; Hyatt rooms at $105/night w/free parking, free airport shuttle and free Wi-Fi in guest rooms in our block of 210 rooms. I will be going over the bid details in the next week and contact them to discuss any issues and propose a site visit. It is possible that we can get their price down by eliminating the rental of some space that was used in 2009 that is included in their bid, which do not actually need.

Dayton, OH - Also very interested in us, and with facilities and prices that seem like a good fit. Potential issues are theater space close to the gym and hotel. Their bid is in the mail and we will discuss it with them once it arrives.

Buffalo, NY - Very interested in having us back after a good, profitable festival in 2004. They are working on a bid and expect to be competitive.

Milwaukee, WI - Has our specs and will be preparing a bid.

Des Moines, IA - They are working on what they say will be a very strong bid. I've had two nice phone conferences with their CVB team and their city, location and facilities look like they would be awesome for our fest.

Tulsa, OK - Has our specs and will be preparing a bid. Summer heat in mid-July might be a concern.

Wichita, KS - Has our specs and will be preparing a bid.

Kansas City, MO - Has our specs and will be preparing a bid. Might be priced too high for us because they have so much big-convention business, but they want to send us a proposal and see what we think.

Indianapolis, IN - Has our specs and will be preparing a bid.

Columbus, OH - Very promising. They are working on a bid, and seem to be very well-suited to our fest in a very easy-to-reach city.

The Greater Columbus Convention Center and attached Hyatt Hotel are incredible facilities -- the Hyatt alone has enough convention space to hold our entire festival in their own meeting rooms, but we are asking for Convention Center space. Their Greater Columbus Convention Center is incredibly beautiful as well as immense -- we would use only 20% of their space for our fest.

Grand Rapids, MI - Has our specs and is interested, but they are a little concerned about booking the theater space we need for 2013 as soon as we'd like to, which is next summer, so we're waiting to hear from them if they are going to submit a bid.


Financial (Kevin McBeth & Holly Greeley)...
Holly had a very productive meeting with Joe Wolkowitz, CPA Monday, Dec. 13, to discuss handling of the big donation and other year end reporting issues. One of the things he recommends is that the board make a decision about whether or not to record an accrual for a bad debt allowance and what $$ amount. Typically an organization has many pledges and estimates that some portion of them will ultimately be noncollectable so it accrues a % as bad debt. In this case there is only 1 pledge so it's a little tricky. It is possible that the donor may change his mind at some point and some of the pledge will be noncollectable. It's also a little sensitive because the donor will see the accrual if there is one and may be offended by the implication. Holly can't make the call about the accrual and is asking that it be determined by the BOD so that she can finish up the revised Q3 financials and also get started on the year end report.


Store (Sandy Brown & Kevin McBeth)... 2010 DVDs are being shipped to Kevin McBeth to be sent out and will be sent to current orders through priority mail to get them in by Christmas.

Website Team (David Landowne, Martin Frost, Mike Sullivan)... Need more options and quotes to compare, but also need to find someone who has a lot of time to dedicate to making this project happen ASAP as it has been moving slowly so far and funding could be lost for the project if it doesn't start moving forward.

Membership(Marilyn Sullivan)...
Membership report

# member records 1288
# members 1547
# youths 74
# families 183
# lifetime members 280
# magazines sent for winter issue: 1276

The Sprint IJA phone was lost during a move (sorry) and subsequently cancelled. The Google voice number is working well.
Jim Maxwell completed his duties as membership director so the internet based Filemaker database hosting is not necessary so it was cancelled. The file is being backed up regularly to the juggle.org space that David setup.

Education(Kevin Axtell/Erin Stephens)...Erin and Kevin met with Joyce Axtell-Drush, who is an experienced grant writer. She had several ideas on ways to get funding for YEP. Kevin will later make a motion to authorize Joyce to represent the IJA in looking for grants. The plan is to agree on a percent of each grant that she would be payed for her work, which is standard practice for paying grant writers, and then a formal contract would be written and signed by both parties.
The YEP facebook page is up and videos and photos are starting to come in from YEP pods around the country.

Marketing/Promotions(Thom Wall)... Thom has spoken with donors for the next Youtube contest, and so far has some exciting prizes pledged. There will be a mass email sent out to vendors in the next week calling for more donations.

7. MOTIONS FOR CONSIDERATION:
A. Motion to approve award recipients for presentation at the 2011 IJA Festival as follows:
Award of Excellence- Francoise Rochais
Bobby May- Matt Hall
Historical achievement- Michael Davis
Thank you to Dan Holzman and his committee for their work in selecting the 2011 award recipients.
Motion: Kevin A
Second: Richard K
Discussion: Great selections. Michael Davis has heavily influenced comedic juggling. The education award recipient is still being discussed and will be announced later.
Vote: Abstain - Matt Hall.
Motion passes.

B. Motion to approve Joyce Axtell-Drush to be an official representative of the IJA in seeking out grants and funding for the YEP program.
Motion: Kevin A
Second: Thom W
Discussion: Board feels that it is a good idea and that the deal needs to be formalized and a contract written ASAP.
Vote: passed by unanimous consent

C. Motion to approve the YouTube tutorial contest format and rules as used last year, changing the date to read 2011.
Motion: Thom Wall
Second: Erin Stephens
Discussion: Other board members are eligible to enter, though Thom will not be. Voting happens through a third party system which appears as a link to the videos that takes viewers to a voting site. No prizes will be announced until all of them are confirmed.
Vote: Passed by unanimous consent.

8. VARIA:There was difficulty communicating with some of the competitors who did not speak English during tech rehearsals, and Richard Kennison mentioned possibly using some of the fun fund money to hire a translator. It was suggested that the IJA look within membership to try to find volunteers to do that. Matt Hall is willing to translate Japanese to English.

It appears that Peru has fallen through for the first IJA regional championship. However, there is a juggling festival happening in Guatelejara, Mexico and Matt Hall and Kevin Axtell have been contacted about being special guests. Alejandro Peredo Garcia and Homero Mena, who have attended IJA festivals in the past, are organizing the festival.


9. NEXT MEETING: Next regular BOD meeting will be held January 19, 2011 at 8pm eastern time.

10. ADJOURNMENT: Thom W moved to adjourn the meeting. Second by Matt H. Motion passes, meeting adjourned at 9:07 pm eastern time.
Previous minutes: November 11, 2010 |List of available minutes |Next minutes: January 19, 2011