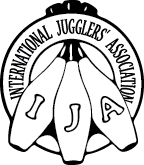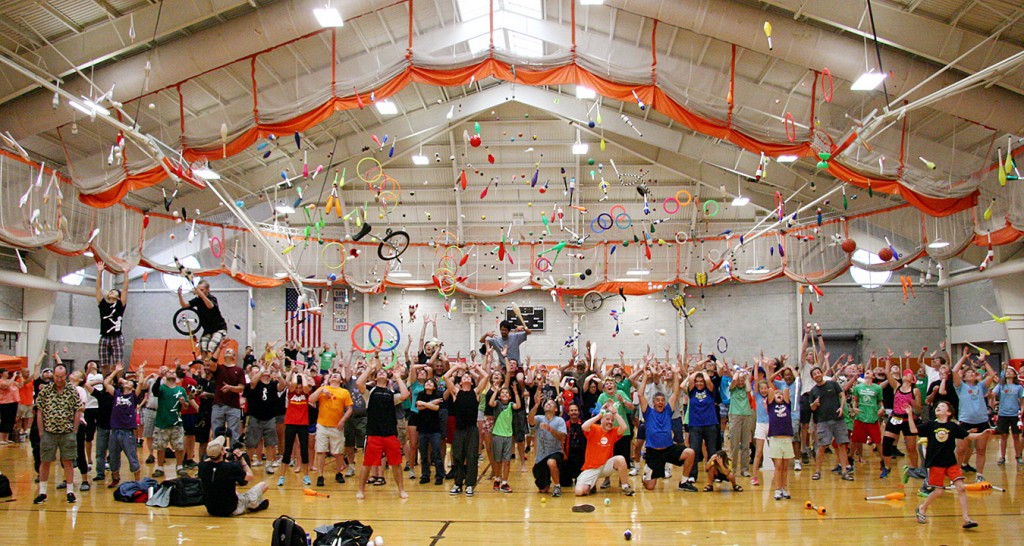 To render assistance
to fellow jugglers

This is an archival website
Previous minutes: July 23, 2011 |List of available minutes |Next minutes:
Regular Board Meeting August 17, 2011
Tentative minutes - not approved
1. CALL TO ORDER: Chair Kim Laird called the meeting to order at 8:05 p.m. EST.
2. ROLL: Present: Kim Laird (Chair), Kevin Axtell, Richard Kennison, Dave Pawson, Thom Wall, Erin Stephens, Brandi Axtell (recording secretary), Mike Sullivan (Future fest director, 2011 fest director)
8:42 Martin Frost, Communications director, joined the meeting,
Absent: Matt Hall
3. APPROVAL OF AGENDA: Kevin A moved to approve the agenda for August 17, 2011. Second by Erin S.
Kevin A moved to approve the minutes for July 23, 2011. Second by Richard K.
Thom W abstains, has not had a chance to read them yet
Minutes are approved
4. REPORTS:
2011 Fest (Mike Sullivan)... Expenses were $101,000 which was double than Sparks and 20% higher than 2009. This was due to the number of special guests and their travel expenses as well as a much lower number of paid attendees than expected. Income did not exceed expense for 2011. Future fests will likely need to be done differently, possibly by looking for different types of venues or scaling back on the number of days.
The number of full festival packages were 296 paid and 32 comps. Mike estimates an income of $80,000 which puts the IJA $20,000 in the for the fest. The board will be looking into different ways to raise money as well as different ways to operate the festival.
iiWii Fest Fun Fund Committee (Matt Hall)...
Busking Competition Report (Dave Pawson)...
Introduction
Thanks to the generous gift of our anonymous donor, iiwii, the Fun Fund Committee was created. The charter of that committee was to figure out how to spend $20,000 to make the IJA Festival more fun, whatever that might mean. The committee ultimately chose a set of activities, projects, and items to make the festival more entertaining. One of those projects was hosting our first ever Busking Competition. The goal was to design a contest that would be entertaining for the festival on the whole; to expose the juggling community to a side of juggling that many of us weren't as familiar with. I ended up coordinating this project, and now that is over I thought it would be interesting to summarize the experience for the benefit of those that participated, those that might plan this or a similar event in the future, for iiwii to see how his/her money was spent, or for anyone who enjoyed the competition and wanted to know how it came to be.
The Format
The original plan had been to get potential competitors to submit 10 minute audition videos that gave a taste of what they can do in their act. The audition videos would be used by a panel of preliminary judges to narrow the field to 9 competitors. The point of having 9 competitors was to host the contest in 3 rounds of 3 competitors. By having 3 competitors performing simultaneously, the performers would be required to draw their own audience, as buskers need to do in "real life"; it wouldn't be a perfect simulation, but a busker who couldn't pull a crowd from the other competitors would not do as well. We envisioned finding a location with 3 relatively balanced performance spots that were far enough from each other to avoid unnecessary conflict between performers, but close enough that spectators could easily "browse" the 3 acts and decide what they wanted to watch. We intended to choose a location in downtown Rochester that would encourage a large number of local citizens to attend, and hopefully contribute donations to the performers. But in addition, the plan was to distribute $2000 in "Busking Bucks" to festival goers. The IJA members who received these Busking Bucks could then gift them to the performers as they saw fit, with the performers then able to turn in those Busking Bucks for actual prize money. The winners were to be determined by the amount of Busking Bucks turned in.
Considerations in Choosing the Format
Choosing 3 rounds of 3 acts was intended to strike a balance. If we had acts performing 1 at a time, we would know that all performers were on equal footing in terms of location. However, the contest would have stretched out over the span of 4 hours or more. Suddenly the contest would be skewed by some acts getting much better performance times than others. And most festival goers would almost surely not have wanted to watch a 4 hour show. If instead we had 1 round of all 9 competitors, we would have needed a very large performance space. By the time we had 9 acts performing at once, spaced out enough so as to not talk over each other, the competition would have stretched for blocks, and it would almost surely have led to some spots being substantially better than others. It should also be mentioned that the format could accommodate 6 or 8 performers reasonably well (3 rounds of 2, 2 rounds of 3, 4 rounds of 2, 2 rounds of 4), but not a prime number like 5 or 7 performers for this same reason; it would be extremely difficult to present the acts with a balanced format.
There were certainly opinions that the Busking Bucks were not a good way to choose the winners. There were concerns that the performers in the first round would benefit because people might give their Busking Bucks without seeing the later performers, and inadvertently choose an inferior act. But there were also concerns that people would be wary of spending their money without seeing all the acts, and that this would benefit the last round. In the end we hoped that having a large number of "judges" would resolve this problem by law of large numbers. There would be some outliers in the "aggressive spending" direction, some outliers in the "conservative spending" direction, and a continuum in between.
It was also suggested that a better solution would be to vote by crowd applause, or simply by a panel of judges. These had various logistical problems. Crowd applause would be extremely subjective; we've all been at events that are judged by applause, and concluded that the person listening for applause did a very poor job deciding who got the best crowd response. If we used judges, they'd have an extremely difficult time evaluating multiple acts performing at the same time. Perhaps more importantly, remember that the primary goal was to make the event fun for the festival goers on the whole. By involving a large number of festival goers as judges, they got to actually participate in the contest as judges. Their opinion mattered. Letting a small number of judges subjectively choose winners would have removed that sense of involvement for festival attendees, and moved us farther from the goal.
We had to decide how to distribute the $2000 in Busking Bucks. This was complicated by the difficulty of estimating how many people would attend the festival. At various times, I heard estimates anywhere from 300 to 1000 people for the expected attendance. If we were to choose a plan that assumed either extreme and we got the other, it would have impacted the competition. To maintain flexibility, I used a voucher system. Rather than directly giving festival attendees busking bucks, each attendee got a voucher that could be turned in on the day of the event to receive the Bucks. By allowing this turn-in on a first- come-first-served basis, this allowed us to defer the guess of attendance until as late as possible. A concern was raised that if a subset of the festival got to vote, there could be "ballot stuffing", where a particular contestant had a popular advantage, and could manipulate the contest by having a large number of their friends receive Busking Bucks. As a contingency for this, the vouchers were printed in different colors, distributed at random. If the performers and attendees led to a concern of this ballot stuffing exploit, we could choose to first hand out Busking Bucks to interested parties with pink vouchers, then orange vouchers, and so on, to force a more random mix of judges.
It was suggested that it was not desirable to judge buskers based solely on the opinions of the juggling community; that the population at large was a better indication of good busking. While this might be true, this would again remove the factor of involvement for the festival goers. There was also the concern that if we handed out the Busking Bucks to Rochester citizens, it would encourage them to donate to the performers in fake money rather than real money, and the event might be more lucrative for the performers if they got the guaranteed $2000 in prize money from the festival in addition to real donations from citizens. Finally, it was suggested that the real money should be factored into the scorekeeping, but this immediately presents an obvious exploit: nothing would stop a performer from putting $1000 in cash in their own hat, knowing they'd immediately receive it back and it would add to their score. We didn't want the winner to be decided by who had the most liquid cash flow.
There were concerns because inevitably some round would be better than the others, and some performance pitch would be better than others. Given a good faith effort to minimize these effects by compacting the time and trying to choose equitable locations for the acts, the plan was then to allocate the time slots and locations randomly among the performers.
The Budget
When deciding to do the event, it was based on a budget of just under $2500. The original budget, and the eventual actual cost of the event, are documented here:
https://spreadsheets.google.com/spreadsheet/pub? hl=en_US&hl=en_US&key=0AuI_osj3HdfkdFc2NGV1RUtWdEZSSUxRRDdjeklZY2c &output=html
I'll now review each of those items in detail. - Prizing This was the easiest to budget for obvious reasons. If we decided to hand out a particular amount of money, it is easy to then do so. Faced with the reality that not all the Busking Bucks handed out would be turned back in, we could scale up the "trade-in" value of the Busking Bucks to ensure that we handed out all the prize money. And in reality, this worked perfectly. No rounding error; we handed out exactly $2000.
- Audio Equipment This budget was allocated to get a portable sound system for each of the 3 performance stations, and potentially for doing announcement of the event. Once the performers were chosen, however, and discussion ensued among them, they all voiced the opinion that either they didn't need amplified sound, or could trivially bring their own portable sound system. There was consensus among the performers not to spend the donors/IJA's money in this area. I was then going to rent a single portable sound system to announce the event, but it turned out that the site for the event was wired for sound with speakers along the entire length of the event, and the downtown alliance was happy to provide a wireless microphone for accessing those speakers. That reduced our audio budget to $0.
- Trophies We wanted to provide a lasting, non-cash reward for the top 3 finishers. I had initially budgeted $100 for this item. When it came time to choose trophies, it was already clear we were going to have budget windfalls in other areas, and that we could get substantially nicer trophies by exceeding the allotted $100 by a bit. In the end I chose trophies that totaled $145; a slightly larger 1st place trophy, and slightly smaller identical 2nd and 3rd place trophies. The trophies were engraved with the IJA logo. In the end, the trophies received rave reviews from the performers and attendees to saw them; the first place trophy can be seen here:
http://www.flickr.com/photos/dpawson/5995206994/lightbox/
- Copying the Busking Bucks I had actually budgeted this pretty poorly. I had a $27 estimate based on the idea of 6 bills per sheet of paper, leading to about 333 copies at a going rate. In reality, if I had put 6 bills on a sheet of paper, they would have been quite small. I decided to make them much closer to the size of a real bill, which only fit 4 on a page. I figured that incremental cost (bringing us up to more like $40) was manageable. I had also not anticipated the real work it would take to cut out 2000 bills by hand. I concluded it was prohibitive, and that I'd go to an office supply store and pay them to do the paper cutting. To help make up for this missing item in the budget, I found an opportunity to do the copying for free. I then went to a local Staples, anticipating a cost of $42 (7 cuts on each of 2 stacks of 250 pages at $3 a cut) to cut the bills. However, once the employee was done doing the paper cutting, he wasn't happy with the quality of his work, and decided not to charge me/us for the paper cutting at all. The paper cutting was more than adequate for our needs, and this reduced the budget for this item to $0.
- Copying the Vouchers This had been estimated at $6 on the assumption that we could print approximately 25 per sheet of paper, and would print them on card stock. Because these needed to be inserted in registration packets, it turned out to be more convenient to have Mike Sullivan handle this task, as he was involved in the production of the registration packets. He did all copying and cutting, and provided me with a cost of roughly $6.63.
- Permits This ended up being a bit of a roller coaster ride. We'd initially allocated $50 as a precaution. It seemed likely that we might need some sort of general purpose outdoor permit, though other events were finding that the city of Rochester seemed to be pretty laissez faire on such matters. And indeed, when I initially spoke to the downtown alliance, I was told that we would not need any permits. However, I was later contacted by a representative of the downtown alliance who told me that there were in reality multiple fees associated with using the space we were planning on using. Most ominously, there should have been $500 in usage fees. This would have been completely unworkable with the budget we had. Based on a combination of our non-profit status and the misinformation we'd been given on space usage, they chose to waive this fee. We did however need a permit for usage of the plaza space, and the fee for that permit was $15. We also needed a permit for using amplified sound, and the cost for that was $25. As I was tidying up details shortly before the festival, I also determined that if our performers wanted to use fire (and many did), we would need an additional permit that would cost $55. These 3 permits combined definitely exceeded our budget for permits, but the overspend was compensated by savings in other areas.
- Miscellaneous supplies This trivial cost accounted for paper clips, a hole punch for punching vouchers so that festival goers could retain the voucher with the name of the event location, mailing envelopes for the performers to submit their busking bucks, and a Sharpie marker which seemed to be in short supply for various uses at the festival.
All told, we came in roughly $200 under budget, largely due to the windfall from unnecessary audio equipment.
Publicity Prior to the event, we had to publicize the event to attract potential contestants. We did so through the following means: - The IJA web site - The IJA discussion forums - The rec.juggling discussion forum - The IJA Facebook page - A dedicated Facebook page for the Busking Competition
We later also advertised the event via: - The discussion forum at http://www.performers.net
Prior to the event taking place, it was desirable to publicize the event to the citizens of Rochester, to try to increase foot traffic. We had no budget for this. The Rochester Downtown Alliance helped by publicizing the event via their event calendar and Facebook page. In addition, they provided me with a list of online event calendars for local radio stations, TV stations, and newspapers, and I submitted our event to all of these calendars. It was approximately 8 to 10 sites in total.
The Event Itself
As it turned out, all the preparations for preliminary judging were unnecessary, because we had trouble getting enough competitors. It was correctly pointed out that many buskers make the majority of their income in the summer, and might be unable to spare a week of work to attend the IJA Festival. As the initial submission deadline approached, we only had one entry. We extended the deadline by a month, and made a more aggressive push to publicize the event. As the second deadline approached, we had 5 submissions and a 6th competitor who had expressed interest but hadn't formally submitted an entry. Given the prospect of canceling the event due to a lack of competitors, we suspended a decision until we were able to reach the 6th competitor. That act confirmed they were indeed interested in performing, and we decided to proceed with 6 acts. There was some concern that the already generous prize money was even more generous if we only had 6 acts, but we decided to move forward as planned.
With the help of Minnesota locals, the location had been chosen to be the Peace Plaza in downtown Rochester. Pictures can be seen here:
http://www.flickr.com/photos/dpawson/sets/72157626900637755/
This location was designed for large crowds and outdoor events, and seemed well suited to our competition. It wasn't immediately obvious where our 3 performance spots would be, and we decided to meet once all competitors were in Rochester to resolve this issue.
In the days leading up to the competition, I became aware of a 7th act that was interested in performing. Because the format wouldn't work with 7 acts, the best I could offer was to try to find an 8th act, and expand to 8 acts if and only if the 6 existing acts were willing to do so. Once in Rochester, I was approached by two other acts. The 6 existing acts were extremely flexible and understanding for the betterment of the event, so as the day approached, we expanded from 6 to 9 competitors. One of these new acts was a duo, and the day after we made this decision one of the two performers in that act broke his wrist. The other performer concluded that the show must go on, and he would perform as a solo act.
The day before the contest, I visited the Peace Plaza with 4 of the 9 acts. We learned about the space, and had open discussions about where to best situate 3 simultaneous acts. By the time we left we had a proposal that seemed workable, though not optimal. But it was also decided that there was enough uncertainty that we would meet in the Plaza 90 minutes before the start time of the event to solidify these details.
The night before the event, I randomly chose the locations and time slots for the performers. The only allowances made in this process were: - One of the acts specifically wanted to avoid one of the locations which was largely grass. Their act involved some duo unicycle work that they feared wouldn't be safe in a grassy area, and the other performers were willing to honor this concern. - One of the acts specifically wanted to be on the grass, because of an aerial rig that was easier to set up in a grassy area. The prevailing opinion among the performers was that the grassy area was not desirable, so since one act actively wanted to be there, I was willing to accommodate that request.
It occurred to me that due to our early meeting time, I would have very little time in the gym on the morning of the event to hand out Busking Bucks to festival goers. I made the judgement call to start handing out bucks the evening before the event to improve our odds of handing out all the money beforehand. Based on festival attendance and estimates of how many festival goers would walk over to the competition, the money had been divided into 100 stacks of $20, to be handed out to the first 100 individuals who turned in their voucher. I wasn't willing to hand out more than 40 of these stacks the night before the event, and in reality I probably handed out more like 20.
The morning of the event I continued exchanging vouchers for Bucks in the gym. Interest seemed slow, and I began to wonder if we'd been overly optimistic in planning for 100 judges. By the time I left for our early meeting time, I had handed out roughly 60 stacks of Bucks. I took about 10 stacks with me to the Plaza for anyone who might arrive their with their voucher, and left the remaining 30 or so stacks at the volunteer desk for continued turn-in in the gym.
The competitors all met in the Peace Plaza at the agreed upon earlier time, except for one competitor who was teaching a workshop. We concluded that the 3 spots we had chosen the previous day were the best configuration we were going to get. We reviewed the rules. We had decided to allow each competitor 30 minutes total for setup, act, and collecting money, to begin as soon as I announced the starting of the round. All were in agreement that running over that time limit would be counterproductive, because I'd then be forced to interrupt them while they were trying to gather their donations, which would be very undesirable. Because one act had extensive aerial setup, and was in the first round, it was agreed that act could set up the aerial rig in advance for logistical and safety reasons, as long as that setup happened sufficiently far in advance to allow any curious onlookers who stopped to see the setup to disperse before the competition actually began.
As the event start time drew near, I started being approached by IJA members wanting Bucks for their vouchers. I handed out the small stack I had brought, but others continued to come look for me. When I told them I had left the rest in the gym, I was informed that all the money in the gym had been handed out. We handed out all 100 stacks of money, and based on the interactions I had in the plaza, I'd guess the demand was more like 125-150 individuals.
The event began on time as planned. The sound system in the Plaza was more than adequate for our needs. I provided each act with a brief introduction, started each round, and provided each round with a 10 and 5 minute warning before announcing the end of each round. We had chosen 3 pitches: the "stage area", the "middle area", and "the grass area". Due to some vendor tents in the plaza, the middle area and grass area were a little closer than desirable, but we had no better alternatives. It also became apparent pretty early on that the stage area was particularly challenging; the flow of foot traffic in the plaza, combined with the close proximity of the other two acts, made it very difficult for the stage area performers to attract and retain a crowd. The acts performed admirably; all acts were entertaining, family friendly, and behaved impeccably other than a few very minor unintentional issues related to setup and timing.
Given all the thought that went into choosing our locations, it was interesting to note that our expectations were quite inaccurate. After the walkthrough, the competitors seemed to be in general agreement that the stage area was very desirable. The grass area was somewhat undesirable due to logistics and the grass. And the middle area was viewed as least desirable because it was somewhat small and hard to find space for a large crowd. As the event progressed, it became clear that the middle area was the most attractive, followed by the grass, followed by the stage.
During the event, I wandered the Plaza checking on the acts, making sure things were running smoothly, and talking to various individuals. While there were some concerns because the middle spot made it difficult to get to a crosswalk, on the whole everyone I spoke to was very happy and excited to have us there. This included our contacts in the Downtown Alliance, citizens of Rochester who happened to be in the Plaza enjoying the show, and stores and vendors located on the Plaza who suddenly found this spectacle taking place in and around their place of business. Everyone was very friendly, excited to have us there, and entertained by what they saw.
As competitors finished collecting their tips, I handed them their envelope to package up their Busking Bucks. Each gave them back to me, and with the help of Nancy Kelly, I sat down to count out the Busking Bucks and determine our winners. The winners were announced at the beginning of Club Renegade that night, and the prize money was allocated as follows:
1st Place: Cate Flaherty, $564 (Second round, grassy area)
2nd Place: Kevin Axtell, $319 (Second round, middle area)
3rd Place: Gypsy Geoff, $317 (Third round, middle area)
4th Place: Warren Hammond, $285 (First round, middle area)
5th Place: Bob and Trish Evans, $213 (Third round, stage area)
6th Place: Laura Ernst, $96 (First round, grassy area)
7th Place: Blue, Makeshift Circus, $88 (First round, stage area)
8th Place: The Dropbacks, $80 (Third round, grassy area)
9th Place: Chuck Clark, $38 (Second round, stage area)
Results
For me, the primary indicator of whether this event was a success was going to be whether we held the interest of the festival attendees. The fact that 125-150 people attended and hoped to judge was a very substantial percentage of the overall festival headcount, and anecdotally I received a great deal of feedback afterwards, almost all positive. I feel confident we succeeded at providing a compelling entertainment experience for our members.
The areas were not equitable. The stage was clearly at a disadvantage. The middle area on the whole did best, though it is interesting to note the winner did not compete in the middle spot. All told, the grassy area received $740,
the middle area $921, and the stage area $339. While this shows a dramatic advantage to the middle area, the reality was probably even more pronounced, as the grassy area results are skewed by Cate's huge prize money.
The first time slot received $469, the second time slot received $921, and the third time slot received $610. I don't think anyone had anticipated the middle slot being the most desirable. A very interesting dynamic happened in that round as well. Kevin realized that he was performing in sight of Cate's pitch, and was familiar with her finale. He was concerned that if he was trying to pass his hat when her finale arrived, he might lose his crowd as they went to go see her finale. So he intentionally finished quite early; so early that he was done passing his hat by the time her finale arrived. While this may have had the effect he desired, it had an important side effect: with Kevin's act done, much of his crowd then wandered over to Cate's nearby pitch, especially once they saw her finale begin. So while Kevin may have guaranteed himself a very solid outcome, he may have also contributed to Cate's dominant win.
While there were various concerns raised about the fairness of the format, I think we struck a good balance in most areas. I did not hear much, if any, feedback that the wrong people had won. The competitors voiced that they had enjoyed themselves, and were happy to come away with some prize money for their efforts.
Lessons Learned
The vouchers served a useful purpose, but confused people. Some people thought you were supposed to turn the vouchers themselves in to the competitors. Others wanted to do so once the cash ran out and they were left with only their voucher. A better answer might have been to provide everyone with cash and then scale down the prize money to the chosen amount, though that opens the concern that if you give Busking Bucks to people who don't intend to attend the event, it opens the door for interested parties to maneuver and collect bucks from non- attendees, skewing the results.
3 locations was challenging. In particular, once there were 2 spots reasonably close to each other it made it easy for an observer to gravitate towards a spot where they could more easily see 2 acts at the expensive of a 3rd. Unless we have three extremely equitable locations, it probably would be better to stick to an even number of performers and only 2 locations.
I have already heard concerns that the event cannot be duplicated in Winston Salem because it doesn't have a community site to support such an event. However, I heard similar concerns raised prior to Rochester. In talking with Cate afterwards, she made an interesting observation. While she did extremely well in the competition, the money she raised in actual cash donations was a very small percentage of her overall winnings; the IJA membership dominated the crowd, at least the donating portion of it. So as long as we have a site that can literally hold the competition, and we can continue to make it compelling for the membership, perhaps it doesn't matter if the site would normally support busking (though of course that is a desirable condition).
Because this was the first IJA event I had organized, I was overly cautious about asking for help. In hindsight things would have been much easier if I had recruited 2-3 helpers. They could have helped with the distribution of Busking Bucks, and could have helped supervise the various stations during the competition. As it was, I spent most of the competition briskly walking along the length of the plaza to make sure everything was in order. At some point I was contacted to say that there was a television crew coming to cover the event, but I was so busy running it I was unable to seek them out for greater IJA publicity. One person *can* do this event; 3 or so could do it better.
Conclusion We set out to use our money wisely to create a compelling entertainment experience for festival goers. I think we succeeded in doing so, and I hope this competition becomes a staple of the festival for years to come. I can't thank our donor iiwii enough for enabling this event. I was also very lucky to get to work with the slate of competitors we had this year. They were all helpful, flexible, friendly, and incredibly entertaining. At every turn, they were more interested in making the event a success than their own personal goals.
Future Festivals (Mike Sullivan)... Here's where we stand with future fest site status. 2013 is our immediate concern, and if at all possible a decision should be made this month. BGSU and Lexington are our two best proposals.
In two weeks, I will be going to Chicago for Connect Marketplace, a "reverse trade show" for meeting planners like us to meet venues and cities who want to bring our festival to their city. I have 66 six-minute-long appointments set with dozens of cities and facilities around the country. Some are those I have already spoken with by phone and in some cases have a tentative proposal from.
I expect that after Connect Marketplace, we will have many more cities to choose from for 2014 and 2015, so stay tuned.
There is a lot of concern that BGSU is far too remote, especially considering that there is no shuttle service and participants would have to fly into Detroit and then get themselves to the campus. However, the other money saving facets of BGSU might make up for that especially since there could be a complete food, room and festival package offered to members. There is also a nostalgic appeal of going back to a University campus, as well as the fact that it would allow for camping (though limited to likely no more than 100 tents) and on site meals. The dorms, which would be available for about $34/night per person, are suite style and therefore have a common area between 2-4 rooms and have either 1 or 2 bathrooms for those rooms. There are also hotel rooms nearby and available. The potential complete festival package there would cost far less than most people pay for their room and board at hotel based festivals. The proposal from Lexington is much better than it was from the same city in 2008 and the facilities have all been updated since then, which makes that venue more appealing. While the festival in 2008 did make a profit, it had lower attendance than either Winston-Salem and only made $5,000 profit. Des Moines fell off as a possibility as they did not make further contact about a site visit.
Financial (Holly Greeley through Kim Laird)...After all regularly monthly bills are paid and after paying Mike his final reimbursement for fest expenses out-of-pocket, the remaining balance of the general fund is over -$2,000 plus the $20,000 loan from the life member fund. Money from iiwii fun fund will cover that deficit but will not leave enough to pay September's bills, and Holly recommends moving more money from life fund to general fund. The board used to take 3-4k from the life member every year, in 2004 the board voted to stop that practice for 1 year. However, that practice was never put back into place after the 1 year hiatus. Until the 20k loan was taken, the fund had not been touched since 2004. If the past practice had been kept up, approximately 21k would have been taken out since 2004. Whether it will be a loan or just a payment to the general fund, it is likely that more money will need to be transferred from the life fund. The balance of the fund was approximately 100k before the 20k loan, so there should be about 80k left. The lifetime fund is money that came from those who purchased lifetime memberships and is meant for maintaining the IJA as well as covering expenses of magazines for the lifetime members. Kim is willing to spearhead a fund raising effort with help from Erin S. Most nonprofits have an annual donor drive, and so it would not be unusual for the IJA to do so.
A nonprofit amusement park in Pennsylvania has shown interest in having jugglers entertain at their park in exchange for a space to have an IJA event. They would exchange camping sites, food and workshop space along with performance stipends and a fee to the IJA for scenic juggling. This would not replace the annual festival but could be a mini festival event. There are still many details that need to be hammered out but it is a possibility that the board can look at. The board feels that there is fund raising potential depending on the details of their budget.
Kevin A suggested having tutorials for sale on a sliding scale would allow for donations from jugglers with all different financial backgrounds and give donators something rather than just asking for money, or perhaps offering a free download for anyone who donates. Several members of the board feel that continuing to ask the membership for money without giving anything in return could lead to less and less donations. However, it was also brought up that for most nonprofits yearly fund raising drives are expected and normal. There are different formats of fund raising that can be explored. When the IJA did the fund raising drive two years ago, the target audience was the lifetime members. Overall there is no one fund raiser that will solve all problems, the IJA needs several streams of income.
Erin S and Thom W have talked about focusing on creating a road map for the upcoming year, with goals, objectives and time lines. The whole board could meet outside of a regular board meeting to come up with this road map. A large part of this would be looking at finances.
For next years festival in Winston-Salem there is a possibility of receiving arts grants that would cover the costs of bringing in special guests.
Website Team (David Landowne, Martin Frost, Mike Sullivan)... Mike will be contacting the consultant and telling them that we are ready to go. That process will begin in the next few days. A member at the festival had also expressed interest in bidding as a website developer. The consultant will do a needs analysis for the IJA and then move to a good-better-best recommendation.
Membership (Marilyn Sullivan)...
# records 1263
# members 1507
# families 176
# youths 81
# life time members 280
Education (Kevin Axtell/Erin Stephens)... The 2nd Annual YEP Certification Training was a success. 8 new YEP Reps have been added to the team, including: Warren Hammond Jen Slaw Napolitano Jared Davis Richard Kennison Dave Pawson Bob Evans Trish Evans Bekah Smith – One and one training in Boulder, CO
We are excited to see where the next year of YEP takes us. So far, confirmed active pods for this upcoming year include Durango and Boulder, Colorado, Poconos, Pennsylvania, and Arlington, Texas. Other Pods that are expected to be active this year include, Cedar Rapids, Iowa with Doug and Cheryl Sayers, Jen Slaw's work with Juggling Life in New Jersey and other work in New York, Salt Lake City, Utah with Taylor Glenn, Oakland, CA with Kyle Johnson, Sonora, California with Kevin and Brandi Axtell, San Mateo, CA with Dave Pawson, and St. Louis with Richard Kennison. Bob and Trish Evans will be traveling for the next year, and hope to do YEP programming at YMCA's and Boys and Girls Clubs during their travels.
Joyce Axtell is currently applying for a grant for the Durango, CO Pod, and a national grant that would go towards YEPs' general funding.
YEP is currently exploring the creation of promotional materials, including business cards and promo flyers, and building a merchandise line with the YEP logo appearing on T-shirts, balls, etc.
We also hope to build the focus of YEP online videos – to start promoting the program and creating an online network of youth juggling programs across the country.
One goal YEP has for the upcoming year is to go international. YEP coordinators will be looking at how to make this feasible over the next couple of months.
Marketing/Promotions (Thom Wall)...Thom talked to some of the vendors about revamping the vendor discount program. They will be having a chat next week about that. The e-newsletter will contain a write-up on the video tutorial contest, which will need a judging panel this year. Popular vote will only count for a small portion of the contest, judges will determine the rest.
5. MOTIONS FOR CONSIDERATION:
A. Motion to approve moving $______ from Life Member Fund to General Fund.
Motion: Richard K Second: Kevin A
Discussion: Kim suggested taking another $20,000 from the fund. The Life Member Fund is in an account that accrues more interest, however the bills need to be paid for September. There can either be a stipulation attached for fund raising to pay it back, or have the fund raising go on top of it. Kim suggests still paying back the original $20,000 loan but having this second move be just that – a move and not a loan. The board mostly feels that while it is a difficult decision, if money is transferred it should be a move and not a loan. There are not a lot of other options to raise money to stay in business. The $20,000 would cover the bills that will need to be paid through March 2012, at which point festival registration money should begin to come in.
A1. Motion to amend the motion to read "Motion to approve moving $20,000 from Life Member Fund to General Fund.
Motion: Richard K Second: Kevin A
Vote: Kim L, Kevin A, Richard K, Dave P, Erin S - Yes Abstain – Thom W
Motion passes
B. Motion to approve Fall Fundraising Drive to begin in September 2011 through the end of December 2011.
Motion: Erin S Second: Dave P Discussion: this was originally to cover just sending out letters, however based on the discussion earlier in the meeting it could include the tutorial idea and other fund raising efforts. The board does feel that the effort should be more than just asking for money, it should add value to the community in some way.
Vote: Motion passes by unanimous consent.
C. Motion to table the motion to approve plan to provide new membership benefit of vendor coupons ($100) with each new membership. Present members would also receive this coupon packet one time upon renewal of their membership. (this was tabled at the June meeting)
Motion: Thom W Second: Erin S Discussion: has a lot of potential, but also has a lot of wrinkles to iron out
Vote: Motion tabled.
D. Motion to table the motion to award the magazine bid from ______. ______, board member, is instructed to enter into contract negotiations with bid awardee.
Motion: Richard K Second: Kevin A
Discussion:
Vote: Motion tabled
E. Motion to approve agreement between Matt Hall and the IJA to pay him $9,000 stipend for his duties as fest director for 2012. Matt has only asked for this flat fee with no profit sharing.
Motion: Thom W Second: Dave P
Discussion: When payments are made needs to be discussed. This is about $1,000 more than Mike was paid, however had the festival made a profit Mike could have made a lot more. Matt arrived at that number based on the fact that the video editor is paid $8500. Nobody else has expressed interest in being festival director. Some of the board feels that it would be appropriate to ask for an outline or some plans from Matt for what he will do, and also that he should be able to answer questions before this motion in passed. Matt has also asked if the board could provide a budget, which is not how things have been done in the past but that doesn't mean it couldn't be done. A plan from Matt could be posted on boardplus and
E1. Motion to table the motion to approve agreement between Matt Hall and the IJA to pay him $9,000 stipend for his duties as fest director for 2012. Matt has only asked for this flat fee with no profit sharing.
Motion: Thom W Second: Richard K
Vote: Motion tabled.
6. VARIA: A. Talk about treasurer and possibility of Dave Pawson being temporary treasurer. Bekah Smith had expressed possible interest, however with recent developments in her life she will no longer be able to do that. In the past the IJA has hired from a temp agency to help out with duties at the festival. Dave has expressed that he would not want to miss out on other festival activities such as running the busking competition and possibly workshops, which are both things that he would much rather do. However he does appreciate that we need a treasurer and is willing to do that if there is absolutely no one else. A call will be put out in the e-newsletter. The treasurer does not have to be a board member.
Dave is willing to be the interim treasurer, however he wants to make sure that finding a permanent treasurer does not fall between the cracks.
7. NEXT MEETING: Next regular BOD meeting will be held September 21, 2011 at 8:30 pm eastern time.
8. ADJOURNMENT: Erin S moved to adjourn the meeting. Second by Kevin A. Meeting adjourned at 10:22 pm eastern time.
Previous minutes: July 23, 2011 |List of available minutes |Next minutes: