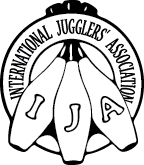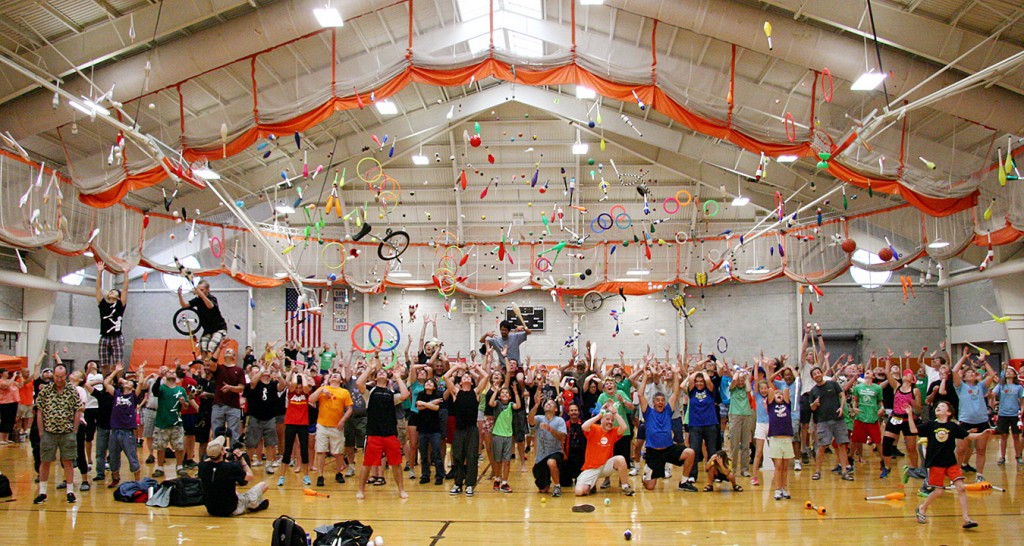 To render assistance
to fellow jugglers

This is an archived website
Previous minutes: July 23, 2011 |List of available minutes |Next minutes:
Regular Board Meeting November 9, 2011
1. CALL TO ORDER:
Chair Kim Laird called the meeting to order at 8:36 p.m. EST.
2. ROLL:
Present: Kim Laird (Chair), Kevin Axtell, Dave Pawson, Thom Wall, Erin Stephens, Brandi Axtell (recording secretary),
Absent: Matt Hall, Richard Kennison, Mike Sullivan (Future fest director, 2011 fest director) Martin Frost (communications director)
3. APPROVAL OF AGENDA:
Erin S moved to approve the agenda for November 9, 2011. Second by Dave P.
APPROVAL OF MINUTES:
Thom W moved to table the minutes from October 19, 2011. Second by Kevin A.
4. REPORTS:
Future Festivals
(Mike Sullivan)... Nothing to report except that he is working on the Bowling Green University contract and dates.
2012 Fest
(Matt Hall)...Full page full color ad has been created and the special guest is awaiting final confirmation before the ad is published.
Financial
(Holly Greeley)... the YEP balance is currently $3546.40 including the Boulder, CO grant.
Website Team
(David Landowne, Martin Frost, Mike Sullivan, Erin Stevens)... a needs analysis has been submitted to Wes with all team members giving feedback. He has since given his recommendations, and options will be presented to the board soon. The needs analysis does not appear to be something that can be used to get bids from other website developers.
Membership
(Marilyn Sullivan)...
# member records 1243
# members 1474
# Youths 76
# Families 173
# Life time 280

Education (Kevin Axtell/Erin Stephens)... no new updates at this point.
Marketing/Promotions (Thom Wall)... video tutorial contest planning is underway with solicitation emails sent to judges this week, should be getting responses back soon. An international representative for panel judging is in the works.Thom will be meeting with an arts lawyer and juggler in St Louis who will talk through and help tighten up the official rules. The idea of a celebrity judge panel will likely be dropped as two judging panels would be unwieldy. Thom will start soliciting prizes in January. He is also working on a grant proposal to revamp the archive project.

5. MOTIONS FOR CONSIDERATION:

A. Motion to approve John Nikkel as IJA Treasurer.
Motion: Thom W
Second: Erin S
Discussion: John has spoken with Holly and reviewed all of the financial documents and feels comfortable with the position. The board feels comfortable having him as treasurer and is confident in his ability to do the job.
Vote: passed by unanimous consent.

B. Motion to move forward with the production of an online "eZine", based on the proposal submitted by the "blog team". This eZine will complement the existing publications of the IJA and will include members-only content to enhance the value proposition of membership. Scott Seltzer will head up this project in concert with a board liaison. (full proposal can be viewed by board members online. Board members were sent a username and password for this site by Scott Seltzer via email.
Motion: Dave P
Second: Thom W
Discussion: There is some question as to the funding, though the fundraiser should help. The print magazine cost 60k/year so this costing 12k a year is a significant savings. A budget outlining how the money will be spent has been requested, further financial details are contained in motion C.
Vote: passed by unanimous consent.

C. Motion to fund the production of the online "eZine" with a one-time startup budget of $250, and a $750 per month budget for paid content. This funding is to be revisited in 3 months time relative to the financial status of the IJA, the perceived value of the eZine, and the perceived value of the per-pay content we've been receiving.
Motion: Dave P
Second: Thom W
Discussion: the $750 will be going to paying people who write content, and the initial startup budget was to cover the cost of graphic design to make sure the quality of visual presentation is high. Continued funding is a question as the upcoming Winston-Salem festival will need to be funded as well. Transportation costs for special guests need to be paid before the festival, though the cost for the facilities is not due until after the festival.
Vote: passed by unanimous consent.

D. Motion to approve Props 2 U Proposal. (see appendix A)
Motion: Kevin A
Second: Thom W
Discussion: The proposal is to make Props 2 U an official IJA program as it is currently a trial program. Erin would like to see a logo created as well as a facebook page. The Afghanistan group is sending photos that can be used for promotion.
Vote: passed by unanimous consent

6. VARIA:
1. Decide on a day and time to meet about the remaining proposed goals and objectives. Tuesday the 29 at 6pm pacific time.

There was some discussion as to whether the fundraiser letter should be mailed out hard copy versus in an email. The cost of sending out letters to the entire membership would be around $900, which would eat into any funds raised. The only way to do that would be to get a bulk mail stamp which would cut the cost in half, however in order to use bulk mailing the IJA would only be able to use one post office. Kim will look into if that could be transferred in the future.

7. NEXT MEETING: Next regular BOD meeting will be held December 14, 2011 at 8:30 pm eastern time.
ADJOURNMENT: Erin S moved to adjourn the meeting. Second by Kevin A. Meeting adjourned at 9:31 pm eastern time.


Appendix A...
Props 2 U Proposal

Props 2 U's trial program was a huge success. Over 600 props were donated to Afghanistan, Ethiopia, and YEP! A lot was learned in the process, including how to partner with organizations in order to transport props affordably, outlining the process of delivery with carriers prior to putting them in hand, and potential funding needs for the future.

The point of this proposal is to encourage the board to incorporate Prop 2 U as an official IJA program, while outlining the proposed receiving programs for 2011-2012.

Props 2 U is a program that perfectly fits with the IJA's mission of rendering assistance to fellow jugglers. Not only does it allow the to IJA support juggling education programs around the world, but it allows jugglers and members to feel like they can contribute to that outreach. The response to Props 2 U this past year was incredibly positive, and will only enhance IJA support further as the program grows and reaches more jugglers around the world.
The following programs are the proposed recipients of Props 2 U for 2011- 2012:

Mini Mobile Children's Circus - Afghanistan
MMCC has made it clear that ongoing prop support is necessary to continue serving the 300+ weekly juggling students. They were incredibly thankful for the last shipment of props, and are thankful for being offered to be continuing recipients of Props 2 U.

Performing Life - Bolivia
Performing Life is a non-profit organization empowering Bolivian children who work or live on the streets through the arts. Many students have now learned performance skills, including juggling, poi, unicycling and other circus arts, enabling them to street perform to pay for education, housing, and starting their own businesses. Here is a video of their impressive program: http://www.youtube.com/watch?v=afKAwfh6zK4&feature=related

Juggling Life - USA
Juggling Life's mission is to engage, inspire, and emotionally heal ill and disadvantaged children through juggling workshops and entertaining performance art shows. This program is in need of various props to continue teaching their growing number of students.

YEP - USA
YEP Reps have been hugely thankful for the props they've received to work with the youth of their programs. Continuing to support these programs is important.


Goals for 2011 - 2012
1. Require receiving entities to create a video and/or take photos of the props they receive. These videos/photos will be used for promotional purposes, and to show donors where their props are going.
2. Partner with prop vendors to include Props 2 U brochures in boxes shipping new orders. The idea behind this is, when jugglers buy new props they are often replacing old props. Props 2 U wants those old props, and the brochure will encourage people to donate them to the program.
3. Create a Props 2 U logo.

Previous minutes: July 23, 2011 |List of available minutes |Next minutes: