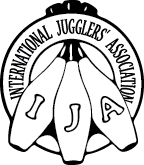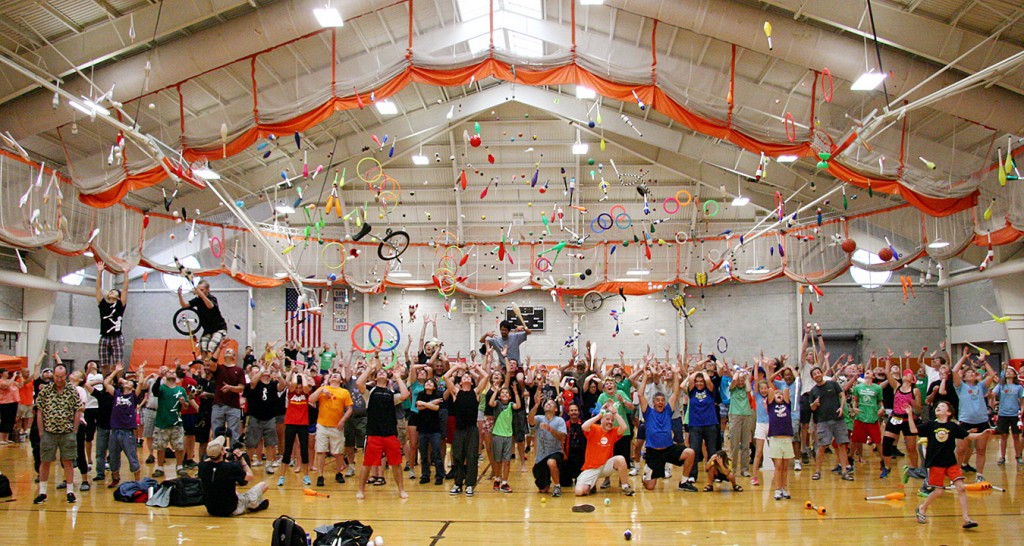 To render assistance
to fellow jugglers

This is an archival website
IJA Juggling Festival 2005
RiverCenter
Davenport, Iowa, USA
July 18-24, 2005
Monday to Sunday
Festival Highlights
Special Guests - Lazer Vaudeville: One of the longest-running traveling juggling troupes in the USA, Lazer Vaudeville has carried its high-tech, madcap comedy and championship-level manipulation skills overseas and back again. Ringling Clown College graduate, hoops artist, and rope master Carter Brown founded the show in 1987. Cindy Marvell, the first female IJA Individuals gold medalist, brought her choreographic expertise and graceful style to the act. And acrobatic Nicholas Flair joined the trio last year, showcasing his cigar-box skills. Lazer Vaudeville is performing Spring 2005 off-Broadway at the John Houseman Theater, and they'll be performing much of their critically acclaimed updated show in Davenport. The IJA proudly brings Lazer Vaudeville to the Capitol Theatre on Friday, July 22, for a special presentation of their touring show. In addition, all three of these talented performers will be sharing their expertise during regular festival workshops. Visit www.lazervaudeville.com to get a preview of the treats in store!
Special Guests - Yuri Pozdniakov and Selected Student: Whispers from the past: the story goes that the father of Alexander Kiss worked as a janitor in the training hall where the great Enrico Rastelli practiced. The janitor carefully observed Rastelli and then taught his son the famed juggler's training technique. Alexander and his sister, Violetta, then passed on this method to many others, including Sergei Ignatov, who then personally trained Yuri Pozdniakov. Today, Yuri continues the tradition of excellence and artistry as the master circus director of the Professional Circus School of Kiev, in the heart of the Ukraine.
With this pedigree, it is no wonder that the students graduating from this school are considered the cutting edge of juggling creativity and technique. 2003 IJA festival guest Viktor Kee, now traveling with Cirque du Soleil's Dralion, was one of Yuri's protégés. This year, Yuri will select one of his most promising students to bring to the 2005 IJA festival, giving us an exclusive peek at an emerging young circus star of this century. Yuri's student will perform in the Cascade of Stars show, a North American premiere.
Special Workshop by Yuri Pozdniakov and Selected Student: IJA fest participants are invited to explore Yuri's techniques and vision in a three-day special workshop (10am-1pm, Wednesday-Friday, July 20-22). He will be assisted by his selected student. Workshop attendees will gain insight into the practice routines and preparations of some of the most successful and talented jugglers in the world. Explore new tricks and drills, enhance performance skills, and gain valuable feedback from one of the top professional coaches in the world. This workshop will meet for three days, three hours per day, and cost an additional $125. You must pre-register for participation in this workshop. Participation is limited to a maximum of 20 attendees. For more information, email festival2005@juggle.org.
Special associated Pro Comedy Writing workshop by David Walbridge: This 4-day workshop will be held 10am-noon Tueday-Friday and will cover comedy and humor writing for professional jugglers & juggling teams. Please contact David at 651-848-0048 for fee and registration information. This workshop is independent of the IJA festival, though IJA registration is required to gain access.
Cascade of Stars: This Saturday evening show is your opportunity to witness some of the best performing jugglers on the planet, a truly incredible celebration of the art of object manipulation. This year's spectacular show will be held at the historic Capitol Theatre (a beautiful film palace from the 1920s, rebuilt as a performance venue). This theater is an easy walk from RiverCenter. Our Show Director is the fabulous Mark Hayward, MadFive gold medalist and professional cool guy. Our Emcee this year will be Jek Kelly. For more information, contact CascadeOfStars@juggle.org.
Juniors, Teams and Individuals Championships: This event attracts jugglers from around the world, presenting their very best work in hopes of capturing an IJA gold medal. An intense competition that has presented some fantastic surprises in the past, this is the show that will keep you on the edge of your seat. The Juniors Championships are on Wednesday, and the Individuals and Teams Championships on Thursday. Nearly $4000 in prize money will be awarded! See the Championships page for more information and the rules. Contact Championships Director Craig Barnes at championships@juggle.org.
Youth Showcase: This non-competitive event on Wednesday features young performers up to age 18. It is a chance for beginner jugglers to have a first experience in front of a large audience, and for more advanced jugglers to show the results of their hard work. Team acts are welcome. Young jugglers wanting to get involved can read the Youth Showcase Guidelines and contact Youth Showcase Co-Directors David Groth and Mary-Jane Albrecht at youthshowcase@juggle.org or call 1-208-667-4694. Stage time will be limited, so sign up early.
Individual Prop Competition: Win fame, prestige and fat sacks of cash money! This competition, held Tuesday afternoon, is growing every year, and will showcase the best new tricks on the block. Categories include three balls, three clubs, one diabolo, six clubs (two people), one devil stick (new!), and three cigar boxes (new!). Routines should be no longer than two minutes and choreographed to music. The winner in each category will walk away with a $300 check. Each second place wins $100, and each third is worth $50. Judging will be based on technique, presentation and originality. There is no entry fee. Contact Prop Competition Organizer Dan Holzman, propcomp@juggle.org, or 1-510-758-1208.
Bix Beiderbecke Jazz & Juggle Competition: Davenport is the birthplace of jazz musician Bix Beiderbecke. To commemorate his music, the IJA is sponsoring the Bix Beiderbecke Jazz & Juggle Competition to take place Thursday at 3pm. The rules are simple. 1) Find a piece of music that was either composed by Bix and/or features him on the recording. 2) Choreograph a juggling routine to the music. Any prop may be used. Solo and team entries are welcome. Judging will be based on how well the performance interprets the music. Details available here. For more information contact competition emcee Michael Rosman at jazzandjuggle@juggle.org.
Numbers Competitions: This Friday event is a contest to find out who can juggle the most balls, rings or clubs for the longest run. Entrants must pre-qualify before 4:30pm on Thursday, July 21. Each hand must make a number of catches that is equal to or greater than the number of objects being juggled by the entrant (team or individual). See the Official Numbers Rules & Schedule for all the details. For more information, contact Numbers Director Merry Spahr at numbers@juggle.org.
Joggling Championships: Joggling is simply juggling while jogging, or in this case sprinting. This year's event will be held 9am-noon on Tuesday. Details available here. For more info, contact Joggling Director Bill Giduz at joggling@juggle.org.
The Games of the IJA: The Games, on Saturday, are always a festival favorite. Kick back and enjoy watching, or better yet join in the fun. Look for sign-up sheets in the gym. Contact Games Director Scott Slesnick at games@juggle.org or call 1-330-494-4827.
Special Monday Welcome Dinner ($12.50-$12.95) and Free Show: Kick off the week with a good dose of carbs while visiting with your fellow festival participants. A pasta dinner will be offered on Monday, July 18 at 6:30pm in the Gold Rooms of the Blackhawk Hotel. The Blackhawk is connected to the RiverCenter by a skywalk. The cost of the dinner is $12.50 for vegetarian and $12.95 for beef meatballs. Dinner includes salad, entree, dessert, tax and tip. A cash bar will also be available. Be sure to make your dinner reservations on the registration form (specify vegetarian or beef meatballs). NOTE: Meal tickets will not be available in Davenport as we must know how many people are coming by a few days before the dinner.
If you choose not to join us for dinner, you are still invited to attend the FREE Welcome Show Monday in the Blackhawk Hotel Gold Rooms following dinner, at about 7:30pm. (Extra seating space will be limited this year.) The show is hosted by Paul Bachman. Interested in performing? Contact ...
The IJA Auction: No item is too old — or too odd — for this year's auction, held Friday. Donate your item by contacting the Auction Director at auction@juggle.org, or just show up and bid on international juggling articles, props, memorabilia and photos. Proceeds will benefit the IJA Archives Fund.
Festival Tent: New this year! The Festival Tent will provide a space to hang out and chat, refreshments, and a venue for kids' shows, late-night shows, and everything in between. For more information, contact Tentmaster Tim Furst at ...
Note: Festival schedule and performers are subject to change. Check this web site for the latest information.