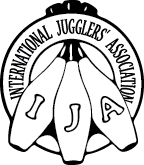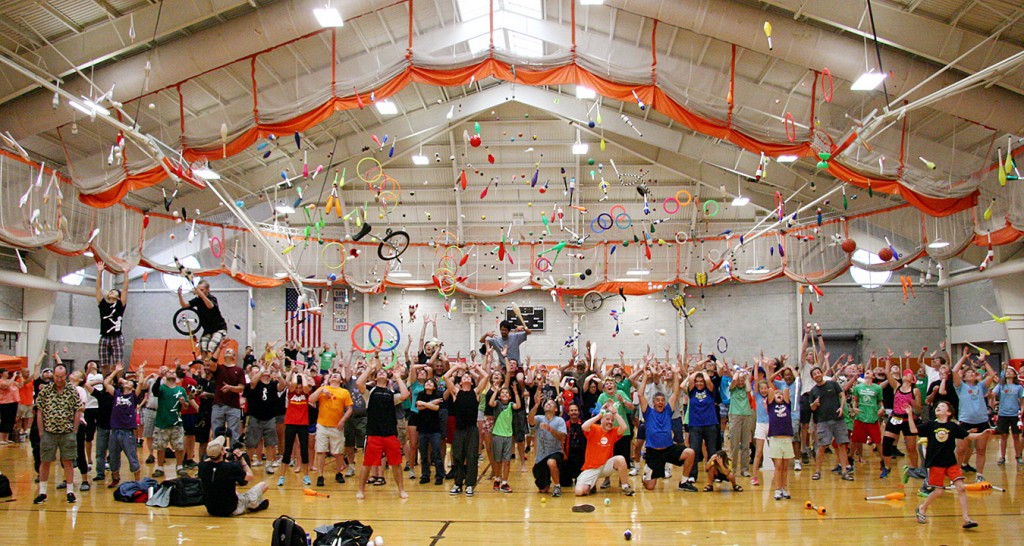 To render assistance
to fellow jugglers

This is an archival website
2006 IJA Festival Frequently Asked Questions
Q. I'm not a juggler, but I read about this event in the paper. Can I just come in for a little while to watch the fun?
A. Yes, please do! We created the economical Spectator Pass just for you, so you could visit our festival and see what's going on ($5 in 2006). You can learn to juggle at the Construction Zone, attend a few of our performances, browse our vendors' wares, purchase tickets for our bigger shows, and, if you like what you see, sign up for an IJA membership.
Q: What's a Construction Zone?
A. Invented by Mike Brown of the Damento Jugglers in 1999, the Construction Zone is an area dedicated to teaching the basics of three-ball toss juggling in a supportive, friendly environment. Instruction is one-on-one and does not cost an additional fee. Other basic skills may be offered, depending on the abilities of the volunteer staff and available props: clubs, rings, diabolo, devil sticks, cigar boxes, contact juggling, and so on. All ages are welcome, but please note that an adult MUST attend with each child; this is NOT a drop-off child-care area.
Q. Which shows does a Spectator Pass allow me to attend?
A. In 2006, a Spectator Pass will get you into the following performances:
Q. I have six kids and can't afford all those spectator passes!
A. Gym access is free for kids 10 and under, although we do ask that children be watched very carefully. Unattended children will be sold to the circus.
Q. That doesn't sound very child-friendly.
A. Jugglers are, on the whole, a very tolerant lot. But it's important for them to enjoy their vacation (many of them have traveled far to attend this festival), and some juggling activities can be dangerous for the little guys. That's why we ask Spectators (and their kids) to stay well clear of the carpeted juggling area in the middle of the gym, and give a wide berth to any other juggling going on elsewhere. You can still see everything, but you'll be out of danger and our registrants can practice their arts freely. Thanks for your understanding and cooperation!
Q. Do you have any child-oriented events?
A. Yes indeedy! Please plan on bringing your kids to our outreach performance, Planting the Juggling Seed, 9am on Tuesday, July 18. Featuring top-notch performers from around the world, this show is fast-paced, funny, and full of skillful demonstrations of the various manipulation arts. There's even a juggling lesson at the end! And even better, this show is FREE to the public, open to all. There's also the Youth Showcase (7pm) and Juniors Championships (9pm), featuring the rising stars of the juggling world today, on Wednesday, July 18 (tickets will be available at the door and cost $10/$7 10 and under).
Q. I'm just going to be in town for one day. Do I have to pay for the whole festival?
A. Nope. You can pay for a daily Gym Pass, which gets you gym and workshop access, and for each show you wish to see. You must be a current IJA member.
Q. My child is a juggler and wants to come to the festival, but s/he's not old enough to be there on his/her own yet. If I come, do I have to pay the whole registration fee?
A. No. If you just want to sit on the sidelines of the gym and cheer your offspring on to seven balls, that's great. We'll ask you to pay either the daily Gym Pass fee (which gets you into some... but not all... of the other Festival events) or the Spectator Pass fee (which is only for outer gym access... not the central juggling area, workshops, or shows.
Q. Will my friend, Joanie Q. Juggler, be at the Festival this year?
A. Check out the "Who's Coming?" page for the latest registration list (although some folks opt out of being published).
Q. I need a ride/roommate. Can you help me find one?
A. Please visit our Festival Roommate & Rideshare Forum.
Q. I'd like to stay in my RV. Is there any available parking close by?
A. Yes. Click here for details.
Q. This sounds like a great event! How can I get involved? Are there any volunteer opportunities?
A. Yes yes yes! We need volunteers to staff the Construction Zone, Security (just checking passes, no bouncers needed!), Stage Crew, and more! Please send an email to our Volunteer Coordinator.
Q. I can't afford to pay for the registration fees, but I really want to come to the festival! Is there any work-exchange opportunities?
A. Yes. But please don't wait until the last minute! There are a few jobs that will earn you a full or partial festival pass, but they fill up fast. Email the festival coordinators for more information.
Q. Whaaaa! Something awful has happened and I can't attend the festival this year. But I've already pre-registered. Can I get a refund?
A. From our Store Return Policy: "We offer refunds and transfers of festival items at any time up until the first day of the festival as follows: 1) A transfer of the items to another person or to a future festival or 2) 50 days or less after the purchase -- a full refund for any festival items or 3) more than 50 days after the purchase -- a partial refund of the purchase price minus 10% to cover bank charges to the IJA." After the festival has already started, we regret that we cannot offer a refund.
Q. Where will the next Festival be, and who is coordinating it?
A. The 60th Annual IJA Festival is scheduled for July, 2007, in Winston-Salem, North Carolina. John Satriano is heading up the crew for this event.
Q. You didn't answer my question yet. What do I do now?
A. Please email the festival coordinators, and we'll do our best to get you an answer ASAP.