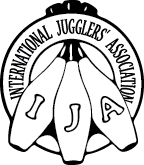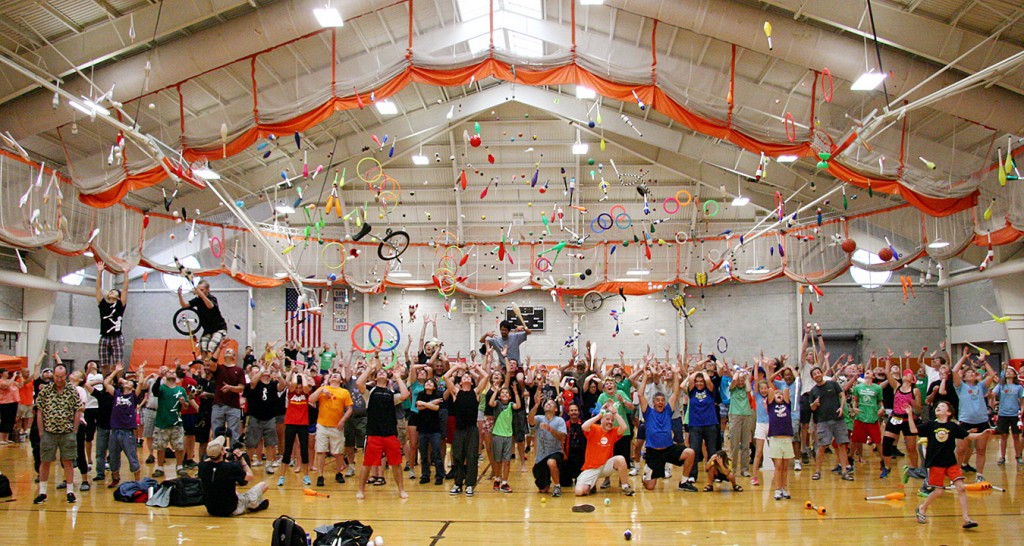 To render assistance
to fellow jugglers

This is an archival website
61st IJA Festival
July 14-20, 2008
Lexington, Kentucky
Summary
Summary Guest Artists Special Workshop Shows Competitions
Being There Hotels/Travel Room/Ride Sharing Forum
Registration Info Workshop Schedule Festival Forum
Parental Waiver/Consent Form Lexington Daily Digest
Festival pre-registartion is now closed. You can register on site at the festival starting Monday afternoon July 14.
The 61st Annual IJA Juggling Festival will be held July 14-20, 2008, in Lexington, Kentucky, in the large, well-lit, climate-controlled juggling space of the Lexington Convention Center. Specially invited guests include:
Performers from Ecole de Cirque de Quebec (Quebec Circus School)
Niels Duinker
Casey Boehmer
Festival highlights:
Free juggling on Monday
Dozens of workshops Tuesday through Saturday
Joggling Championships on Tuesday morning
Special Workshop: Juggling University by Michael Karas, Sean Blue and Jim Barlow on Tuesday, Wednesday and Thursday
Renegade Shows on Tuesday and Wednesday nights
Planting the Juggling Seed kids' show Thursday morning
Individual Prop Competition on Thursday afternoon
Teams and Individuals Championships on Thursday evening
Auction Friday morning
Numbers Championships Friday afternoon
XJuggling Friday afternoon
Cascade of Stars on Friday evening
IJA Games on Saturday morning and afternoon
Awards Banquet & Show on Saturday evening
If you want a convenient printout of all IJA festival information, download the 6-page festival brochure and registration form (PDF), which will also be included in the Spring 2008 JUGGLE magazine.
You can Register Online now (or mail or fax the registration form in the brochure).
Register by June 15 to get pre-registration pricing. Prices go up on June 16. Youth Groups of 10 or more can register at the special Youth Group rate through June 1 — contact Richard Kennison for Youth Group details: festival2008
.
Mailed or faxed registrations must be received by July 1 (use the registration form in the brochure).
Festival Event Packages and individual ticket sales will be available at the Lexington Convention Center beginning at Noon on Monday, July 14.
Hotel reservations must be made separately. Be sure to mention the International Jugglers' Association to get the IJA hotel rates. (The airport is Lexington, Kentucky — airport code LEX.)
Join us in Lexington for our 61st Annual Fest!
Important Competition Rules Changes
Preliminary Judging will be via DVD. To enter the Stage Championships, you must submit, by June 9, six copies of a DVD showing your act (actual costume, music and routine). The video on DVD must be from a single continuous shot of your act, with no editing at all. The top acts will be selected for the stage finals in each category. For more info, see the Stage Championships details.
Copyrighted music is allowed in the Stage Championships and the Individual Prop Competition but may be overdubbed on the fest DVDs. Competitors may use any music for which the IJA or the competitor has procured live performance rights. If a competitor has not procured adequate publishing rights, music will be replaced with royalty free music on IJA DVDs. For details, see the Competitions Music Policy.
2008 IJA Festival Schedule of Events
Monday
July 14
Tuesday
July 15
Wednesday
July 16
Thursday
July 17
Friday
July 18
Saturday
July 19
Sunday
July 20
10am: Facility Open
9am-5pm: Registration
9am-5pm: Registration
9am-5pm: Registration
9am-5pm: Registration
9am-5pm: Registration
Noon-5pm: Registration
9am-noon: Joggling
10am: Affiliates
Noon: Business Meeting
11am: Planting the Juggling Seed
10am-Noon: IJA Auction
10:30am-Noon: Endurance
Games
FREE JUGGLING
1-4pm:
Special
Workshop
1-4pm:
Special
Workshop
1-4pm:
Special
Workshop
Noon-3pm: Numbers Championships
1-4pm: IJA Games
FREE JUGGLING
3-5pm: Individual Prop Competition
4-6pm: XJuggling
4pm: Big
Toss-Up photo follows games
3pm: Gym closes. See you next year!
8pm: Welcome Show
7pm: Youth Showcase
9pm:Juniors
7pm: Teams & Individuals Championships
8pm: Cascade of Stars
7pm: Awards Banquet & Show
Midnight: Renegade Show
Midnight: Renegade Show
All schedules and guests are subject to change without notice.