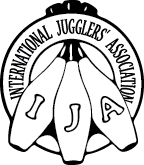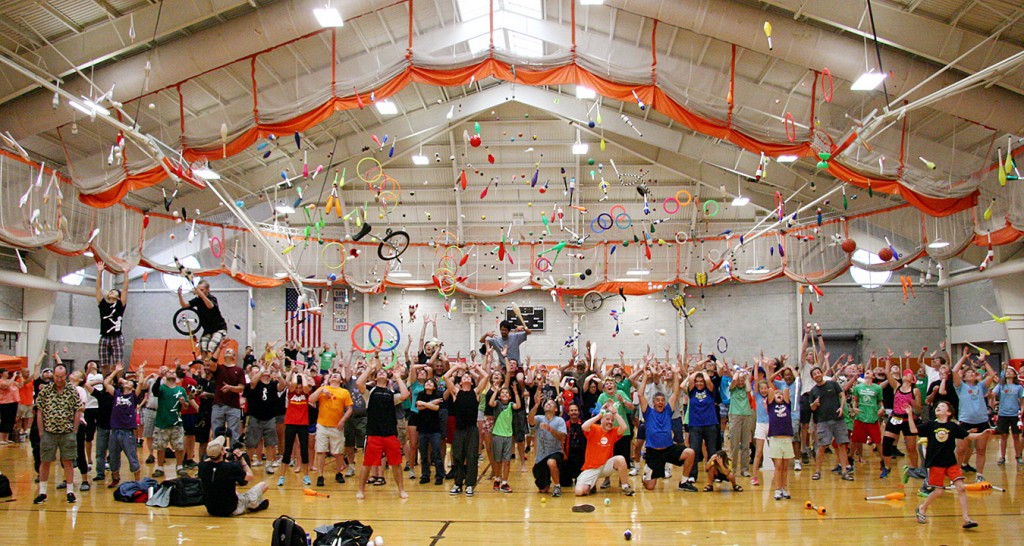 To render assistance
to fellow jugglers

This is an archival website
Previous minutes: August 31, 2004 | List of available minutes | Next minutes: November 17, 2004
IJA Board Meeting - October 20, 2004
Call to order: The meeting was called to order at 9:35pm EDT.
Present: Todd Strong, Chairman; Andrew Conway, Dave Davis, Tim Furst, Joyce Howard, Jerry Martin, Bob Neuman, Directors; Katje Sabin, Recording Secretary.
Absent: None
Agenda: The agenda was accepted by unanimous consent.
PREVIOUS MINUTES
Minutes: Meeting of August 31, 2004.
The minutes were approved by unanimous consent, with Tim abstaining.
REPORTS
2004 Festival Report
(submitted by Sandy Brown)
"My Festival Report for the members is posted on the IJA Juggling Festival page. Also, please check my post here on the Board Forum #3792, 'A Few Festival Suggestions.'
There are only a few very small, insignificant changes in the overall finished festival budget.B In August, I needed to order a dozen more bronze medals because there were so many Jugheads. The Verizon phone installation in Buffalo was less than expected.
This week I sent out 28 more sets of Arthur Lewbel's gift balls and 6 more portfolios to people who volunteered. I will personally absorb that cost. I still have about 8 more portfolios, so if you know someone who should get one, please let me know.
I am currently compiling all narrative responses from the Buffalo Evaluation and hope to have those completed by the first week of November. Many of the responses are insightful and valuable, since they come directly from our membership who attended the festival.
Next, I will begin to write a festival manual. I have told Todd that I will be available throughout the year to guide him with the festival details. This may simply mean keeping him aware of deadlines or being a sounding-board.
I had a very good conversation with Dan Howard today, and all of my festival business with him is complete.
Respectfully, Sandy"
Financial Report
Dan Howard is turning over check writing and credit card processing to Jack McMichael, so he can work on quarterlies and maintaining the accounting system. Robin Markowitz has volunteered to help.
2005 Festival Report (submitted by Todd Strong)
Two more hotels have been added to the list of accommodations.
The contract with Rivercenter has been distributed to board members for review. The points expressed in the excellent feedback has been discussed with the personnel at Rivercenter. The phone call went well; there seems to be a genuine desire to help us create a successful festival.
Todd will be traveling to Davenport to attend the Quad Cities Juggling Festival. While there he plans on making contact with: local jugglers, hotels, Rivercenter staff, tech crews, theater staff, and others. It is expected that contracts will be signed while he is in Davenport. After signing the contracts, we will be prepared to write up a budget.
2006 Festival Report (submitted by Todd)
Various expressions of interest are arriving for the 2006 festival. An announcement seeking volunteers for the 2006 Festival Selection Committee will be posted on the new web site.
Web Team Report
Dave Davis says the new site is almost ready to go public, and with some feedback will soon go live. He has been working with IJDb cooperatively.
Business Processes Committee Report
Joyce reported that she's been working on the DVD orders for Alan Plotkin, 150 2004 highlights have been ordered, and should be shipping in a few weeks. She's been learning the processes, of each volunteer and working to set up a forum and the IJA web store. She is looking for someone who can do MySQL and php programming to help with this.
Bylaws Committee Report
Nothing to report at this time. Forum structure is in place, and a member won't be available until after the Nov. election, so this group can move forward at that time.
Design of Awards Committee Report (submitted by Todd)
Laura Green has been recruited to join the Design of Awards Committee. This committee is to recommend designs for the Numbers Competition and Joggling awards. An announcement asking for additional committee members will be posted on the new web site. Joyce suggested that Bill Giduz be invited; Todd will do so.
Video Report (submitted by Todd)
"Cynthia Aviance created some wonderful artwork for the Buffalo DVDs. My understanding is that they are at the replicators now, and will soon be ready for distribution.
Alan Plotkin sent out a review copy of a 'late-night show' video from Buffalo. After some modifications, the IJA could potentially release this video. I asked Alan some questions, and am waiting to hear back from him. We should decide soon if the IJA would like to go ahead with this project. In the next few days I would like to discuss this with various interested parties."
CONTINUING BUSINESS
No continuing business.
NEW BUSINESS
Treasurer - Todd moves that the board appoint Jack McMichael as Treasurer pro tem. The board thanks outgoing Treasurer Dan Howard for his service.
Motion passes by unanimous consent.
Festival Tent Rental - Bob moves that the BOD authorize the expenditure of up to $3,000.00 for the rental of a tent at the Davenport Fest.
Motion passes by unanimous consent.
License IJA DVDs - Andrew moves that the IJA license Naranja to reproduce and distribute IJA DVDs to the Japanese market at a royalty of $5 per copy.
A contract needs to be drawn up. Todd will follow up on details and bring this back to the board in the future. Motion is postponed.
Awards (recipients) Committee - Andrew moves that we establish a committee to recommend recipients of IJA awards for the 2005 festival. Dave pointed out that last year's committee had been reinstated (Laura Green, Dave Finnegan, Alan Howard, and Ben Schoenberg). Andrew amends that the Board request this committee to start recommending awards for 2005. Dave is willing to contact the committee and get it in gear. Motion is withdrawn.
Corporate Sponsorship Plan - Andrew moves that the IJA adopt a corporate sponsorship plan.
"IJA sponsor (small business level)
Logo and link on IJA Sponsors web page
One vendor space at IJA festival
One package plan at IJA festival
One subscription to JUGGLE
Listing in every issue of JUGGLE magazine
One full page ad in JUGGLE magazine (per year)
Listing in IJA festival program
Listing in IJA roster
Right to use IJA logo on web site, catalog, products and product packaging with the words 'We are proud to be a business sponsor of the International Jugglers' Association. You can join the IJA at http://www.juggle.org/'
Cost $1,000 per year, $2,500 for 3 years.
IJA sponsor (corporate level)
Logo and link on IJA Sponsors web page and on top page of IJA web site
Two vendor spaces at IJA festival
Two package plans at IJA festival
Two subscriptions to JUGGLE
Full page color ad in every issue of JUGGLE for year
Full page ad (or equivalent) in IJA festival program
Full page ad (or equivalent) in IJA roster
Listing on all IJA press releases
Right to hang a banner in main hall at IJA festival
Announcement during all IJA stage shows
Right to use IJA logo on web site, catalog, products and product packaging, with the words 'We are proud to be a corporate sponsor of the International Jugglers' Association. You can join the IJA at http://www.juggle.org/'
Cost $8,000 per year, $21,000 for three years."
Andrew wants to post this on the public forum to get feedback before the board moves forward. Motion is postponed.
NEXT MEETING
The next Board meeting will be on Wednesday, November 17, 2004 at 9:30 pm EDT
ADJOURNMENT
The meeting was adjourned at 10:30pm EDT.
Previous minutes: August 31, 2004 | List of available minutes | Next minutes: November 17, 2004