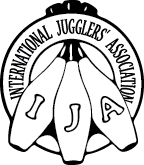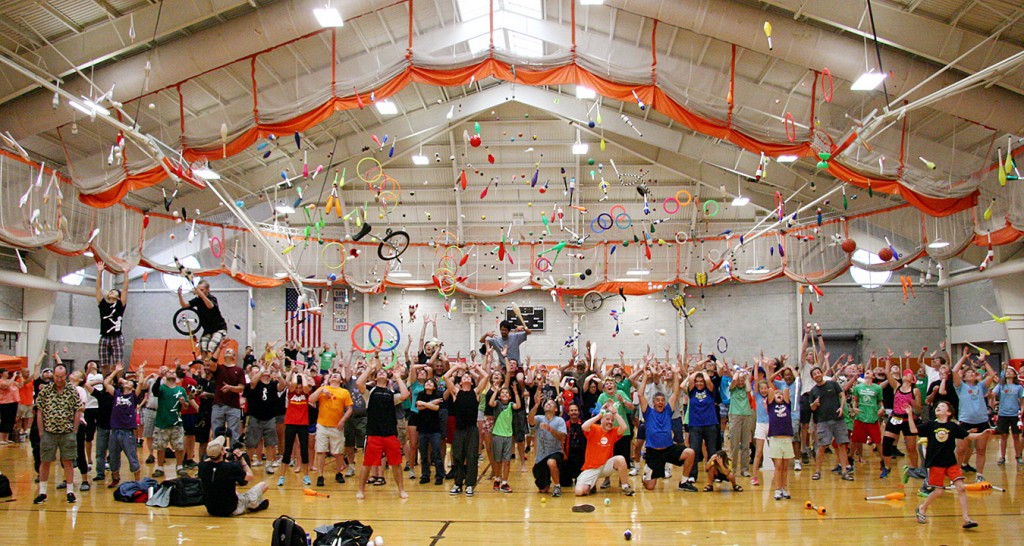 To render assistance
to fellow jugglers

This is an archival website
Previous minutes: November 17, 2004 | List of available minutes | Next minutes: January 26, 2005
IJA Board Meeting - December 15, 2004
1. CALL TO ORDER Dave Davis called the meeting to order at 9:36 pm Eastern time.
2. ROLL Present: Dave Davis, acting chair. Tim Furst, Joyce Howard, Jerry Martin, Bob Neuman, board members.
Katje Sabin, recording secretary.
Sandy Brown, 2004 festival chair.
Absent: Todd Strong, Andrew Conway.
3. APPROVAL OF AGENDA Agenda approved by unanimous consent.
4. PREVIOUS MINUTES Minutes of the November 17, 2004 meeting were approved by unanimous consent.
5. REPORTS
2005 Festival Report The first draft of the festival budget is currently being reviewed by members of the board and the festival team.
Treasurer's Report None at this time.
2006 Festival Site Selection Several proposals have come in. Consideration on picking a site will begin in January, 2005. Bob will be talking to someone in North Carolina after the holidays.
Governance Committee Report The committee requests guidance from the BOD. One idea was to consult with a lawyer who has previously worked with the IJA to suggest proposed changes to the bylaws and articles of incorporation to resolve conflicts with Delaware state law.
Video Projects Bouncing in Buffalo: Joyce just got a copy of this video that the IJA is considering for distribution.
Business Processes Streamlining Committee Joyce reports that the web store is the thing she's working hardest on. She's getting 2-3 call-in orders, and 4-5 Paypal orders per day, and expects that this will slow down after the holidays.
Archives Report Joyce says that Ray Stern is putting Jugglers World online, and that she'll put it on the web site and forward it to the board. It will be searchable with photos. Dave emphasized that we are using OCR technology, and that there will be disclaimers regarding errors and ways to correct them.
Webteam Report Dave reports that we are closer to launching.
6. CONTINUING BUSINESS
6a. Video project on women jugglers Joyce talked to Connie Leaverson (Walkabout Productions), and she agreed to provide 100 copies in return for using our footage. It is scheduled for release in the spring of 2005. Joyce will forward the contract to the board when she gets it.
6b. Licensing DVD masters Dave suggests that we let our new merchandise director and board chair work this out. This was agreed upon.
7. NEW BUSINESS
7a. Appointing Merchandise Director Dave moves that Joyce Howard be appointed Merchandising Director. The position will be defined as follows:
Merchandising Director - The Merchandising Director (MD) has full authority to make all decisions and policies concerning IJA merchandise. This includes selection of product, marketing, and distribution. The MD must follow policies passed by the board and work within the approved merchandising budget. The MD is expected to keep the board informed and should work with the board on controversial issues. The MD may appoint people as she or he sees fit, to perform individual functions of the MD's job. These volunteers have whatever authority the MD conveys to them and report to the MD. The MD remains responsible for all duties. This position is assigned by the board and is only valid for the term of the board, i.e. annually.
Motion passes by unanimous consent.
7b. Workshop Coordinator Pro Tem Dave moves that Mike Armstrong be appointed Workshop Coordinator pro tem.
Motion passes by unanimous consent.
7c. Young Juggler Event Package Dave moves that the festival Youth Juggler Event Package be for ages 11-17. At the 2004 IJA festival the Young Juggler Event Package was for jugglers between the ages of 11 and 13. IJA Youth membership is for jugglers aged 17 and below. The age is determined as of the first day of the festival.
Motion passes by unanimous consent.
The board supports a discounted rate for seniors (age 65 and above).
7d. Non-authorized use of video footage from IJA festivals Sending a hardcopy of the final email to the WJF for unauthorized video footage was suggested. Bob moves that Jerry be authorized to represent the board in this matter.
Motion passes by unanimous consent.
Item 7e. Discussion of Tent and Midnight Shows in Davenport Ideas were offered for optimal use for the tent at Davenport, including workshops, a corn roast, a kids' show, and an opportunity for new performers to film themselves before a friendly audience.
Tim suggested that if the IJA were to produce a midnight show in the tent, that it be run by volunteers and that we not use the name Renegade in any publications or any official way. He's also not sure if it's feasible to run a show every night. He plans to present this as a topic of discussion on the IJA forums.
8. NEXT MEETING Next meeting will be held 9:30 pm Eastern time January 26, 2005.
9. ADJOURNMENT Jerry moves to adjourn. Meeting was adjourned at 10:58 pm Eastern time by unanimous consent.
Previous minutes: November 17, 2004 | List of available minutes | Next minutes: January 26, 2005