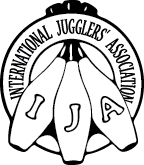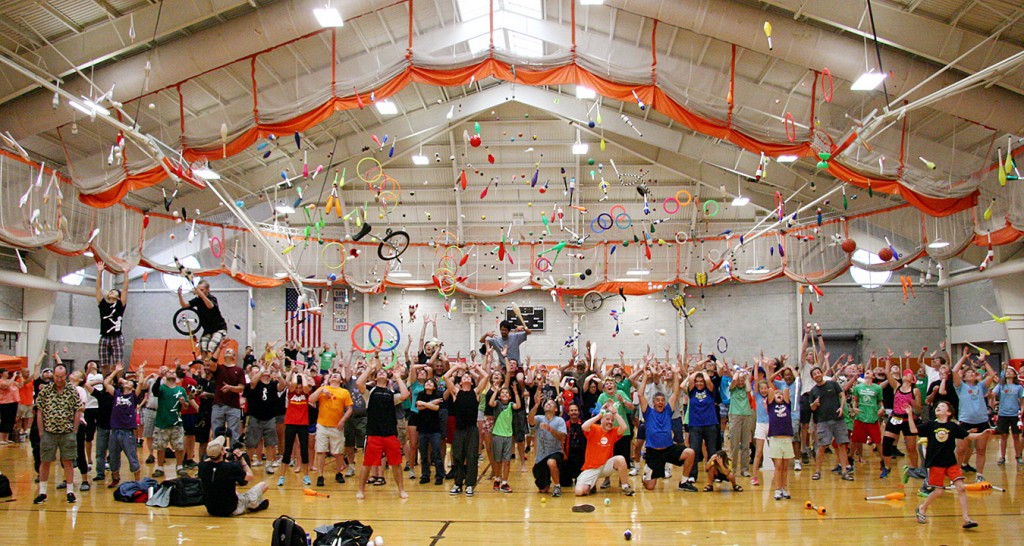 To render assistance
to fellow jugglers

This is an archived website
Previous minutes: Mar. 18, 2009 | List of available minutes | Next minutes: May 20, 2009

IJA Board Meeting- April 15th, 2009
1. CALL TO ORDER: Chair Chuck Hawley called the meeting to order at 8:04 p.m. EDT..
2. ROLL:
Present: Chuck Hawley, Chair, Kim Laird, John Satriano, Anthony Shave, Ken Farris, Kevin Axtell (Board Members), Janelle Hawley (Recording Secretary), Holly Greeley (Bookkeeper), Martin Frost (Communications Director), Sandy Brown (Store Director), Mike Sullivan (Festival Director) at 8:22 pm
Absent: Richard Kennison (Board Member)

3. APPROVAL OF AGENDA: Chuck Hawley moved to approve the agenda for April 15th, 2009- agenda was approved.

4. APPROVAL OF MINUTES: Chuck Hawley moved to approve the minutes from the February 18th, 2009 and March 18th, 2009 - Minutes were approved

5. REPORTS: (See Below)

6. MOTIONS:
6a. Kim Laird moved to amend IJA bylaws Article III item 3 to read (changes in caps) - "3. Vote For and Appointment of the Board of Directors. The Board of Directors shall be elected by those members entitled to vote at the Annual Meeting. Individuals shall be nominated for the Board of Directors by any member in good standing for one (1) or more years. NOMINEE(S) MUST BE AN IJA MEMBER IN GOOD STANDING. Each member entitled to vote may cast one (1) ballot in the election of directors. The nominees receiving the highest number of votes shall become members of the Board. The Board of Directors shall immediately after their election elect one of the Board directors to be Chairman of the Board until the next Board is elected."

Discussion: This change doesn't state how long a person must be a member before they can be a nominee for the board. The change would still leave the bylaw open for the possibility of a professional being a part of the board. Membership isn't expensive so if someone wanted to be a part of the board, they should be willing to pay the membership fee.

Motion passed

6b. John Satriano proposed the IJA contract with Ivan Pecel to record and produce a festival video for 2009, using Jay Ko as a volunteer videographer, covering his travel, room and festival package for the week and a third camera operator will receive a festival package in return for working the shows only. See contract below.

Discussion: Jay Ko's room was covered for the 2008 festival.

Anthony Shave abstained from the vote.
Motion passed.

7. VARIA:
7a. An update on the grant writer position. There are some grants available that include the cost to cover administrative fees; however, there are grants that don't cover administration fees. The grant writer could be paid hourly with a commission. It takes considerable upfront time and effort to get the first grant submitted. After the first grant, grants can be changed as needed to fulfill the criteria. If they are government grants, they may be audited which can be anywhere from $5000 to $7000. We need more programming and projects to get grant money. Currently, the Cascade of Stars and Juggle Magazine are the only possibilities we have in place. There's the possibility of an educational tour to school kids to get children involved in juggling.

7b. Dieter Tasso cannot make the 2009 IJA festival to receive his award. The awards committee would like to postpone giving him this award until he can make a festival due to last year's reaction about the award recipients who were unable to make the festival. The Board would like Dieter to get the award at this year's festival.

7c. Chuck Hawley is stepping down as Championships Director for 2010. The Board will be looking for a volunteer to replace him.

8. NEXT MEETING: Next regular BOD meeting will be held on May 20th, 2009 at 8:00 p.m. EDT.

9. ADJOURNMENT: Chuck Hawley moved to adjourn the meeting at 9:01 p.m. EDT.

Respectfully submitted by Janelle Hawley.

REPORTS:
Festival Report - submitted by Mike Sullivan
All non-festival comp recipients have been e-mailed their comp notification. If that includes you, please register online before April 30! Performers, guests and VIP comp recipients will be getting their comp notices soon. Our WJD 2008 winner was also sent his comp package notification by e-mail and USPS.

Hotel room bookings are continuing in advance of fest registrations.
People are reserving their hotel rooms well before registering for the fest.

As of Tuesday, we are 70.54% toward our combined room sales goal of 1178 sold rooms at both hotels. Even though the Embassy Suites was sold out of our block in February, they continue to reserve rooms under the IJA block, presumably at IJA prices. There are now 606 room-nights booked at the Embassy Suites against a goal of 473, up from 553 from my March report, and an increase of 12%. We are at 128% of our Embassy Suites sales goal. At the Marriott, reservations have increased by 85 room-nights since the March report. We are at 225 room- nights booked, and we're at 32% of our sales goal for the Marriott.

See this PDF for room tracker details:
http://idisk.mac.com/mikesullivan/Public/Room_Tracker_4-14-2009.pdf
I still need to book travel for Michael Menes. Michael is on the road and so communications have been intermittent, hope to get this done before end of the month.

As of today, we have received 58 festival registrations, accounting for a total of 67 event packages (including 7 comps); two special workshop packages have been sold.

Our early-payment deadline is approaching on April 30. Martin will be doing an e-mail blast a few days before the deadline to remind people to register for the best pricing. Keep in mind that in 2007 and 2008, the first early-pricing deadline was April 25 for 2007 and April 1 for 2008, so our later deadline, plus the effects of the economic downturn, are undoubtedly making people delay their vacation plans this year.

In March, we mailed a two-page letter to 74 members of the Downtown Winston-Salem Partnership business community, representing the food and bar outlets in the downtown area. We told them about our fest, how to get ready for our visit, and invited their support with sponsorship offers ranging from fest program ad space to coupon sheet ads to special IJA fest offers to diners. We received one enthusiastic response from a great downtown restaurant and pub, and we will be confirming their festival ad and coupon sheet ad during our visit in May. We also included four complimentary tickets to our Welcome Show with each letter, hoping to fill the house with people from the local community who will then want to return to see the Cascade of Stars on Friday night with a paid ticket.

The T-shirt design contest resulted in about 20 design submissions from six entrants. Within hours of the deadline, the best and most professional entry by far was received from IJA Member Alan Alovus of Jacksonville, FL. He has done several t-shirt and poster designs for his local club, and he is ecstatic to have received the commission to do the IJA's 2009 t-shirt design. We are working with him to have a final design by the end of the month. We'll use his design for the t-shirts, festival program cover and other graphic elements of the fest.

We have received an outstanding price quote for the festival t-shirt production from the company that does all the t-shirts for the Texas Juggling Society out of Austin, and based on the strong recommendation of Jim Maxwell and the TJS experience using this firm, we are inclined to giving them the order. We will, of course, entertain competitive bids from other suppliers. John Satriano is sending our bid specs to Crash, who has done IJA's t-shirts in the past, so he can quote. We would also like to hear from any IJA BoD members who have other recommendations for t-shirt suppliers we can get quotes from.

Report from Bill Barr on the IJA video project: the IJA video project is steaming ahead...eight videos are done and posted on the IJA channel, six more are planned on a roughly every-other-week schedule from now through the festival. Videos have been seen on all six continents. The videos have been seen by over 10,000 individuals, over 7,000 directly on the IJA channel on YouTube. Close to 200 people subscribe to the IJA channel on YouTube so they get notified of all new videos -- this figure has doubled in the past month.

Also from Bill Barr: The benefit show Bill is producing for Wednesday morning at the Children's Hospital in Winston-Salem is all lined up, everything is good to go and he has a great line up of performers for the show.

I will be making my second and final visit to Winston-Salem the week of May 18. It will be a two-day visit to W-S to meet and confirm details with all the vendors and convention people there, set up publicity and sponsorships, walk the space, and run down our VIP and guest housing details.

Bookkeeper Report - submitted by Holly Greeley
Current operating cash balance (4/15) $30,961.43
No money has been transferred from the Life Member Fund.
Membership thru March 31st down about 15% compared to last year.
Fest revenue way down compared to 3/31 last year but may be due to later registration deadline.
Alan Howard reports having some difficulty collecting ad revenues. Our contract with him requires that we assist in this if necessary including prohibiting vendors who are delinquent from participating in the fest.

Store Report - submitted by Sandy Brown
The IJA store will be closed for merchandise from May 3rd to June 3rd, 2009 because Sandy will be out of town. Sandy is working on setting up a page on the IJA website so regional festivals can apply for raffle items.

Magazine Report - submitted by Anthony Shave
Anthony has approached print and digital vendors for bids. The print magazine vendors wanted samples, so Anthony and Sandy Brown compiled a layout to hand in. The digital bids have come in around $300 per issue, which includes digital archiving and demographic statistics. The IJA could also look at using both outlets and get 2 sets of ad revenues.

IJA DVD PRODUCTION CONTRACT 2009
2009 DVD production of IJA festival in Winston-Salem, NC Monday, July 13, 2009 through Sunday, July 19, 2009 (inclusive) This is an agreement by and between Ivan Pecel (IP) and THE INTERNATIONAL JUGGLERS' ASSOCIATION (IJA), a Delaware non-stock corporation, of mailing address: PO Box 7307, Austin, TX 78713-7307, USA.
IP responsibilities:
1. Create digital video recordings of the Youth Showcase / Junior's Championships, Individual / Team Championships, Welcome Show and Cascade of Stars shows during the 2009 IJA festival in Winston-Salem, NC.
2. Create a two DVD set (CHAMPIONSHIPS/HIGHLIGHTS) consisting of highlights of the festival including, but not limited to, the juggling floor, workshops and stage shows, as well as all acts appearing in the Individuals, Teams and Juniors Championships (space permitting).
3. Use royalty free music exclusively on CHAMPIONSHIPS/HIGHLIGHTS DVDs, except where IJA has furnished proof of publishing rights for competitors' music.
4. Create a NUMBERS CHAMPIONSHIPS video with minimal post production work for official record purposes.
5. Create WELCOME SHOW and CASCADE OF STARS videos with minimal post production work.
6. Complete post-production work under the advice and consent of the IJA as to content and outline.
7. Deliver completed masters of CHAMPIONSHIPS/HIGHLIGHTS DVDs to replication house.
8. Meet all deadlines as outlined in PROJECT DEADLINES schedule.
9. Accomplish these PROJECTS at his own expense such that all expenses other than those outlined in IJA RESPONSIBILITIES paragraph below, are to be "out of pocket" expenses to IP.
IJA responsibilities:
1. Provide housing during the festival week: July 13-19, 2009.
2. Obtain video releases from all participants, and notify IP of any performers
who are not covered by the video release or have placed restrictions on video rights.
3. Furnish music rights, if available, from competitors for music used in competitions.
4. Meet all deadlines as outlined in PAYMENT AND SCHEDULE section.
5. The IJA agrees to indemnify IP against all liability and expenses caused by claims for infringement of copyright or rights of privacy or publicity based on the reproduction or distribution of a recording as authorized by this agreement.
MISCELLANEOUS
1. All video shot during the 2009 IJA Festival, and all resulting raw footage masters and PROJECTS are the property of the IJA, and the IJA is, and will be, the owner of the copyright and all other rights in and to these PROJECTS subject to such rights, if any, as may have been retained by the performers.
2. All tapes are to be returned to the IJA upon completion of the project including all raw footage and masters.
3. IP may include portions of the IJA festival footage in his demo or self-promotion tapes.
4. All orders for video and DVDs will be solicited through the IJA offices and none will be made to or by IP.

PAYMENT AND SCHEDULE
1. The IJA will pay IP $8500.00. Fifty percent within two days upon completion and delivery of final product to replication house and fifty percent within thirty days of said delivery.

PROJECT SCHEDULE DEADLINE NOTE: All dates in this section are subject to change only by (a) events outside of the control of IP, including strikes, failure of suppliers to meet contracted schedules, and the like, and or (b) by mutual written agreement of both parties, IP and the IJA. Any changes to the video requested the IJA beyond those laid out in the following schedule will add one week per revision to the related deadline without penalty to IP.
1. CHAMPIONSHIPS/HIGHLIGHTS: The first draft will be submitted for IJA approval by delivery to the IJA Video Coordinator no later than October 1, 2009 and the IJA will approve or request any changes within ten days of receipt.
2. CHAMPIONSHIPS/HIGHLIGHTS: The completed PROJECT will be delivered to the IJA no later than November 1, 2009.
3. NUMBERS CHAMPIONSHIPS: The completed PROJECT will be delivered to the IJA no later than October 15, 2009.
4. WELCOME SHOW and CASCADE OF STARS: The completed PROJECTS will be delivered to the IJA no later than November 1, 2009.
5. If the above mentioned deadlines are not met, IP will forfeit ten percent of his fee. This penalty will compound weekly (i.e. ten percent for week one over deadline, twenty percent for week two, thirty percent for week three, etc.) until the final PROJECTS are delivered (in a final form that is satisfactory to the IJA) to the IJA's assigned representative. However, IP will not be held liable for any deadlines which are not met due to any actions by the IJA as noted above.

Previous minutes: Mar. 18, 2009 | List of available minutes | Next minutes: May 20, 2009