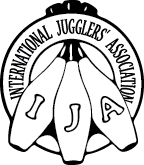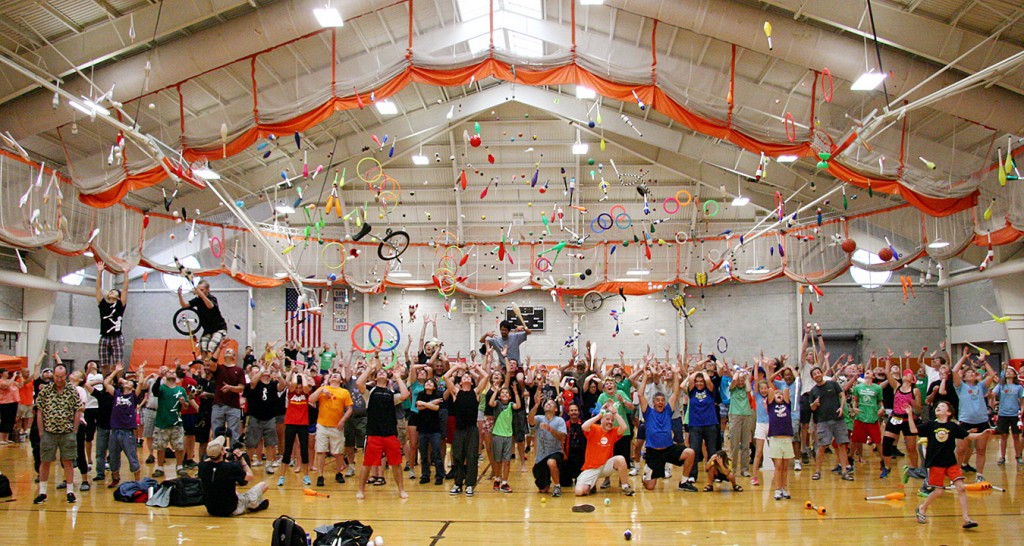 To render assistance
to fellow jugglers

This is an archival website
Previous minutes: December 15, 2010 |List of available minutes |Next minutes: February 23, 2011
Regular Board Meeting January 19, 2011
1. CALL TO ORDER: Chair Kim Laird called the meeting to order at 8:07 p.m. EST.
2. ROLL:
Present: Kim Laird (Chair), Kevin Axtell, Matt Hall, Thom Wall, Kevin McBeth, Brandi Axtell (recording secretary), Mike Sullivan, Marylin Sullivan
Absent: Richard Kennison, Erin Stephens (entered phone call approximately 8:30pm)
3. APPROVAL OF AGENDA: Thom W moved to approve the agenda for January 19, 2011. Second by Matt H.
4. APPROVAL OF MINUTES: Matt H moved to approve the minutes from December 15, 2010. Second by Kevin A.
5. REPORTS:
2011 Fest (Mike Sullivan)... The 2011 fest is in full swing. There are already 5 nights of shows, and there are still performers contacting Dan Holzman wanting to perform. Registrations are ready on the IJA's end, but the city of Rochester is still updating their computer system which the IJA will be using free of charge for registration. Mike is hoping that they will be ready to go by March 1st, but if not the IJA store will be used as it has in the past. The idea of an IJA parade has been brought up, and the IJA has applied for a parade permit from the city of Rochester which is expected to be approved.
Fest Fun Fund Committee (Matt Hall)...First conference call took place in early January, and the proposals have been talked about and narrowed down. The committee agreed to give $500 each to joggling and x-juggling. Slammin' Andy has been given a preliminary budget of $2,000 to set up his gauntlet – which would be up and running all week and accessible to everyone. The committee is also debating upping the prize money available, which was a suggestion from iiWii, and considering several other big ticket items. There is another meeting on the 5th of February to continue deciding how to spend the remaining money.
Thom W asked if there could be any money directed to a shuttle (renting a van or car) from the convention center to a campground about 3 miles out of town. It could be considered if there was enough interest in camping. Several jugglers have expressed interest in camping as the hotel can be an overwhelming cost and a deciding factor on whether or not they attend the festival. There is also an RV campground 1 mile from the convention center that is on a public transportation route.
Future Festivals (Mike Sullivan)...Many cities are still interested and the IJA has gotten a firm proposal from bowling green university and will be visiting the site. Hartford CT, Indianapolis IN, and Springfield MO are also very interested and will likely extend site visit offers. The biggest problem with Bowling Green is that it is difficult to get to. Hartford is a very expensive city because of its proximity to NYC, so that could be a deal breaker for that city.
Financial (Kevin McBeth & Holly Greeley)... A separate account has been opened
for the money from iiWii for the Festival Fun Fund which will have a debit card.
The $25,000 to be put in an interest-bearing account is in a separate savings
account. Unfortunately, with these moves Holly has had to act on a motion made
by a previous board allowing us to move money from the Life Member Fund to
the General Fund if it became necessary. This is a loan which will be paid back
after festival registrations begin to come in. $20,000 has been moved from the Life Fund to the General Fund, but it is a loan that must be repaid. Repayment would come from the 2011 festival registrations. This does not mean that all or even any of the $20,000 will be necessarily be used, it is there as a safety net so that autopays set up for the IJA do not overdraft the account.
IJA financial statements/reports are posted on the website, and Holly is finishing up the 2010 report. Anyone can see the reports without being logged in.
Store (Kevin McBeth)...DVDs have shipped, so far there has been 1 that was defective. Approximately 80 have been sold so far. Magazine sales have also picked up a bit.
Website Team (David Landowne, Martin Frost, Mike Sullivan)... Martin has sent out prospect letters to another 8-10 consultants, which have not been responded to yet.
Membership (Marilyn Sullivan)...
# of records 1271
# of members 1523
# of family 178
# of youth 72
# life time 280

Education (Kevin Axtell/Erin Stephens)...The pilot program for YEP is officially ending in March, at which point promotional material (photos and video) will be compiled and a projected yearly budget will be put together, a requirement for most grants. Once all of the information has been compiled from the pilot program, grant application can begin. The IJA also still needs to formalize a contract with Joyce Axtell-Drush, who will be writing the grants. Grant writers generally receive between 5-20% of any grant money received.
Marketing/Promotions (Thom Wall)...The start of the tutorial contest is February 1st. There are still a few vendors who have not completely settled on what prizes they will be donating, so the full breakdown of prizes is still forthcoming – but currently there is approximately $5,000 worth of prizes.
7. MOTIONS FOR CONSIDERATION:
A. Motion to approve Niels Duinker as the IJA European Representative.
Motion: Kevin A
Second: Erin S
Discussion: Niels is very thorough and well liked in the community. There is a job description on the website, and he already has some ideas such as printed materials that can be sent to European festivals promoting the IJA.
Vote: passed by unanimous consent.
B. Motion to approve a "Bad Debt Allowance" of 30% on financial reports.
Motion: Thom W
Second: Kevin M
Discussion: There is some question as to whether 30% is the right number, though it is agreed that a bad debt allowance is needed. Kevin McBeth would be more comfortable tabling the motion until a better number can be decided on. Holly does need to get going on the 990 though, and so needs to know whether or not a bad debt allowance will be shown on the financial report. If the board approves allowing a BDA the actual percentage can be decided in the next meeting.
Motion to amend the motion to read "Motion to approve Bad Debt Allowance on financial reports."
Motion: Thom W
Second: Kevin M
Vote: 1 abstention
motion passes
C. Motion to approve the addition of JTV subcontest to the Youtube contest rules.
Motion: Thom W
Second: Erin S
Discussion: Juggling.TV is interested in collaborating more with the IJA this year and in the future. They will vote on their favorite video uploaded to JTV and will award a separate prize to the winner. In future years the name of the contest will likely be changed to IJA video tutorial contest and would allow entrants to post their video to any video sharing site rather than just YouTube.
Vote: passed by unanimous consent.
D. Motion to approve three fest packages and DVDs as IJA sponsored prizes for
the IJA Youtube contest.
Motion: Kevin A
Second: Thom W
Discussion: The three fest packages would be for the top three prizes and would be transferable year to year but not person to person. Thom W has requested 10 DVDs from any year, depending on what is in stock in the store, that could be sent out to the top 10 winners.
Vote: passed by unanimous consent
8. VARIA:
A. Discussion of suggested bylaws change presented on the IJA forums by Don
Lewis. This change would "require that resolutions from ordinary members be submitted 60 days in advance of the meeting. This gives a period for publication, reflection, and wide comment. This does not preclude doing business at the AGM. The Board can still propose resolutions, and the members can present positions. If a last minute member issue is sufficiently important, a Board member can still propose a resolution on their behalf." (quoted from Don Lewis' post of August 11, 2010.)
If this is something that the board feels should be followed up on, it would need to be sent to a parliamentarian to correct the wording. The change would allow more involvement of all members, as they would have 60 days to consider any resolutions rather than just the members sitting at the AGM as there tends to be very few people present at those meetings. Hopefully it would get the general membership more involved, whether they are at the festival or not. There is some question as to whether or not it would change anything. In addition a motion was passed in Lexington that requires a parliamentarian to be present at the AGM, which makes this change less necessary. Overall, the board feels that there could be more negatives than positives to come out of this idea and the parliamentarian renders the change unnecessary. The board can also ask for ideas from members ahead of time and publish them online without this bylaw change.
B. Discussion of special requests to present events (i.e. – second special workshop and an added show) at the 2011 fest in Rochester, MN. Dan Holzman has expressed interest in presenting a second special workshop where participants would be pay directly to him. Matt H has talked to Dan about this being a vendor situation, where Dan would pay 10% of any sign ups to the IJA. It was also considered that the fun fund money could subsidize the workshop and allow it to be free or cheaper to jugglers, but overall it seems that would go against the guidelines of use of the fund. Therefore the vendor situation would work better. It would be a 4-day comedy writing workshop, which is very different from the special workshop being offered by special guest Stephan Sing. As long as there is contribution back to the IJA the board feels that it is a good idea and that this is a workshop that jugglers would want.
There is also a group that wants to do a special show, but the board does not currently know who the group is. It is important to know who the group is so that the board can consider whether they would add to the festival, and the board does not want to move forward with that decision until they know who they are considering.
C. Discussion of videography for 2011 fest. Ivan will likely not be making it to the festival this year, but he is still willing to edit the video. He is also comfortable with the board putting the videography package out for bid. The board feels that it would be much easier to have Ivan edit the videos so that it is not necessary to find a different service on relatively short notice.
Video downloads could be a part of the 2011 video package as well in the form of a shorter (30 minutes or so) video of festival highlights that could be made available for a few dollars.
D. The IJA regional championships project has contacted Homero from the Puerto Vallarta, Mexico festival and they are very well organized. They have a budget, special guests Matt Hall and Kevin Axtell, marketing and publicity materials, and prizes lined up for the contest. The only issue at this point in insurance, which it seems will be a sticky situation in other countries. It is possible that a strong waiver could substitute for insurance, but not likely. The same company that offers IJA insurance might have an idea for who would be able to provide insurance. The IJA would only have to provide liability insurance for the competition night. Kim will contact the company which provides the IJA with insurance and see if they can provide it in Mexico. The IJA would also be responsible for providing medals to the top three competitors, which would likely be the regular IJA medals with engraving on the back since it would take too long to create a new medal.
9. NEXT MEETING: Next regular BOD meeting will be held February 23, 2011 at 8pm eastern time.
10. ADJOURNMENT: Matt H moved to adjourn the meeting. Second by Erin S.
Meeting adjourned at 9:40 pm eastern time.
Previous minutes: December 15, 2010 |List of available minutes |Next minutes: February 23, 2011