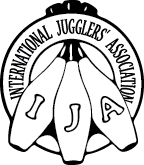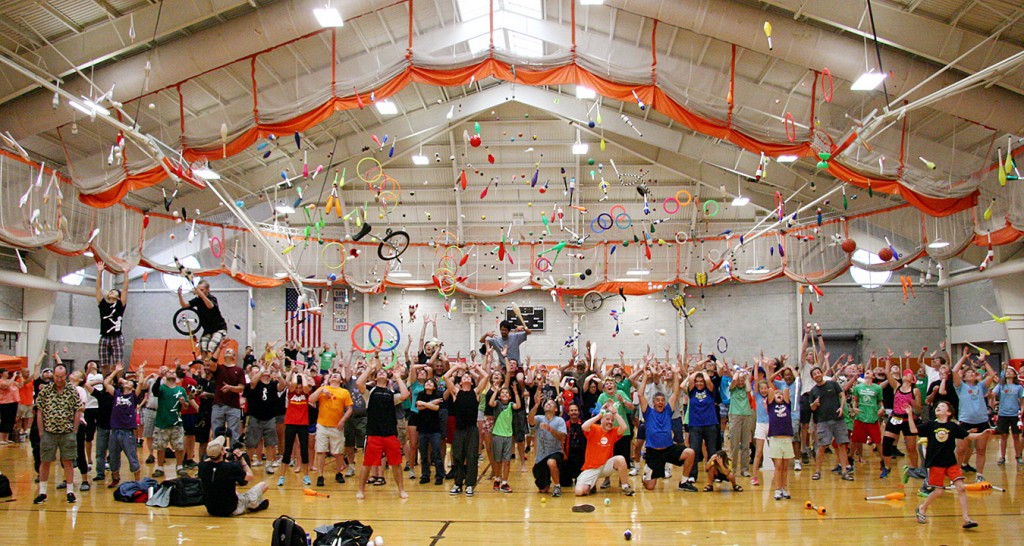 To render assistance
to fellow jugglers

This is an archival website
Previous minutes: January 11, 2011 |List of available minutes |Next minutes: March 16, 2011
Regular Board Meeting February 23, 2011
1. CALL TO ORDER: Chair Kim Laird called the meeting to order at 8:09 p.m. EST. 
2. ROLL: 
Present: Kim Laird (Chair), Kevin Axtell, Matt Hall, Richard Kennison, Kevin McBeth, Erin Stephens, Thom Wall, Brandi Axtell (recording secretary) Martin Frost (communications director,)
Absent: Matt Hall, 
3. APPROVAL OF AGENDA: Erin S  moved to approve the agenda for February 23, 2011. Second by Kevin A. 
APPROVAL OF MINUTES: Kevin A moved to approve the minutes from January 19, 2011. Second by Erin S.
5. REPORTS: 
2011 Fest (Mike Sullivan)... Only 146 days until the start of the 2011 IJA Festival in Rochester, MN! 
It's been a busy month locking in and confirming all the details needed to be able to open up festival registrations on March 1. 
But, we're good to go and the 2011 festival pages and our online registration system (hosted by the City of Rochester) will go live during the late hours of February 28, next Monday night. By Tuesday morning, everyone will be able to read about our plans for the week and register early for the best prices and availability of hotel rooms, flights and show tickets. 
Comp letters for volunteers and staff will be going out on Monday, just before registration opens -- watch your e-mail for yours. 
We still need several key volunteer positions filled: Security Director, Numbers Championships Director (does anyone know how to get in touch with Fran Favorini?), Workshops Assistant, and more. See juggle.org/vols to see if you can help or pass word along to someone who can. 
Our parade permit for the IJA's first public parade through downtown since Fargo was approved as submitted. We'll be marching on Saturday morning, with full police escorts! Bruce Plott has agreed to herd cats and direct the IJA Band, who will lead our parade through beautiful downtown Rochester. 
Three nights of Club Renegade are confirmed for the week, Thursday-Saturday, as well as three Fire Nights, with Rochester DFD helping keep everyone safe, and the very experienced Jim Maxwell in charge. 
Other than those highlights, we have been handling lots of little long-lead-time details for Rochester, and things are progressing very well. Everything is on schedule and under budget as usual.
Fest Fun Fund Committee (Matt Hall)...fund has submitted proposals to iiWii who wrote that he is happy with the proposals, there is still about $4,000 in the budget that has not been spent yet because the parade turned out to cost less and Sky will not be Djing which was originally an idea
$500 to Jack Kalvan for X juggling 
$750 to joggling, which will be used for awards, a sun shade, or other necessities
$1000 to Jim Maxwell for the Fire nights – to hire the Rochester fire department for all shows
$1400 to Jek Kelly for IJA collectible Duncan yoyos
downtown parade - ? will cost less than originally thought
$2000 for a pro photographer in the gym to take promo shots
IJA trading cards similar to the 2007 Winston Salem cards
$2500 to a street busking competition – will be used for prize money
$2500 Andy Pearson for the juggling gauntlet which will be up all week for all festival attendees to try.
$3500 Warren hammond to set up a lounge with couch, tv, ping pong tables, video game systems
One issue brought up was increasing competition prize money. Some on the committee were against using fun fund money to increase competition prize money, with the thought that such an increase should come out of the IJA general fund.
Kevin A suggested having a DJ in the gym as many people enjoy having music in the background, though some expressed concern about loud music interfering with communication. It was also suggested that a few hundred dollars towards fuel for the fire nights would be a huge help in keeping the performance going. 
Future Festivals (Mike Sullivan)... In addition to the spreadsheet shared with the board through pdf on boardplus, Thursday morning, I leave for my site inspection at Bowling Green State University in Bowling Green, Ohio. Hopefully, it will be between blizzards. 
At any rate, it looks like they have EVERYTHING we want at very reasonable rates, in what will be several brand-new facilities by 2013. On-campus housing from $34/night per person; $24/day per person for all-you-can-eat dining in a brand-new food court-style dining hall, and an immense 50,000-sq.ft. main juggling facility. A brand-new performing arts theater will be ready by 2013, and rent on that would be very low. So everything looks pretty good right now for BGSU, aside from the problem of getting there...see my spreadsheet for details on that. If IJA ever wanted to return to a campus-based festival venue model, BGSU looks like a very good choice.
Financial (Kevin McBeth & Holly Greeley)... Still have outstanding items on the financial statements for the end of the year. All of the outstanding donations receipts for 2010 have been sent out. Festival insurance has been adjusted and it will affect how much the IJA pays for insurance. There was an inaccuracy regarding the number of days of the festival, which has now been corrected. More information will be sent to board plus.  
Store (Sandy Brown & Kevin McBeth)... In January there were 11 2010 DVDs, 1 trailblazers – women who juggle, and 4 juggle magazines sold. Rochester brochure included in every order. Damento, Groundhog day, and Austin juggling festivals were all sent raffle prize packages.  
Website Team (David Landowne, Martin Frost, Mike Sullivan)...16 more solicitation letters were sent out, the IJA has gotten 4 answers back. At least two look very promising and affordable. 
Membership (Marilyn Sullivan)... 
1261 records of current members
1512 members
69 youths
179 families
280 life time members
Education (Kevin Axtell/Erin Stephens)...
Marketing/Promotions (Thom Wall)... There are 9 entries so far in the video tutorial contest. Considering how early it is in the contest time line that is very good, and there is talk of a lot more people putting videos together. A few juggle blogs have been putting up links to new entries as they are submitted. There has been a lot of chatter on cj.org about the fushigi article in Juggle magazine and want to reach out more to the IJA board. 
7. MOTIONS FOR CONSIDERATION: 
A. Motion to approve Taylor Glenn as the IJA Video Coordinator.
Motion: Erin S
Second: Thom W
Discussion: The board unanimously feels that Taylor will do a fantastic job. As video coordinator she will be responsible for working with Mike and the festival videographer to put together the video contract for the fest, taking care of dvd replication, everything it takes to put together the DVD, and any other video project that the IJA decides to pursue such as YEP videos and compilation videos.                                                                                                 Vote: Passed by unanimous consent.
B. Motion to approve Niels Duinker's proposal for work as IJA European Representative. (see attachment A)
Motion: Kevin A
Second: Thom W
Discussion:  This is not to approve any kind of expenditure, it is simply approving Neils to start looking into ways to improve the IJA's international standing.                                                                                                  Vote: passed by unanimous consent
C. Motion to permit Bill Barr to seek some grant support for the IJA Benefit Show. 
Bill's rationale: This would be utilized to offer performers a stipend or honorarium. It would also allow us to contract with performers increasing the ability for advance publicity, to bring performers who would like to attend however need to have a booking for that week, and to offer something to those who serve multiple years. Would also have the option to have performers return all or a portion to either the IJA Benefit Show fund, or to the non-profit for whom we are performing. 
Motion: Richard K
Second:  Matt H
Discussion: The board feels that this is a very good idea. The only issue brought up would be to make sure that he is not applying for the same grants as YEP so that there is no competition within our programs. This could easily be accomplished by coordinating which grants he applies for with the YEP grant coordinator.        
Motion to amend the motion to read "Motion to permit Bill Barr to seek some grant support for the IJA Benefit Show provided he coordinate grant seeking efforts with the YEP program so that there is no competition between the two."
Motion: Richard K
Second:  Matt H
Vote: passed by unanimous consent 
D. Motion to allow Mike Sullivan, in his role as future festival site coordinator, to attend the Connect Marketplace 2011 show in Chicago, August 25-27, 2011. 
Mike's explanation: Connect Marketplace is a "reverse trade show" for destinations (cities and convention authorities) and meeting buyers (IJA and other orgs and businesses). In effect, it's a "speed dating" meeting for the meetings and conventions business. Destination buyers (us) have appointments with cities and facilities eager to propose for our future fests, and we get short appointments to meet, discuss general requirements, hear their pitch, and decide whether to move forward afterward with a site visit or more discussions. We pay an up-front $200 registration fee; they pay our airfare, hotel and meals during the meeting; if we attend all the appointments we're requested to attend by destinations, we get the $200 refunded. So, cost to the IJA would be very small -- just some parking, taxi to/from the meeting hotel, and not much else.
Motion: Thom W
Second: Erin S
Discussion: It seems that the IJA is in good position already for future fests and the benefits of attending are not 100% clear to all on the board. Mike explained that by August the IJA will have signed the 2013 contract and will need to be looking at future fest sites again. Ultimately this should save time and money with very little cost to the IJA.
Vote: passed by unanimous consent
E. Motion to approve 20% Bad Debt Allowance to be used for the 2010 financial reports.
Motion: Kevin M
Second: Thom W
Discussion: This would make allowances should the donor pass away or something else happen before the 20 years are complete. IiWii has not indicated being either for or against the allowance, but it is a step that is taken by nearly all charities or other organizations when given a large donation – in other words, it is common practice. Communication will be sent to the donor to let them know what is going on.
Vote: passed by unanimous consent
F. Motion to alter the Video Tutorial Contest's rules to reflect a per-instructor-unit vote instead of a per-video vote allowing for no one person to win multiple prizes, unless they also submit as part of a group.
Motion: Thom W
Second: Erin S
Discussion: Last year the voting was for individual videos. The first place winner only made one video, but under current rules had he made three he could have theoretically won all three top prizes. Under this system rather than the individual video being on the ballot it would be the name of the entrant. For anyone who makes more than one video, they would benefit by further exposure but would not be able to sweep the prizes.
Vote: passed by unanimous consent
G. Motion to approve the Fun Fund Committee 2011 festival recommendations as outlined by Matt Hall.
Motion: Matt H
Second: Thom W
Discussion: See Fest fun fund report above
Vote: passed by unanimous consent
H. Motion to approve Thom Wall as 2011 World Juggling Day coordinator.
Motion: Erin S
Second: Kevin M
Discussion: Thom is excellent at getting good prizes, and has already had contact with the vendors through the vendor discount program and so has rapport with them. Thom has expressed that he will need support and help from the other board members in order to make it happen on the scale he feels it should be. 
Vote: passed by unanimous consent
8. VARIA: Props 2 U received another donation of props to go to Afghanistan. The Afghan government has to approve the shipment before it can be sent. There is not yet a facebook page for the program but is in development. 
NEXT MEETING: Next regular BOD meeting will be held March 16, 2011 at 8:15 pm eastern time.
Motion: Kevin A
Second: Thom W
Vote: passed by unanimous consent
10. ADJOURNMENT:   Erin S moved to adjourn the meeting. Second by Thom W. Meeting adjourned at 9:34 pm eastern time. 
ATTACHMENT A...
Proposal
European Representative 
International Jugglers' Association
February 3th, 2011
"The IJA is an organization of individuals dedicated to promoting juggling."
The IJA has the word "international" in it's name so it wants to be an international organization, but until now it never really succeeded to reach out of the United States of America. The IJA mostly is run by jugglers in the US. One of the differences between the United States and Europe is the difference in cultures/languages.
Right now in Europe the IJA has the image of an American in-crown organization. This is something we have to overcome and change if we want to appeal to the European jugglers as well. 
I would like to propose to start spreading information in Europe about the goals and the mission statement of the IJA in these jugglers' own tongue.
If you're a foreigner and trying to speak to anyone in their own native tongue it shows that you're willing to take the effort to connect with that person. That is something everybody appreciates.
The good thing is. There are jugglers in any country. In additional to professional interpreters to save on costs we can ask the help of juggler in different countries to translate the information from English into their native tongue: Spanish, French, Germany, Swedish, etc.
I would like to start promoting the IJA in Europe using the following:
- New design of the advertisement in Kaskade (the European Juggling Magazine  HYPERLINK "http://www.kaskade.de/"www.kaskade.de). Right now all the ads are in English only. I think we should have at least the IJA's mission statement in German, French, Spanish and in English in every publication of this magazine. Moreover there is another juggling magazine in Italy. I would like to contact that magazine as well and inform about their ad rates.
Costs: Printing an ad in JUGGLE Magazine to promote Kaskade and the cost of hiring a graphical designer.
- Getting a poster and a flyer done (similar to the Kaskade ad) that displays the IJA mission statement in 4 main languages and which will be distributed at the various juggling conventions in Europe.
MAIN WAY TO PROMOTE THE IJA IN EUROPE
- Start placing ads on Facebook to only people that are interested in juggling. The ad will be in German for the jugglers in Germany, French for the jugglers in French, Spanish for the jugglers in Spain, Dutch for the jugglers in the Netherlands, Finish for the jugglers in Finland etc. Everybody is on Facebook nowadays and the beauty is that everybody log on into Facebook on a daily basis and thus will get displayed over and over to the IJA's appearance (in their own tongue/language). 
The IJA only will have to pay when a juggler clicks on the ad. We can create special landing pages at the IJA's website in this juggler's own language with some additional information before this juggler will get to see the full IJA's website in English. 
Please let me know if you will support this strategy and I will start looking into the budget that I will need.
Previous minutes: January 11, 2011 |List of available minutes |Next minutes: March 16, 2011