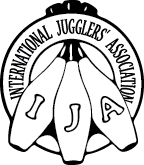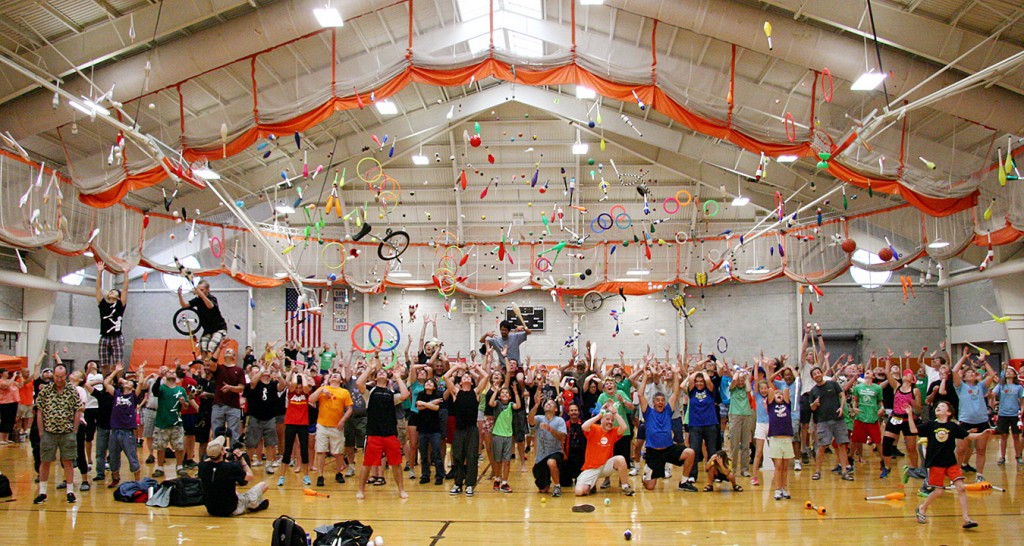 To render assistance
to fellow jugglers

This is an archived website
Previous minutes: February 23, 2011 |List of available minutes |Next minutes: April 27, 2011
Regular Board Meeting March 16, 2011
Tentative minutes - not yet approved
1. CALL TO ORDER: Chair Kim Laird called the meeting to order at 8:43 p.m. EST.
2. ROLL:
Present: Kim Laird (Chair), Kevin Axtell, Matt Hall,Erin Stephens, Brandi Axtell (recording secretary) Mike Sullivan (Future fest director, 2011 fest director) Martin Frost (communications director,)
Absent: Richard Kennison, Kevin McBeth, Thom Wall
3. APPROVAL OF AGENDA: Kevin Amoved to approve the agenda for March 16, 2011. Second by Matt H.
4. APPROVAL OF MINUTES: Matt H moved to approve the minutes from February 23, 2011. Second by Erin S.
Correction from February 23 notes - Matt H entered the meeting late, the notes showed him as both present and absent. He joined the meeting at approximately 8:30pm EST
5. REPORTS:
2011 Fest (Mike Sullivan)... Only 123 days until the start of the 2011 IJA Festival in Rochester, MN!
Registration for the Rochester festival opened on-schedule on March 1. After an initial flurry of early regs, mainly by comped IJA volunteers and staff, regs have been slow -- so far we have just 21 people registered for the festival -- BUT, this is not unusual since there is no hurry to register until our first early-rate deadline approaches at the end of April.
Meanwhile, hotel reservations are brisk with over half of our block of rooms at the Hilton Garden Inn already spoken for and about 15% of our block at the DoubleTree also reserved.
Late addition to the fest: we have reached an agreement with The Danger Committee and they will appear in the Cascade of Stars show on Saturday night.
On the volunteers front, I have been in touch with Fran Favorini but he has not committed to Numbers Champs Director yet. We're still looking for a Security Director. See juggle.org/vols to see if you can help or pass word along to someone who can.
I'm starting to book flights for some of our special guests. In the next few weeks I'll be printing tickets for the Benefit Show and sending them off to the Boys and Girls Club of Rochester to sell for their fundraiser. And we're working with the Rochester Downtown Alliance to present the Planting the Juggling Seed show on stage in the middle of downtown during their big "Thursdays on First" event; and to be included in promotional e-mails sent out to 60,000 downtown employees promoting our shows and events.
Everything is on schedule and under budget as usual.
Fest Fun Fund Committee (Matt Hall)... Fun Fund Meeting set for March 21, where they will decide what to do with the extra $4000. Fun fund committee is wondering how to proceed with purchasing supplies – do they get reimbursed or get the funds up front? The Fun Fund has a totally separate Bank of America account. The board determined that the easiest way to proceed would be to have the volunteers purchase the supplies and then submit receipts to get reimbursed from the fund. At a regional festival Matt did an informal poll and lots of jugglers responded that they would like to see some form of free food.
Future Festivals (Mike Sullivan)... Went to Bowling Green for a site visit. They meet all requirements, though not every aspect is necessarily ideal the prices are amazing. They have a brand new residence hall that jugglers would be able to use for $34/night for lodging in new dorm with internet access. The University would also allow campers to pitch tents on campus in a field, and campers would have access to inside washroom and shower facilities for $10/night. Transportation is an issue as the site is 1 hour 15 minutes from Detroit. The IJA would need to arrange a shuttle bus from Detroit. If the IJA went with Bowling Green University, it would be possible to register people and sell them everything they need for the week on one order form – all meals, lodging, the festival package, shuttle from the airport, everything except for airfare. Mike recommends a return trip for after the snow melts with another board member to have a second opinion on whether or not Bowling Green would work.
Richmond VA has also expressed some interest in having the IJA, though it is a much bigger city with more convention business and doesn't need IJA as much as smaller cities, and therefore offers fewer price breaks or other incentives. The facilities are much larger and more lavish than needed, and there are many conventions happening at the same time. The IJA would get lost in the shuffle of the many other conventions happening. There is also a new proposal from Colombia, South Carolina with similar prices to what Winston-Salem, North Carolina offered.
Financial (Kevin McBeth & Holly Greeley)...
Website Team (David Landowne, Martin Frost, Mike Sullivan)... Have gotten 4 responses from a dozen inquiries. There have been phone conversations with 2 of those contractors and phone tag with other two. Those two that have connected with the IJA are going to be submitting proposals. There will be a blurb about the website developments in the next e-newsletter.
Membership (Marilyn Sullivan)...
# magazine labels created (3/14) 1251
# member records 1248
# total members 1492
# families 174
# youths 69
# life members 280
# registrations for 2011 21 (11 are non-comped)
# benefit show tickets 17
# photo shoots 0
# special workshops 0
Education (Kevin Axtell/Erin Stephens)... wrapping up the YEP pilot program at the end of month. Joyce Axtell-Drush is working on 3 regional and 1 national grants. Close to 150 children have been learning to juggle in 3 pilot programs. A promotional video is forthcoming as well as an official report to share with the members and the board, and to use as info/material for grant applications. The pilot program has also given a general idea of average per pod cost. $2500 went out to the instructors for 3 pods. www.juggle.org/business/yep/yep has trifold brochure that can be viewed or printed out. Feedback has been great from all 3 pods.
Marketing/Promotions (Thom Wall)...
6. MOTIONS FOR CONSIDERATION:
A. Motion to Approve the IRC proposal for the Guadalajara, Mexico Juggling Festival
Motion: Kevin A
Second: Erin S
Discussion: The proposal was sent out to board members in Spanish and English. The venue will be a large circus tent with a stage and lights, and they have a sponsor providing cash prizes for first through third place. The IJA will supply the medals. While it is too late and too expensive to have a metal medal cast for the IRC, there is a company that does affordable glass etched medals and has quick turnaround that should be considered. The board feels that expanding to be more of an international presence is an excellent and long overdue idea.
Vote: passed by unanimous consent
B. Motion to allow the purchase of event insurance to cover the IJA Regional Competition program not to exceed $500.
Motion: Erin S
Second: Matt H
Discussion: Working with the insurance provider that provides the IJA's performer insurance. They now have event planners insurance which is international rather than just for the U.S, and while it is not quite an exact fit as this is through an association rather than an event planner, but the provider is working with the underwriter of the insurance policy to see if he can make it work for the IJA. Though laws are different in foreign countries, the IJA does need coverage since it is participating in the event. It is possible that the festival's sponsors will be able to cover part or all of the insurance costs as well.
Vote: passed by unanimous consent
7. VARIA: magazine discussion the present contract expires December 31, 2011. Chair suggests putting together a formal bid packet (what we would like to see in a bid proposal) and put it on forums as well as approaching various publishers. This was done on a smaller scale the last time the magazine contract came up. There were 4 different publishers approached who all had prices that were too high. Kevin A suggests a poll of some sort of the membership to see what their thought on the issue would be. Matt H did an informal poll at the Arkansas festival where is seemed that half of the people wanted the magazine gone and the savings passed on to them, and the other half love the magazine and would not want to see it go.
There could be a tiered membership pricing, where those who want to opt out of the magazine would pay a lower price. There is also an e-zine option, but the IJA would still have to pay for graphic design. The name Juggle Magazine actually belongs to someone else, and the name is being leased to Alan Howard. It is stated in the contract that if the magazine is being produced by anyone other than Alan Howard the IJA would lose that name.
Nominations deadline for board members for the July election are coming up. April 10 is the deadline for the magazine ballot, which members can vote on and mail in. At this point there are no nominations in. The last two e-newsletters have mentioned nominations. At present, Kevin McBeth is not going to be running again, Thom Wall is undecided, and Kim Laird will likely run again.
NEXT MEETING: Next regular BOD meeting will be held April 27, 2011 at 8:00 pm eastern time.
8. ADJOURNMENT: Kevin A moved to adjourn the meeting. Second by Erin S. Meeting adjourned at 9:32pm eastern time.
Previous minutes: February 23, 2011 |List of available minutes |Next minutes: April 27, 2011