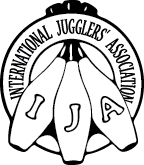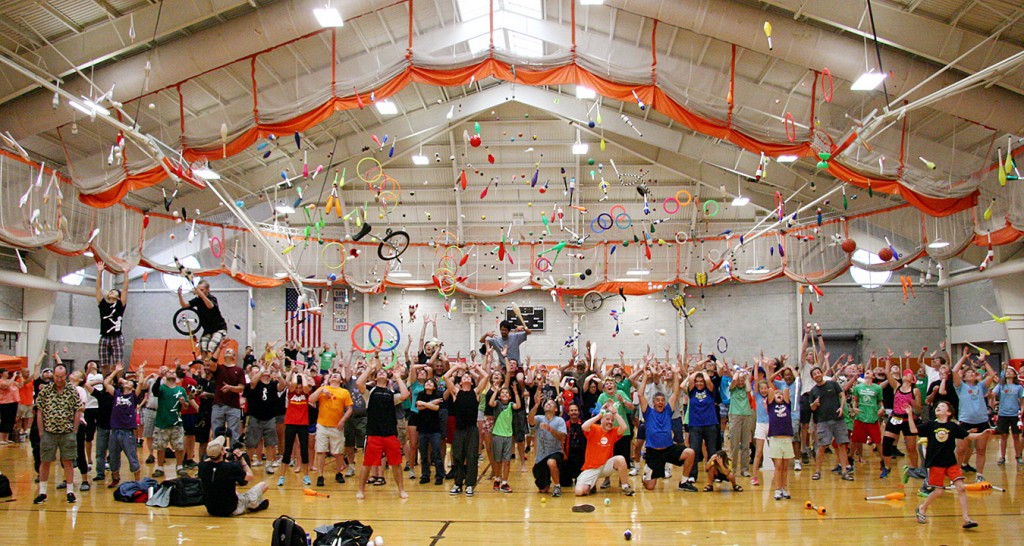 To render assistance
to fellow jugglers

This is an archival website
Festival Home Page About The Festival Shows & Championships
Special Guests Workshops Special Workshops Special Events Getting There
Hotels & Camping Waiver/Consent Vendors How To Register Stage Championships Results
Festival Newsletters
2011 IJA Stage Championships Finalists
Finals Results
Individuals
1st: Tony Pezzo 77.80
2nd: Kitamura Shintarou 74.22
3rd: Tomohiro Kobayashi 72.03
Teams
1st: Showy Motion 90.51 - Stefan Brancel and Ben Hestness
2nd: Smirk 79.59 - Reid Belstock and Warren Hammond
3rd: The Jugheads 74.91 - Rory Bade, Michael Barreto, Alex Behr, Daniel Burke, Sean Carney, Tom Gaasedelen, Joe Gould, Danny Gratzer, Conor Hussey, Reid Johnson, Griffin Kelley, Jonny Langholz, Jack Levy, Chris Lovdal, Mara Moettus, Chris Olson, Evan Peter, Scott Schultz, Joey Spicola, and Brenden Ying
We are proud to announce and offer congratulations to this year's 2011 IJA Stage Championships Finalists (in alphabetic order, not in preliminary score rank nor finalist performance order):
Juniors

Jack Denger
David Ferman
Patrick Fraser



Individuals

Kohei Ebihara
Takehiro Ishikawa
Tomohiro Kobayashi
Jorden Moir
Tony Pezzo
Kitamura Shintarou



Teams

Circular Logic
D & D – Passing
Institute of Jugglology
The Jugheads
Showy Motion
Smirk
2011 Championships Finals Judges
Jim Ellison
Jim Ellison has been an IJA member since 1982. He writes the Diversion column for Juggle Magazine. This is his first time judging, and he's especially looking forward to the evening gown competition.
Viveca Gardiner
Viveca Gardiner has been booking circus performers and producing variety shows for almost two decades, working with a number of different organizations. Now she runs Playful Productions in New York City, where she also writes two websites devoted to circus and juggling activities. She likes to pass clubs with both hands and is currently working on slowing down her rapid-fire east coast pattern.
Peter Kaseman
Peter Kaseman hails from Madison, WI, where he lives with his 3 sons and wife Laura (whom he met at a past IJA festival). Laura is at home this week recovering from tendonitis and caring for Tony, Vince and Shane.
Peter has been to 18 IJA Fests including Niagara Falls in 1999 where he won the teams competition as part of the Mad 5.
He was one of the first Americans to do 3 diabolos and holds world records in ball passing and club passing and likes MCs named Jeremy.
Keith Nelson
Keith Nelson was born in Massachussetts and raised in North Carolina, he played Tuba in marching band, achieved Eagle in Boy Scouts, taught archery, and toured with the Grateful Dead. In 1988 Nelson enrolled at Hampshire College, Amherst, MA, where he studied social undecurrents and alternative politics, and luckily learned to eat fire and juggle. In 1992 he graduated and moved to New York City to work with Autonomedia, a Brooklyn-based Anarchist press. In 1994 he became the in-house fire eater at the Blue Angeel Cabaret, and so began a career as a performer. In 1995 he and Stephanie Monseu founded Bindlestiff Family Cirkus, a national touring non-profit variety arts troupe. Since then, Nelson and Monseu have devoted their lives to the growth of Bindlestiff and keeping live variety entertainment on the American stage. Nelson has swallowed swords at Avery Fischer Hall, spun guns at the Walter Reade, made balloon sculptures at the Apollo, and toured with the World of Wonders, one of the last sideshows on the carnival circuit. He has ushered for Big Apple Circus, performed private shows for the clowns of Ringling, and has taught for Cirque du Soleil.
Keith Nelson is co-founder of Bindlestiff Family Cirkus, producer of the NYC Unicycle Festival, and the 2010 Cascade of Stars and Taste of Vaudeville IJA shows director.
When it comes to manipulation, he prefers mouth-sticks, throw tops, spinning ropes, and liquor bottles.
Rick Rubenstein
Rick has attended every IJA festival since 1987. He has participated in the competitions many times as competitor, judge, and emcee, though rarely at the same time. Rick invented Rubenstein's Revenge after Steve Mills killed his brother. He didn't really understand how revenge worked at the time. Rick quit the performing duo Clockwork after struggling financially for 10 years and now makes over a million dollars a year as a researcher for the Stanford Juggling Research Institute.
Doug Sayers
Doug Sayers is a world-class professional juggler. In the last two years, Doug has won the IJA Individual Championship title in 2009 and, with partner Josh Horton, the Teams Championship title in 2010. In 2010, he was awarded Overall Champion at the World Juggling Federation convention.
Luke Wilson
Following his education at the national circus schools of England and France, Luke Wilson has spent his professional life performing juggling in venues around the world. Now at home in Germany, he also teaches extensively and has been involved with several creation and research projects in juggling and the circus arts. He grew up on the fodder of IJA video cassettes, and continues to be excited and inspired by watching the art of juggling brought to new levels of performance.
2011 Championships Prelims Judges
Rob Barowski
A high school biology teacher, juggling teacher and theatre director for over 20 years Rob has been juggling for 15 years and started attending juggling festivals in 1999 both at the IJA and others all over the east coast. Rob was a judge for the Lexington 2008 IJA championships under the direction of Chuck Hawley, and was one of the first to use the new scoring guide. Last year, as a prelims judge, Rob developed the rubric, currently in use, to better clarify the new scoring guide categories. 
Matt Hall
Matt was a Silver Medalist at the 2003 IJA Festival, and won the IJA People's Choice Award in 2005. Matt also previously served as an IJA Championships Prelim and Festival Judge, and Championships MC.
Steve Langley
Steve has made his living as a professional juggler for over 20 years. He is a founding member and one half of, Alfredo and Alfresco, The Fettucini Brothers. He also performs a solo act called The Great Fetttucini, in addition to running Fettucini Entertainment and Juggling Solutions, two booking agencies specializing in Novelty and Variety Entertainment. Steve has traveled the world sharing his unique mix of comedy and juggling, in addition to appearing on countless Television shows in the US and abroad. Most recently Steve flew to Milan Italy to appear on "Lo Show Dei Records", a Guinness World Record / National Italian Television show, where he set a Guinness World Record for the most Paddle Balls done by one person at 7. This is the first Paddle Ball record ever entered into The Guinness World Records. In addition to the Guinness Medal, Steve also lists his winning a Prestigious Phil award for "Most Awesome" at The Atlanta Juggler's annual Groundhog's Day Juggling Convention in 2005 among his most proud achievements. Steve's first IJA convention was when the IJA conventions was in Atlanta, Ga in 1985 (or was it 1986?)
Cindy Marvell
Cindy trained as a teenager at the Antic Arts Academy at SUNY Purchase, performing at Carnegie Hall, Avery Fisher Hall, and competing in the IJA Juniors. After graduating from Oberlin College with honors, she became the first woman to win the International Juggling Association's Championship. She also won a team silver medal with Darn, Good & Funny. She performed at King's Island Theme Park and at Holland Village in Nagasaki, Japan, and toured with San Francisco's Pickle Family Circus. New York credits include Bouncing Back with Wendy Osserman (Dance Theater Workshop), Ladyfingers (Lincoln Center Out-of-Doors and the American Museum of Natural History), Young People's Concerts (Avery Fisher Hall), Cirque Eloize (The New Victory Theater), P.B.S. specials for Sesame Street and Elizabeth Swados, and the N.Y. Renaissance Festival. Marvell has written for The New York Times, JUGGLE, Kaskade, and Spectacle Journal for the Circus Arts and produced several DVDs, including Trailblazers: Women Who Juggle. She has a book coming out on CreateSpace.com--Shadow Princess: An Indonesian Story. She is Director of the Boulder Circus Center and has toured with Lazer Vaudeville since 1994 from Singapore to Off Broadway. Cindy is thrilled to have a son, Theo, who has provided five years of entertainment, and a husband, Carter Brown, who never stops inventing tricks.
Bob Neuman
Bob has been an IJA member since 1990, and has attended every IJA Festival since 1991. He formerly served on the IJA Board of Directors, and was a Championships Prelims judge in 2009. He was the Chairperson of the IJA Awards Committee for three years, and is currently the IJA Magazine Liaison.