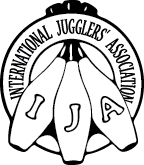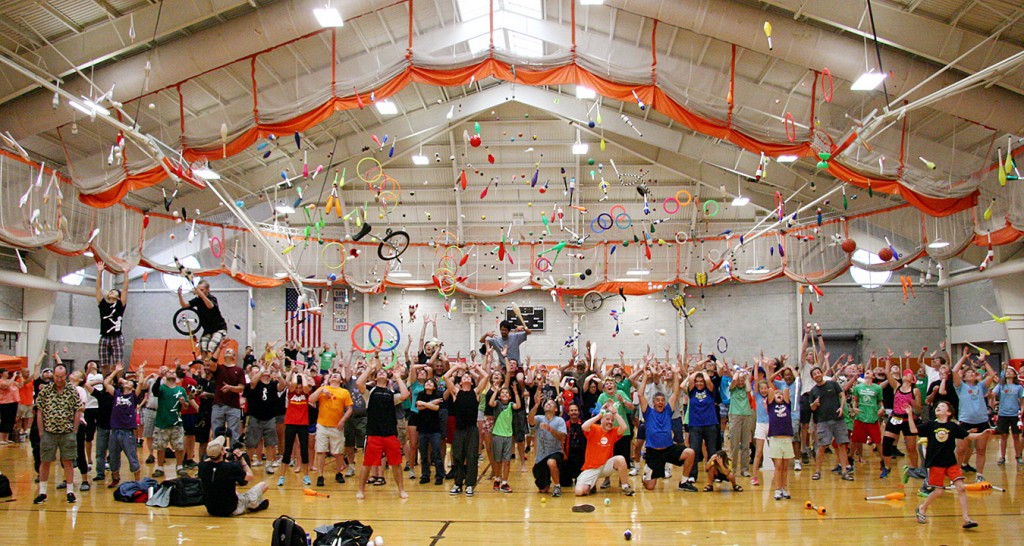 To render assistance
to fellow jugglers

This is an archival website
Festival Home Page About The Festival Special Guests Special Workshops
Workshops Shows & Championships Special Events Joggling
Getting There Hotels Waiver/Consent Vendors How To Register Register Now Festival Newsletters
Special Events
IJA Festival
July 16-22, 2012
Our festival week in Winston-Salem will have gobs of fun things to do and see almost every hour of the day and night! Check out this list of special events already planned for the week, and check this page again as the fest draws near for the latest updates!
Free Day of Juggling on Monday!
Get to Winston-Salem early for a free bonus day of juggling in the gym! The gym doors will open at 10am Monday morning, July 16th, and you can juggle all day and all night until registration opens at 9am Tuesday morning!
And when the week ends, you can keep juggling all night Saturday night -- we don't have to be out of the building until Noon on Sunday, July 22nd!
Joggling Championships
Joggling is simply juggling while jogging or, in this case, sprinting! This year's event starts Saturday at 8am. Entry Fee: $12. To participate, you must pre-register for joggling before the festival when you register -- either online or using the printed form.
For more details on the joggling competition, contact Joggling Director Len Ferman at
and see the joggling page of the IJA Web site.
Numbers Championships
The competitors in the IJA Numbers Championships challenge each other as well as all past Numbers champions — and the laws of physics! See who can successfully juggle, individually and in teams, the greatest numbers of balls, clubs, rings and bounced balls.
Numbers Championships finals are Wednesday at noon. Cash prizes will be awarded, including a special prize for breaking IJA Numbers records.
Be sure to register for Numbers early in the week as you must schedule a time before the finals for your attempt to qualify for the finals. Entry fee: $15 per event.
For rules and entry info, see http://www.juggle.org/pastfestivals/2008/NumbersRules20080314.php. The Numbers Director is Tom Hamill, who can be contacted at
XJuggling
XJuggling is the fast paced, non-stop, best trick competition. This is about pushing the limits of creativity and possibility. With a live DJ to keep the energy going, you'll see the best jugglers in the world pull off their most incredible, insane, cutting-edge tricks — or crash and burn. 
For more info visit xjuggling.com or contact organizer Jack Kalvan at
. XJuggling is scheduled for 4pm Tuesday.
Planting the Juggling Seed
On Thursday at 11am the gym will fill with hundreds of local schoolchildren. This will be a wonderful opportunity to introduce the magic of the manipulative arts on the stage of Planting the Juggling Seed. After the show the kids will get a juggling lesson and an opportunity to speak with professional jugglers.
Interested in performing, teaching or helping out? Contact organizers Kim Laird and Rob Barowski at
.
Club Renegade
It wouldn't be an IJA festival without the late-night cavalcade of unpredictability, astounding 'not-ready- for-prime-time' acts, and simply indescribable comedy and variety known as Club Renegade. Scheduled to start around 11pm on Wednesday, Thursday and Friday nights, Club Renegade will come complete with full bar for those thirsty jugglers in the audience. Performer sign-ups will be at the festival. Location TBA.
Games of the IJA
The games are always a festival favorite. Kick back in the gym and watch or, better yet, join in the fun on both Friday and Saturday. Yes, that's right, two days of games this year! Do you have questions or ideas for possible games? Send email to Kevin Axtell at
Annual Business Meeting & Election
The annual IJA business meeting will be Wednesday at noon. Hear about and discuss how your Association is run, and meet the candidates running for the Board of Directors. Voting for the Board of Directors takes place the same day.
Volunteer!
The IJA's annual festival is a mammoth undertaking for our small, all-volunteer organization, and making the week a success depends on dozens of volunteers to help out by donating their time and effort during the week.
If you can offer to help a little or a lot, from one hour to several, please volunteer. You'll help make the festival fun for everyone, and your effort will be valued and recognized by your fellow jugglers.
Volunteers are needed for a wide range of positions including gym door checkers, IJA ambassadors, ticket assistants, IJA table staff, registration assistants, T-shirt and video sales, backstage show assistants, and election tellers.
Those with a car at the fest are needed as VIP airport chauffeurs and downtown errand runners.
If you can pitch in, even for just a couple of hours during the week, please see the Volunteers page of the IJA Web site or email IJA Festival Volunteer Coordinator Dina Scharnhorst at
.