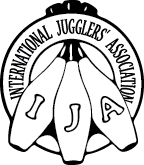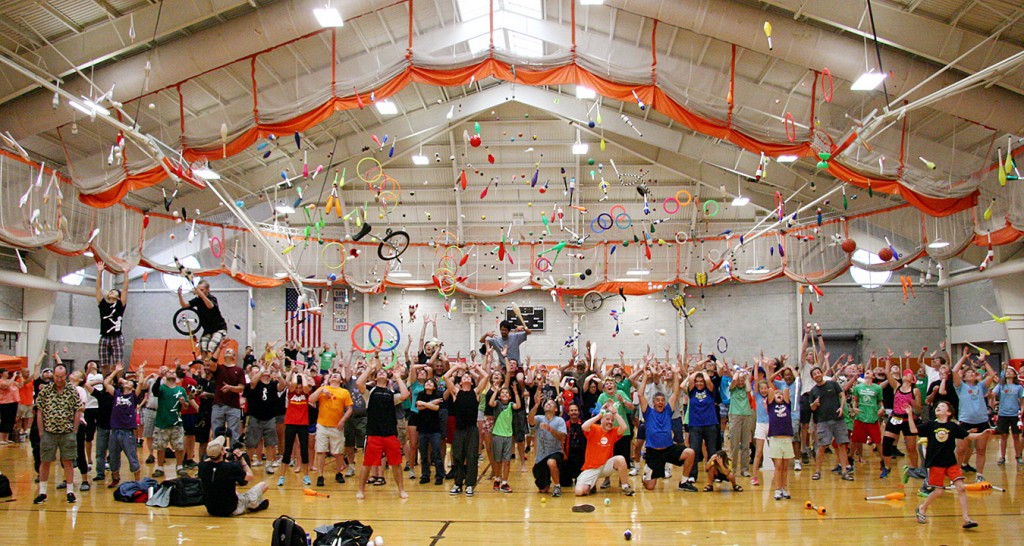 To render assistance
to fellow jugglers

This is an archival website
63rd IJA Festival
July 26 - August 1, 2010
Sparks, Nevada (next to Reno)
Competitions
Summary/Schedule Guest Artists Special Workshop Shows Competitions
Workshops Being There Hotel/Travel Internet Access Registration Info Waiver/Consent
Register Now Room/Ride Sharing Forum Festival Forum Volunteer
Joggling is simply juggling while jogging or, in this case, sprinting! This year's event will be held at the Sparks High School Track, where joggling registration will begin Tuesday at 7am, with races starting at 8am. Entry Fee: $10. For more information, contact Joggling Director Len Ferman at leonard.ferman (at) bankofamerica (dot) com.
IJA Championships
The best jugglers from around the world come to the IJA festival each year to present their skill and art in the IJA Championships, hoping to earn the IJA Gold Medal. Always amazing and often breaking out astounding new tricks and performance styles, the Championships are a must-see for every juggler and juggling fan. Over $4,300 will be awarded to the winners of Gold, Silver and Bronze medals.
The Juniors Championships will be Wednesday at 9pm, and the Individuals and Teams Championships will be Thursday at 8pm, both in the Nugget's Celebrity Showroom. Entry fee: $25 per event. Contact IJA Championships Director Anthony Shave at
.
Championships entrants: See IJA Stage Championships for details on entering the Championships, and follow the links there to read both the Copyright Music Policy and the IJA Championships Rules. In particular, there is an early June deadline for receipt of 6 copies of a DVD with video from a single continuous shot of your full act (actual costume, music and routine) with no editing at all.
The IJA has announced the Championships finalists.
Individual Prop Competition
The Individual Prop Competition will be Thursday at 3pm, with these categories: 3 balls, 3 clubs, 3 cigar boxes, 1 devil/flower stick, 1 diabolo, and Alternate Prop. Routines should be no longer than 2 minutes and choreographed to music. Entrants: read the Copyright Music Policy. Prize money available: $720. Entry fee: $10 per event. For more information, see the Individual Prop rules or email
.
Numbers Championships
IJA Numbers Championships competitors challenge each other, past champions and the laws of physics. See who can successfully juggle, individually and in teams, the greatest numbers of balls, clubs, rings and bounced balls. Numbers Championships finals are Friday at noon. Available cash prizes total $1000, including a special prize for breaking IJA Numbers records. Entry fee: $15 per event. See www.juggle.org/championships for rules and entry information.
XJuggling
XJuggling is a fast-paced, non-stop, best trick competition Friday at 4pm. This is about radical, cutting-edge tricks that push the limits of creativity and possibility. Watch the best jugglers in the world pull off huge tricks and gnarly moves or crash and burn. For more info visit www.xjuggling.com or email Jack Kalvan at
.
Games of the IJA
The games are always a festival favorite. Kick back in the gym and watch or, better yet, join in the fun on Saturday. Questions or ideas? Send email to Games Director Annie Sheppard at
.