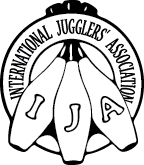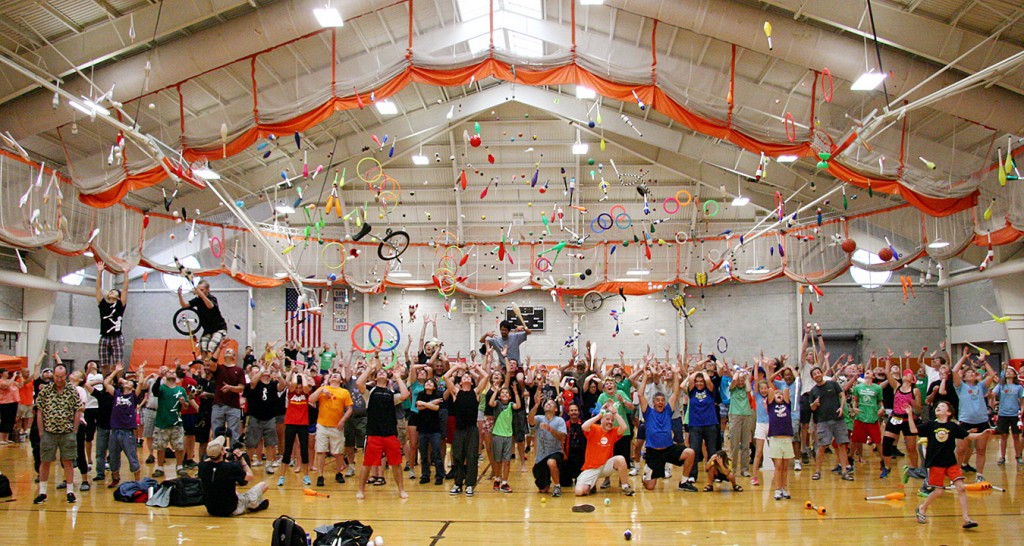 To render assistance
to fellow jugglers

This is an archival website
63rd IJA Festival
July 26 - August 1, 2010
Sparks, Nevada (next to Reno)
Summary
Summary/Schedule Guest Artists Special Workshop Shows Competitions
Workshops Being There Hotel/Travel Internet Access Registration Info Waiver/Consent
Register Now Room/Ride Sharing Forum Festival Forum Volunteer
The 63rd Annual IJA Juggling Festival will be held July 26 - August 1, 2010, in Sparks, Nevada (next to Reno), in the large, well-lit, climate-controlled juggling space of the John Ascuaga's Nugget Resort Hotel.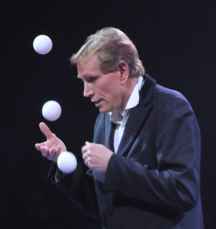 This year's very special guest will be Kris Kremo, who will amaze and delight us with his appearance in the Cascade of Stars. Kris will also teach a three-day Special Workshop entitled 3 Object Juggling. Everyone can meet Kris when he hosts an open question/answer session on Saturday at noon.
Other special guest performers at the IJA fest include:
Joelle Huguenin
Jochen Schell
Brad Weston
The Flash
Jan Damm
Bronkar Lee
The Jugheads
David Hunt
Playing by Air
Coney Island Chris
Festival Updates
Festival daily newsletters (PDF): Wed Thurs Fri Sat
There will be no Internet access from the gym unless you arrange something in advance for yourself. The Great Basin Brewing Company (3 blocks away) and a Starbucks (5 blocks away) will have free Internet access. For information on Internet access from the hotel, the gym and nearby locations, see here.
Please note: The Cascade of Stars has been moved to Saturday night, and A Taste of Vaudeville! will be on Friday night. See details below.
The IJA has announced the Championships finalists.
Joggling registration will begin at 7am on Tuesday morning and the races will begin at 8am (not 9am as originally planned).
Free juggling on Monday
Dozens of workshops Tuesday through Saturday
Joggling Championships on Tuesday morning
Special Workshop by Kris Kremo on Tuesday, Wednesday and Thursday
North American Kendama Open Wednesday afteroon
Club Renegade on Wednesday, Thursday and Friday nights
Youth Showcase and Juniors Championships on Wednesday evening
Planting the Juggling Seed kids' show Thursday morning
Individual Prop Competition on Thursday afternoon
Teams and Individuals Championships on Thursday evening
Numbers Championships Friday afternoon
XJuggling Friday afternoon
A Taste of Vaudeville! show on Friday evening
IJA Games on Saturday
Cascade of Stars on Saturday evening
Free juggling on Sunday
All available IJA festival information is on these web pages. To conserve resources, we will not be printing a festival brochure this year.
You can quickly Register Online now (or mail or fax the registration form). For registration questions, email
; include a phone number for a quicker response.
Register by May 7 for the best prices
Prices go up on May 8 and again on July 1. The last day to pre-register is June 30; after that, you can register only on-site at the festival. Youth Groups of 10 or more can register at a special rate through May 30; for Youth Group details, contact Mike Sullivan at
.
Mailed or faxed registrations must be received by June 30. You can print and mail or fax the registration form. Remember, you can also easily Register Online through June 30.
Hotel reservations must be made separately by July 5 with John Ascuaga's Nugget Hotel in Sparks. Be sure to mention the International Jugglers' Association to get the IJA's hotel rates. The airport for Sparks is Reno, NV, with airport code RNO.
Join us in Sparks for our 63rd Annual Fest!
Important Competition Rules
Championships entrants: See IJA Stage Championships for details on entering the Individuals, Teams or Juniors Championships. Be sure to read both the Copyright Music Policy (which also applies to Individual Prop competitors) and the Stage Championships Rules that are linked from the above page. If you are entering the Stage Championships, there is an early June deadline for receipt of 6 copies of a DVD with video from a single continuous shot of your full competition act (actual costume(s), music and routine) with no editing at all.
Changes in Show Dates & Venues
Due to circumstances beyond the IJA's control, the festival's
Cascade of Stars
show has been moved from Friday night to Saturday night, and the
Farewell Show
has been renamed and moved from Saturday night to Friday night, with a venue change. There have not been any changes for the other shows. Please make note of these new dates, times and venues: Friday, July 30, 2010
A Taste of Vaudeville!
- 8pm
Rose Ballroom B / John Ascuaga's Nugget Hotel Saturday, July 31, 2010
Cascade of Stars
- 8pm
Celebrity Showroom / John Ascuaga's Nugget Hotel The show tickets you receive at the festival will have the correct information for each performance. The IJA will offer a refund for any ticket purchased for these shows until 4pm on the day of the show, in case you need to change your plans. We apologize for any inconvenience these changes may cause. Once again, the changes are due to venue restrictions beyond the IJA's control.
2010 IJA Festival Schedule of Events
Monday
July 26
Tuesday
July 27
Wednesday
July 28
Thursday
July 29
Friday
July 30
Saturday
July 31
Sunday
Aug. 1
10am: Facility Open
9am-4pm: Registration
9am-4pm: Registration
9am-4pm: Registration
9am-4pm: Registration
9am-3pm: Registration
8am-noon: Joggling
noon: Business Meeting
11am: Planting the Juggling Seed
10am: Meet
Kris Kremo
FREE JUGGLING
1-3pm: Special
Workshop:
Kris Kremo
1-3pm: Special
Workshop:
Kris Kremo
1-3pm: Special
Workshop:
Kris Kremo
11am-2pm: Numbers Championships;
1-4pm IJA Games
FREE JUGGLING
2-3pm: North American Kendama Open
3-5pm: Individual Prop Competition
3-5pm: XJuggling
Big Toss-Up photo follows games
3pm: Gym closes.
7pm: Youth Showcase
9pm:Juniors
8pm: Teams & Individuals Championships
8pm: A Taste of Vaudeville!
8pm: Cascade of Stars
About 11:30pm: Club Renegade
About 11:30pm: Club Renegade
About 11:30pm: Club Renegade
All schedules and guests are subject to change without notice.